A quiet, rural lake in the Pacific Northwest's most heavily populated county? Yes!
Lake Margaret — not to be confused with Margaret Lake in Central Washington — lies beyond the outskirts of Seattle's suburbs, in northern King County but near the Snohomish County line.
The lake is a reservoir maintained as a trout fishery by the Washington Department of Fish and Wildlife.
This 52-acre lake surrounded by the Lake Margaret community is a top spot for trout. Both cutthroat and rainbow trout are stocked annually, leading to some excellent fishing opportunities when this seasonal lake opens in the spring.
There are resident populations of largemouth bass, yellow perch and bluegill, but these fisheries are fairly limited. If warmwater angling is your game, use the King County link at the bottom of this page to find better options.
The lake is managed seasonally. Opening day is the fourth Saturday of April. The season ends after Oct. 31.
Trout Fishing
There are two major fisheries at Lake Margaret, and both are trout.
Coastal cutthroat trout are stocked in the lake as fry or fingerlings during the fall, after the season closes.
These young fish will grow to maturity in the lake, eating a natural diet.
State game authorities also stock several thousand rainbow trout every year, typically in April. Unlike the cutthroat trout, rainbow trout are stocked at catchable size closer to when the anglers arrive.
Trout fishing should be good here for much of the spring and is likely to slow during the hottest part of summer.
If you do fish in summer and aren't catching fish near the surface, try the cooler and deeper water in the southeast part of the lake. See King County's bathymetric map included below for its approximate location.
Anglers who return in the fall will certainly find smaller numbers of trout, but the survivors will be larger and their instincts will be telling them to fatten up and bite your hook before the winter sets in.
Hatchery-reared rainbow trout are eminently catchable for even amateur anglers. Relatively unsophisticated from growing up in artificial ponds and fed by humans, they will bite on bait, lures and flies.
Cutthroat trout tend to be a little smarter, especially with the benefit of spending more of their life cycle in the lake. But they're also aggressive biters with varied diets, and still-fishing can be a viable way to catch them also.
A major component of both trout species' natural diet is insects, and the bug-rich shallows are a favored hunting ground.
When still fishing, some anglers will suspend their bait beneath one of those familiar red-and-white bobbers, especially when trout are active near the surface.
Fishing closer to the bottom can be effective when trout are running deeper, especially as the water warms later into the season.
Fly anglers try to "match the hatch," using an imitation fly that closely resembles the fish's natural prey.
For more tricks of the trout trade, read through our simple free guide on this website, Trout Fishing: Basic How-To Techniques and Tips.
Where is Lake Margaret?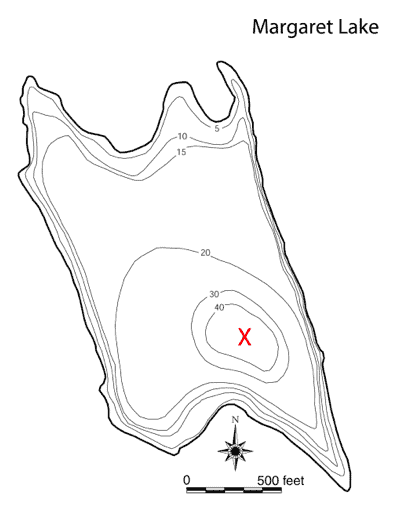 Lake Margaret is in rural King County, east of the Seattle-area bedroom community of Duvall.
The two main roads into Duvall are state Highway 203, which runs north-south, and Northeast Woodinville-Duvall Road, which runs east-west.
Regardless of which road you take into Duvall, you'll want to take Northeast Cherry Valley Road out of town to get to the lake.
East of town, Cherry Valley Road ends at a T-shaped intersection with Kelly Road Northeast to the right and Mountain View Road Northeast to the left. Take the left and head north to the lake, but take care to negotiate a set of hairpin curves in the road, especially if you are towing a boat.
You'll eventually take a right on Northeast 197th Street, which will take you to the ring road around the lake. There is a state-managed boat launch and access area at the lake's southwest corner.
Lake Margaret is roughly a half hour's drive from Redmond and closer to 50 minutes from Seattle.
While boating is permitted, leave your big boats at home.
The boat launch is unimproved gravel and internal combustion engines are not permitted under county regulations for Lake Margaret.
Note that there is a private swimming beach at the south end of the lake, where boaters may encounter people in the water on a nice summer's day.
Restrooms are available on-site. Camping is not permitted.
Find more fishing spots in King County
Washington Resources
WDFW Fishing and Stocking Reports
WDFW Fishing Regulations
National Weather Service forecasts