Most of Washington's trout lakes are regularly stocked with rainbow trout at a "catchable," adult size.
But Diablo Lake in the North Cascades actually supports a naturally reproducing population of rainbow trout, helped along by the periodic stocking of large numbers of rainbow fry and fingerlings.
Diablo Lake not only has some of the best-quality rainbow trout around, this reservoir also is wonderfully cinematic.
Steep slopes seem to rise directly out of the reservoir's turquoise waters, rocky islands dot the surface of the lake, and there is even a scenic viewpoint overlooking the lake itself.
The lake is also huge relative to many of the other fishing lakes in western Washington, at more than 800 acres.
Motorized boating is popular on the lake, although towing is strictly regulated (no waterskiing or tubing allowed) and four-stroke motors are required.
Two-pole fishing is not allowed, unlike at many fishing lakes in the state.
Trout Fishing
With a nice trout population, the fishing season is year-round on Diablo Lake, although opportunities in the winter months are predictably poor and the hottest months also see a downturn in catches.
Instead, try fishing on the lake in the months bookending high summer. There are especially good opportunities for trout in May and June and again in September.
Think of it like the story of Goldilocks and the Three Bears: April and October aren't terrible times to fish, by any means, but they just tend to be a bit too cold for trout to be very active.
And July and August, while also offering fair opportunities, are just too hot for trout to do much besides try to keep cool.
But May, June and September are "just right" and are the best months to fish on Diablo Lake.
Rainbow trout are among the most popular game fish in North America for a good reason.
Not only do they make fine eating, but they're approachable for amateur and expert anglers alike, with a variety of methods proving effective to get them on the line.
Traditional anglers can find plenty of success.
Trolling for trout is a great option in big lakes like Diablo, where you may need to cover more water to find the fish.
Try a variety of lures, including spinners, spoons and small wobbling plugs.
Some lures like Wedding Rings or other small spinners and spoons can often work better behind a dodger or set of flashers. You also can fish bait behind the same setup, or bait your lure hook.
Baiting a hook with an earthworm and dangling it beneath a bobber to draw the fish's attention to the surface is one time-honored technique. At other times, trout will run deeper and you can fish your bait near the bottom.
Fly fishing is a notable method for catching trout. Especially with these naturally reproducing (or young planted) trout, much of their natural diet is insects.
Artificial flies that imitate the insect life cycles both beneath and on the surface of the water will often be effective at enticing a bite.
Fly casters can do well targeting visibly feeding trout, but you also might be able to cover more ground by slowly trolling a sinking fly behind your boat or float tube. It might take a pinch of weight to get the fly into prime catching water.
While the WDFW doesn't always list resident cutthroat trout among the species you might catch, several other sources do, so we're inclined to believe they might show up as part of your catch while targeting the more numerous rainbows.
That makes sense because they are native to Cascade Mountain waters including the Skagit River and most likely the tributary creeks that feed into the reservoir.
To dive a little bit more into trout fishing, without drowning in the topic, try our free guide, Trout Fishing: Basic How-To Techniques and Tips.
Diablo Lake also supports a decent population of bull trout (sometimes called Dolly Varden).
Washington has protections in place for bull trout, a type of char in the trout family that have declined in numbers in most Western waters over the years. It is not permitted to take bull trout from Diablo Lake, so if you reel one in, be sure to release it quickly and unharmed.
Where is Diablo Lake?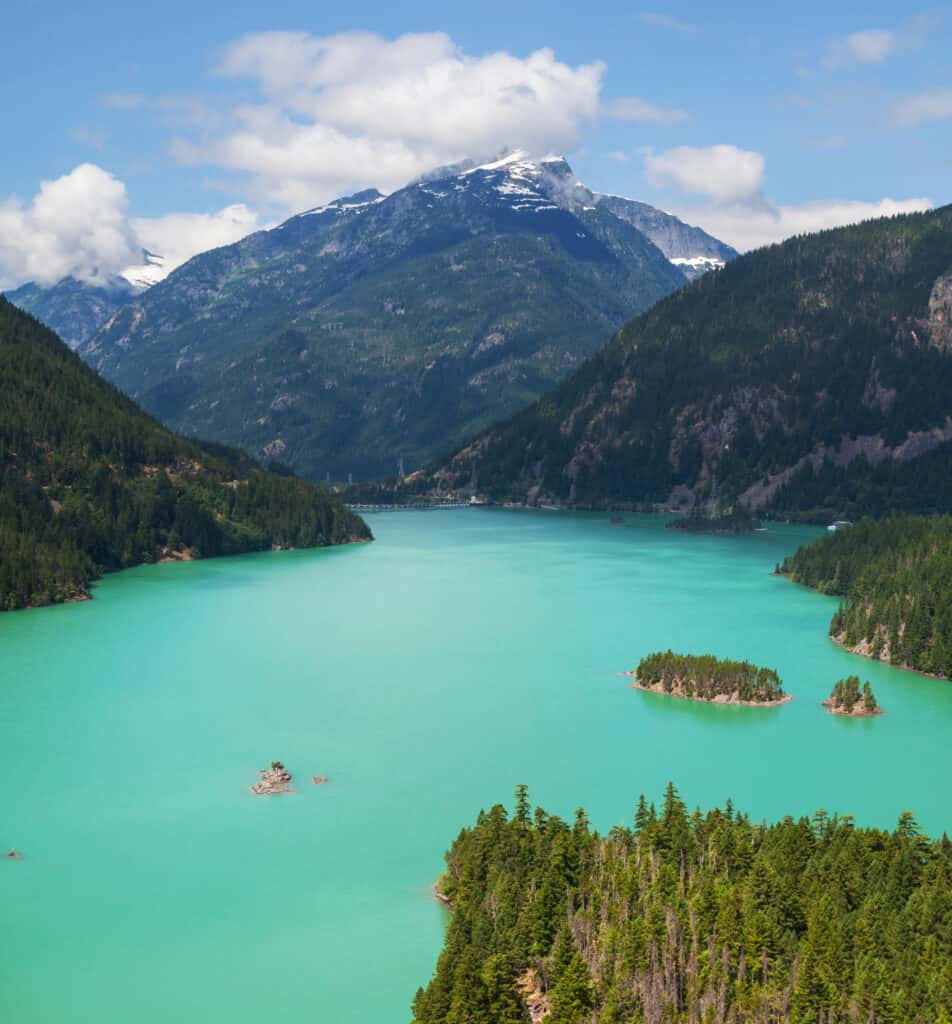 Diablo Lake is a reservoir on the Skagit River in northwestern Washington, located between the smaller Gorge Lake below and the even larger Ross Lake above.
Access points on the lake are off the north side of Highway 20, a.k.a. North Cascades Highway, which parallels the Skagit River from east of Sedro-Wooley.
From Mount Vernon, it's about an hour-and-a-half drive east that takes you past Mount Baker and provides a good view of other North Cascade peaks. From Bellingham, it's closer to 1 hour, 45 minutes.
The most direct route from the Seattle area takes you up Interstate 5 and then east on state Highway 530 from Arlington to Rockport, where Highway 530 links up with Highway 20. Expect about a two-and-a-half-hour drive from the big city.
Diablo Lake lies within North Cascades National Park, which is maintained by the National Park Service. However, a valid Washington fishing permit is still required.
The shoreline is undeveloped. While it's possible to fish from the shore, a watercraft is recommended to improve your catch.
Colonial Creek Campground offers quite a few spaces for drive-in campers, along with one of Diablo Lake's boat launches. Or use the launch to reach one of several boat-in camping spots on the big lake.
Find more fishing spots in Whatcom County
Washington Resources
WDFW Fishing and Stocking Reports
WDFW Fishing Regulations
National Weather Service forecasts