If you're looking for a quiet, more rustic fishing spot on the outskirts of the bustling Seattle area, there's Lake Desire near Renton.
Lake Desire doesn't offer the region's most famous fishing opportunities, and it isn't as centrally located as some other Seattle-Tacoma area lakes.
But it does have year-round fishing in a quieter setting than many of the other ponds in the area, and it's stocked every spring with several thousand rainbow trout to boost your odds of catching planting of fish.
There's a gravel boat launch that is accessible all year.
Trolling from your boat is probably the best way to fish the roughly 80-acre lake, with shoreline access limited to the area administered by the Washington Department of Fish and Wildlife around the boat launch.
Trollers use a variety of lures including flashy spinners and spoons, or with plain baits including a nightcrawler. Some anglers use combination by baiting their lure hook, and other anglers slow-troll with a sinking fly.
Still-fishing with bait or casting lures and flies also will catch trout.
Need more details (but not too many) on how to catch these fish? Read our simple guide, Trout Fishing: Basic How-To Techniques and Tips.
There are private homes around parts of the shoreline, while part is forested and undeveloped.
Be aware of algal blooms, which happen seasonally here in warmer weather. Restrictions on some recreational activities at the lake may be imposed during heavy blooms.
Trout Fishing
State game authorities typically stock Lake Desire in April. At last check, WDFW's annual stocking plan called for 8,000 rainbow trout to be planted in the lake.
As a result, April after the stocking and into May is considered the best time for trout fishing at Lake Desire, with decent fishing opportunities in June as well.
While fishing is open year-round, the high summer and winter months aren't a good time to find trout in Lake Desire.
September and October are typically the last fair chance in a year for productive trout fishing at the lake if trout have survived the spring fishing pressure and summer water conditions.
With limited shoreline access, most anglers at Lake Desire will bring a small boat or other watercraft and troll for their quarry. Hatchery-raised rainbow trout are simple creatures out for an easy meal and will eagerly bite on many common baits and lures.
Look for trout splashing around near the surface. If they are feeding near the surface, try bait or a sinking fly fished beneath a bobber.
As the lake surface warms, the trout may seek cooler refuge in the lake's deeper areas, which in this fairly shallow lake aren't much over 20 feet.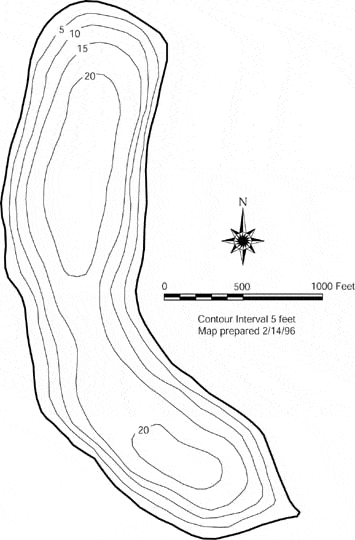 Bass and Panfish Fishing
Lake Desire is a pretty good spot for largemouth bass fishing.
The opportunities improve as the weather warms, with May through September considered good months to catch bass at the lake.
Largemouth bass tend to follow a daily schedule. They become active around sunrise, feeding in the morning.
By midday, they often retreat to deeper water or shady areas, although the patient angler may still have success with finesse fishing.
Evening is an especially good time for bass fishing, even after sunset. Largemouth bass see well in the dark, and as the outside temperature falls, the fish tend to become more active once again and may move into shallower water to hunt.
Largemouth bass typically favor larger lures and baits. Opportunistic feeders, they will eat just about any type of amphibious or aquatic animal that fits into their wide mouths.
They also have a tendency to swallow natural bait whole, hook and all, which will often cause fatal injuries. If you're fishing to catch and release, avoid bait for that reason and instead cast and retrieve artificial lures.
Bass often hide around structure in the water and ambush passing prey. At Lake Desire, possible fish-holding structure includes private docks and fallen trees.
Yellow perch also inhabit Lake Desire. These brightly colored schooling fish are a common catch from April through September.
Try fishing off the bottom for yellow perch. Use pieces of earthworm affixed to small hooks to fit their small mouths and cast around until you find them.
Once you get one bite, odds are very good you'll get more, since perch move and feed in groups.
Another panfish you might hook here are pumpkinseed sunfish, a brightly colored fish that is small but feisty and fun to catch, and potentially some crappie.
Where is Lake Desire?
Lake Desire (also known as Echo Lake) is about 5 miles southeast of Renton, in unincorporated King County.
From state Highway 169, take 196th Avenue Southeast south to Southeast Petrovitsky Road and head west. Lake Desire is on the other side of Northwood Middle School and Petrovitsky Park.
From the west, you can get on Petrovitsky Road by exiting state Highway 167 onto South Carr Road and heading east. The road will turn into Petrovitsky Road, which you can follow to the lake. The road is signed as South 180th Street west of Highway 167.
From Seattle-Tacoma International Airport, about 10 miles to the west of Lake Desire, it's a 20- to 30-minute drive. It's about a half-hour drive southeast from Bellevue.
The WDFW boat launch is on the north end of the lake, off Lake Desire Drive SE.
Amenities are fairly limited on the shore, but there are several trails and parks in the general area, including trails and a natural experience in Spring Lake/Lake Desire Park on the southeast side of the lake.
You'll find more forested areas as well as traditional park amenities including picnic areas, ballfields and playgrounds at Petrovitsky Park just west of the lake.
Find more fishing spots in King County
Washington Resources
WDFW Fishing and Stocking Reports
WDFW Fishing Regulations
National Weather Service forecasts