Nestled in the city of SeaTac, Angle Lake is an accessible and lively fishing spot.
The L-shaped lake supports a variety of fish populations, including stocked rainbow trout and kokanee, as well as schools of yellow perch and black crappie. Largemouth bass and rock bass are also resident to the lake.
Angle Lake Park is an attraction in its own right, with an elaborate spray park that includes a "Mega Splasher," which does pretty much exactly what it sounds like.
Fishing amenities include a boat launch, a fishing pier and bank access. Motorized boating is allowed on the roughly 100-acre lake, unlike several other popular fishing spots in the Seattle and Tacoma suburbs.
Trout Fishing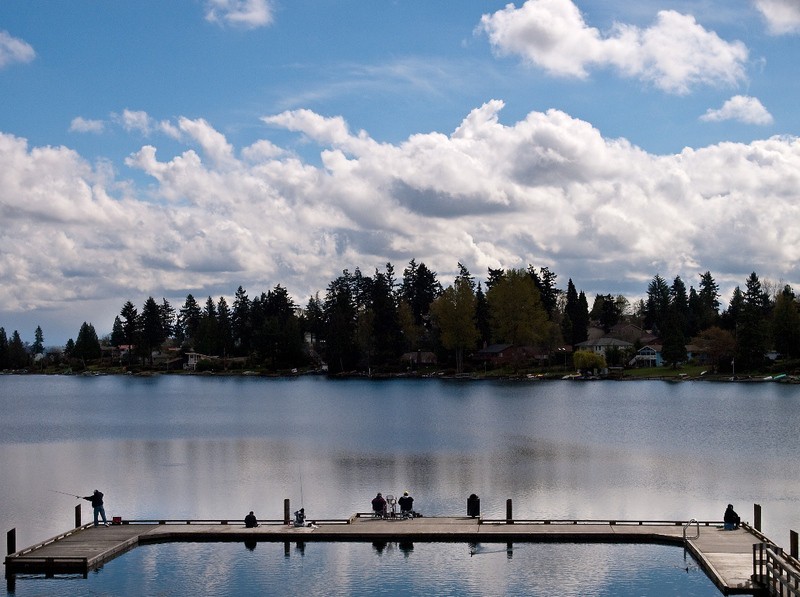 Angle Lake doesn't have the most trout compared to some bigger fisheries, but it is reliable, with good fishing opportunities from April through June.
Note that unlike some of the other trout lakes in King County, Angle Lake is open all year. That means you can get a jump on trout fishing before the traditional late April opening day.
The Washington Department of Fish and Wildlife stocks several thousand catchable rainbow trout in the lake every April, so fishing will still be best at that time of year. At our most recent check, the state's stocking plan called for 5,500 catchable plants.
Trout prospects fall off hard as the weather gets warm, and there's little point in trying to find trout in the lake by August and September.
If some of the trout get through summer, the fall and winter months may offer fair prospects.
Some anglers prefer late-season trout fishing because the survivors from the spring stocking have had a few months to eat a natural diet and swim to their fishy heart's desire, which often makes for a better-eating fish.
There are a wide range of techniques for trout fishing.
Still-fishing with bait is the most common way to catch hatchery-raised trout, particularly for bank anglers. Anglers will fish bait suspended under one of those common red-and-white bobbers or closer to the bottom, depending on where the fish are biting.
For boaters, trolling is another time-tested method of fishing for trout. Both lures and baited hooks can be effective, with probably the most popular bait being the humble earthworm.
Trout are popular targets for fly anglers, since their natural prey are the same aquatic and surface-dwelling insects that imitation flies mimic.
We discuss fishing options for trout more thoroughly in our simple guide, Trout Fishing: Basic How-To Techniques and Tips.
Kokanee Fishing
Angle Lake is exciting in large part because it's a nice spot for kokanee fishing right in the urban area close to home.
Known by many different names, kokanee are smaller, non-migratory sockeye salmon that live their full life cycles in freshwater.
Kokanee don't grow nearly as big or as powerful as their ocean-going kin, topping out around 5 to 6 pounds but in a place like Angle Lake much more often the size of pan-sized trout and weighing about a pound or less.
Like their anadromous cousins, kokanee still have a strong instinct for battle and can put up a good fight on the line.
WDFW stocks kokanee into Angle Lake as young fish that grow into catchable sizes for anglers to enjoy. At last check, the annual planting was about 50,000 kokanee.
Kokanee fishing really picks up in June, with excellent to good fishing prospects through September. The fish become most active when plankton blooms appear in the water, as these are a main source of food for them.
Since they have soft mouths, many anglers will use a rubber snubber to absorb shock and keep these prized fish on the hook.
As with trout, a little something extra can go a long way toward getting more bites. Try trolling a small spoon or spinner behind a string of flashers or dodgers to get the kokanees' attention and spur a strike response.
Kokanee are best fished from a boat on open water. Use a weight or down-rigger to find schools of kokanee in the depths of the lake when it's hot out, since they will retreat to deeper waters.
The deepest part of the lake is about 50 feet and straight east from the park's boat launch.
More information: Kokanee Fishing: Simple Tips and Techniques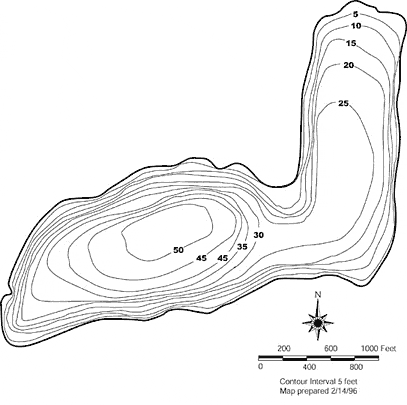 Bass and Panfish Fishing
It's not all about the trout and kokanee at Angle Lake. The summer months also offer quite good opportunities to fish yellow perch, another schooling fish.
Look for perch to be especially easy to catch from May through September, although they can be caught all year.
These yellow and black striped fish move in schools, which can make them easy to catch if you can find a school, which is usually staged fairly close to the bottom of a lake.
If you catch one, stick to that spot until the bite stops. If you're fishing for perch but not catching them, it's a good idea to move around and cast into different depths until you find them.
Perch have small mouths, so use small hooks or jigs. Most perch anglers use bait, with worms and mealworms being excellent choices.
Black crappie are also schooling fish and can be caught with some similar small hooks and lures.
Fishing for crappie can be becomes more viable in the spring, when they often move into shallow water near good cover, like docks and submerged branches. They are aggressive and near shore, making them easier to catch.
In the summer, like perch, crappie tend to take to deeper waters, so try fishing off the bottom.
Lures are a popular method for catching crappie, with small plastic tube jigs and curly-tailed grubs being among the most popular.
Both perch and crappie are excellent eating, a great source of flaky white meat for your next fish fry.
While they're not closely related despite their names, largemouth bass and rock bass have similar seasonality, with the best prospects running from May through September.
Largemouth bass tend to be bigger, with wide mouths that will gulp down just about anything that fits inside. Their diet even includes birds and land-dwelling animals like mice, along with fish, amphibians, crustaceans and insects.
Most bass anglers prefer to catch and release. Use lures or flies that imitate their favored prey.
Don't use a baited hook unless you're planning to keep what you take, since bass will often deeply swallow a hook along with the bait, which can kill them.
The behavior of largemouth bass varies throughout the day.
Fishing bass is easiest and most productive in the mornings and evenings, as they tend to become lethargic and harder to find at midday and in the afternoons, retreating to shade or deep water to wait out the heat and bright light of the day.
Bass-holding structures include lots of private docks around much of the shoreline, as well as some weeds and over-hanging trees at the west end of the lake, just south of the park.
Rock bass (actually a sunfish) are considerably smaller than true bass on average, more akin to a bluegill in size, but they don't seem to know it.
Rock bass have been known to attack lures nearly as big as they are, and while they don't have the wide maw of the largemouth bass, they'll go for most common baits.
Rock bass seldom weigh in at more than 1 pound. However, they're powerfully built for their size and will often put up a good fight, so come prepared.
Where is Angle Lake?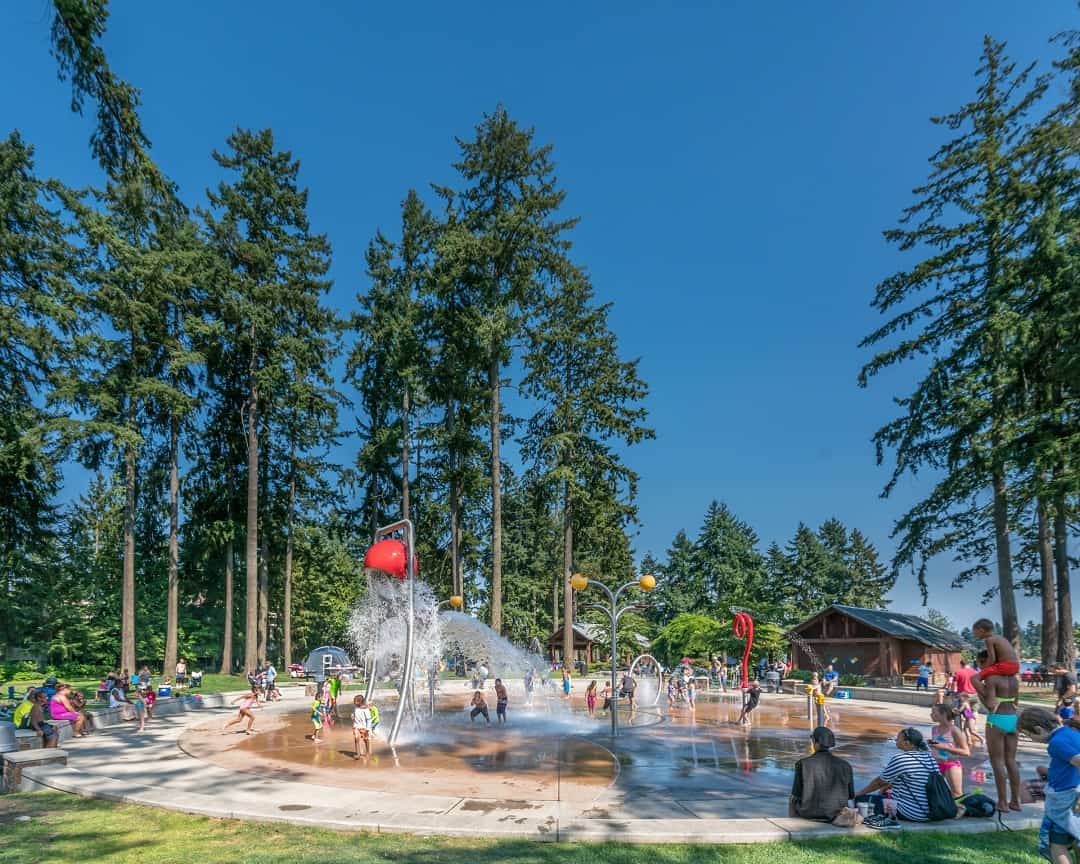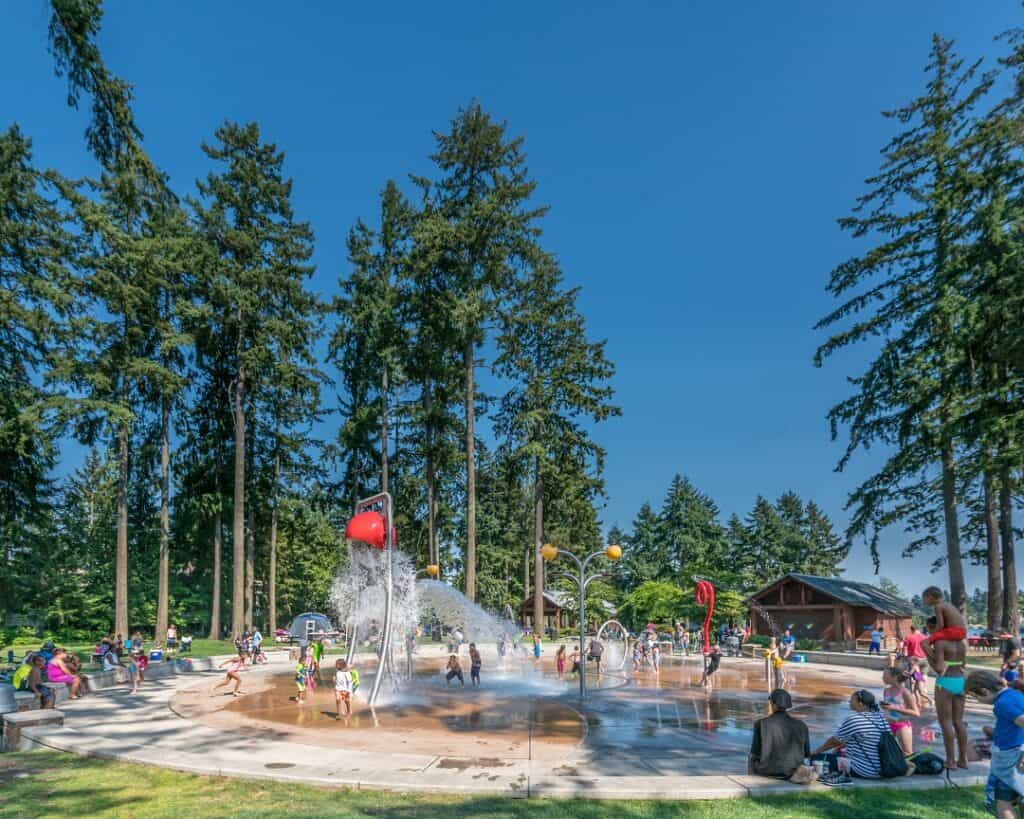 Angle Lake Park might best be known for its popular splash park, which is open from Memorial Day through Labor Day.
But the park, which is maintained by the city government of SeaTac, is also the access point for Angle Lake.
It has fishing, boating and swimming, so be mindful of all users when fishing the lake. Anglers looking for a quieter experience might want to fish first thing in the morning or close to dusk.
Not that it will be a wilderness experience in this heavily residential lake. This is a very suburban lake surrounded by Interstate 5 and Highway 99, and just a mile from the middle of the Seattle-Tacoma International Airport.
Directions are simple: From Interstate 5, take exit 151 onto South 200th Street, then turn right onto Highway 99 and you'll be at the park. From Highway 99, Angle Lake Park is on the east side of the road in between 200th Street and 192ndStreet. Expect about a 20-minute drive from either Seattle or Tacoma.
The park also has restroom facilities and other typical park amenities. Motorized boating is allowed with local restrictions.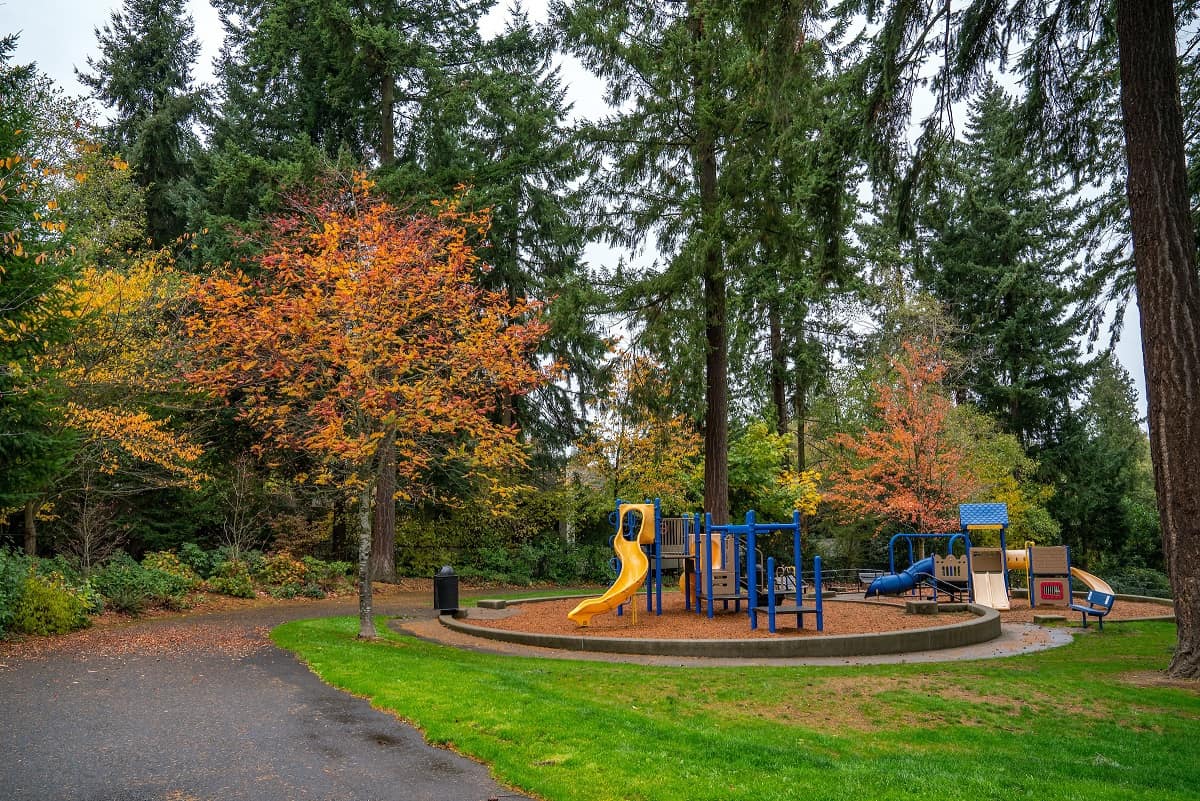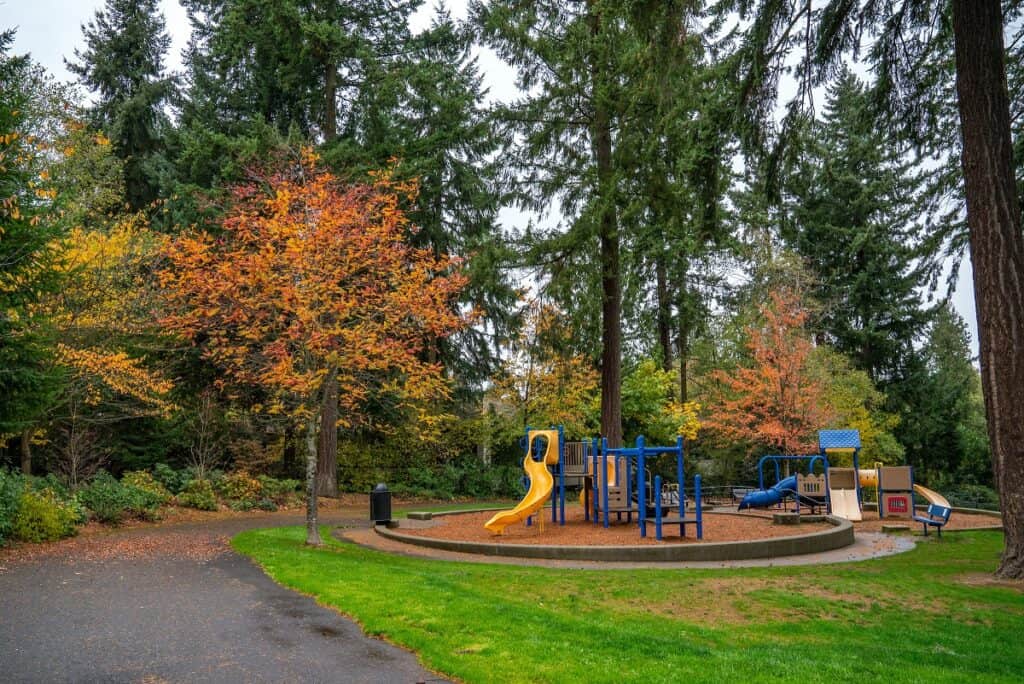 Find more fishing spots in King County
Washington Resources
WDFW Fishing and Stocking Reports
WDFW Fishing Regulations
National Weather Service forecasts