Is there anything better than watching a wily trout slurp up a dry fly from the surface of a mountain creek? Or gently unhooking the gleaming fish after bringing it streamside? Or seeing it return with a splash of its tail to fight another day?
These are common experiences in Virginia, a state that offers some of the best trout fishing in the South. From rolling rivers stocked with rainbow trout and trophy-size browns to trickling Appalachian streams populated by wild native brook trout, anglers have a lot of options.
And be sure to stay tuned after these incredible rivers and creeks because we also cover a handful of the best trout fishing lakes in Virginia down below.
While we cover a lot of the best fly fishing patterns and tactics, keep in mind that a fair number of Virginia waters prohibit fishing for trout with bait.
However, many do allow lures with single-point hooks for easy release. Spin anglers often catch trout with small spinners and spoons, but remember to swap out the treble hook for a single, if necessary.
Check the most recent regulations for any water you decide to fish.
The best trout fishing in Virginia generally takes place in spring and fall on the waters listed below. But many streams stay cool enough for year-round fishing, and Virginia's statewide trout season lasts all year.
Virginia Trout Fishing Streams
Almost certainly the most famous trout stream in Virginia, Mossy Creek meanders through the picturesque farmlands of the Shenandoah Valley in Augusta County. It's a classic limestone spring creek, with slow to moderate flows and great water quality.
Brown trout are the quarry for fly anglers here, and you can't turn to lures in this fly-fishing-only-stream.
Though primarily stocked fish—browns in Mossy Creek are known to successfully reproduce only occasionally—these trout are cunning. After a few years in the stream, stocked trout can be as tough to catch as any wild fish.
Mossy Creek can sometimes be a frustrating place to fish. But persistence and experience does pay off. Anglers catch some truly massive brown trout here, and they're known for their spectacular coloration.
About four miles of Mossy Creek are open to the public, and most of that section flows through open meadows with grassy banks and occasional overhead trees.
The spring-fed waters stay cool in summer and seldom freeze in winter, making this a true year-round stream.
Mossy Creek is known primarily as dry fly water.
Small blue wing olives hatch sporadically throughout the winter, with hatches of larger BWOs and sulphur mayflies becoming more consistent in April. There's usually great Trico mayfly action from Memorial Day right through October.
Terrestrials are also an important menu item, especially by mid-summer. Trout in Mossy Creek gobble up grasshoppers, crickets and other insects, and fly anglers catch some of the biggest fish using terrestrial patterns during the warmer months.
Wading is not allowed in the public section of Mossy Creek. Part of the challenge of fishing here is learning to pursue these trout while standing (or, just as often, kneeling or crouching) on the grassy banks.
Staying low to the ground helps avoid being seen by the trout in these crystal clear waters. The ability to make long, accurate casts is also essential.
The biggest fish tend to hide below undercut banks and in the shade of the abundant beds of swaying watercress and elodea that give the stream its name. Some of the best fishing happens when rains raise the water level and draw these fish out into the open.
Rapidan River
One of the best places in Virginia to catch wild brook trout in a pristine setting, the Rapidan River is an 88-mile stream in the northern part of the state.
It's the largest tributary of the Rappahannock River and gained fame as president Herbert Hoover's favorite fly fishing stream.
Hoover oversaw the construction of the Rapidan Camp at the river's headwaters, which is now part of Shenandoah National Park. The park provides great access to the upper portion of the river, while lower sections are accessible through Rapidan Wildlife Management Area.
Anglers tangle with the occasional big bruiser brown trout here (mostly in the lower portion of the river), but wild brookies are the main target species. They're beautiful fish, typically measuring 7 to 10 inches.
Although wild, the brook trout here are also known for not being terribly discerning. Part of that has to do with the environment in the upper Rapidan River.
The river's upper reaches consist of tumbling waters that plunge into long series of pools, where trout are forced to make quick choices rather than studying a fly for too long. It's a lot of fun to fish with dry flies.
Of course, those who prefer to match the hatch with some precision can certainly do so. An abundance of insects hatch here, including various species that are collectively referred to as Blue Winged Olives from February to June and September to November.
Other hatches include Blue Quills and Quill Gordons (March through April), March Browns (mid-April through mid-May), Slate Drakes (April to June and September to October), among many others.
Short rods work best; the trees claim their share of flies.
The best wild brook trout fishing is in the upper river, which you'll reach primarily by hiking in from various pull-offs within Shenandoah National Park. Be prepared for a downhill hike in and save some energy for an uphill back out.
The stream itself is slippery, and felt-soled boots are advisable.
The lower Rapidan River broadens out significantly and becomes a major waterway by the time it reaches the Rappahannock. There's more vehicular access, with browns and smallmouth bass becoming more common farther down.
Note that there are special regulations on the Rapidan, including catch-and-release fishing in recommended sections.
Jackson River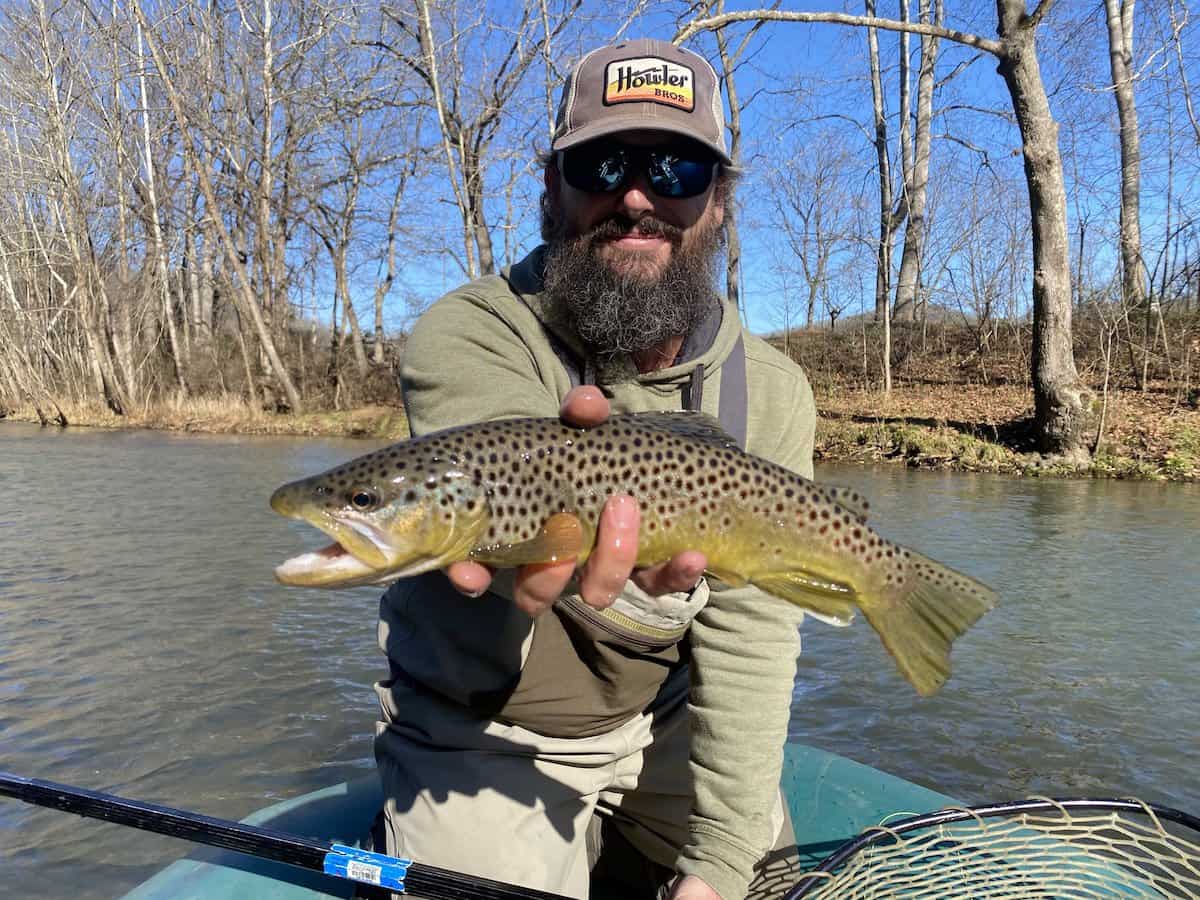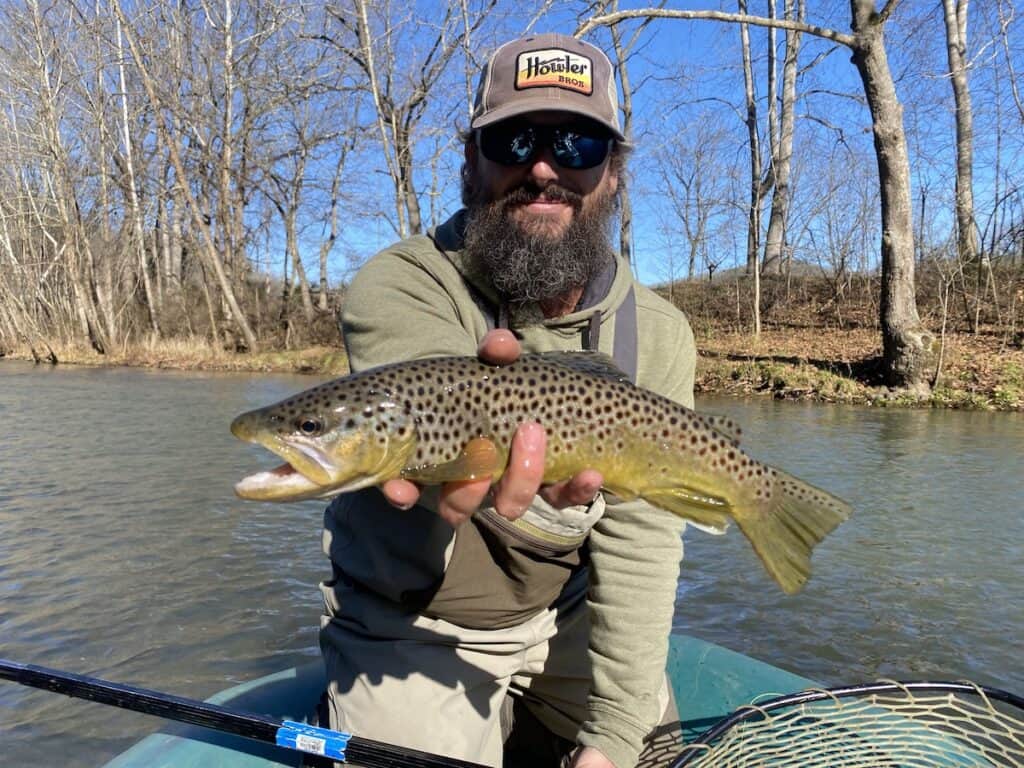 Often cited as one of the best trout streams in the South, the Jackson River flows through a little over 96 miles of Virginia before feeding the James River. The river offers ample populations of wild brown and rainbow trout.
The Jackson River's reputation as a great trout fishing river rests largely on the tailwater section below the Gathright Dam, which forms Lake Moomaw. Six public access areas provide 18 miles of legally navigable water from the dam downriver to Covington.
The Gathright Dam releases a steady stream of cool water from the lake, and as a result, the tailwater section seldom rises above the mid-60s, even in summer. Controlled releases also keep the river fishable when other area streams are overflowing with spring rains.
There are some decent Blue Winged Olive hatches here, along with sporadic caddis and midges.
Nymphing is the most prevalent tactic in the Jackson Tailwater, and there's plenty of overhead casting room in most areas, so a 9-foot 5 or 6 weight rod is appropriate.
The river also supports baitfish including sculpins, as well as a variety of aquatic insects and crustaceans. Some of the bigger browns are caught using sculpin streamer patterns. You might nab the occasional smallmouth bass this way too.
Wading is possible in many areas, but the Jackson River is much larger and deeper than your average Virginia trout stream. Drift boats are commonly used to navigate the stream.
Jackson River also offers a rare opportunity fish with bait in a river from Gathright Dam downriver to Westvaco Dam in Covington. However, this stream has restrictive size limits, and bait-caught fish tend to swallow hooks with more injuries, so honestly, we'd still suggest fishing with artificials.
Fishing is only allowed in the public stretches of the river, and signage is prominently posted to mark the boundaries. Landowners along the Jackson River have famously brought successful legal action against anglers fishing on privately owned sections.
Though not quite as legendary as the lower Jackson, the upper section of the river also offers quality fishing, particularly in winter and spring, when big lake-run rainbows head upriver from Lake Moomaw. Access is available within George Washington National Forest.
Some sections of the Jackson River are stocked annually.
Whitetop Laurel Creek
Tucked away in the southwesternmost corner of Virginia near Damascus, Whitetop Laurel Creek is one of the state's most beautiful and unique trout streams. It's a picturebook mountain creek that tumbles over boulders beneath a canopy of trees.
Brown, brook and rainbow trout are all available here. Whitetop Laurel has 7 miles of stocked waters in the Taylors Valley area that are essentially a put-and-take fishery during the stocking season (roughly October to June) and an additional 5 miles of special regulations sections.
The latter stretch is strictly catch and release, and only artificial flies and lures with a single hook may be used. Fishing is more challenging in this part of the stream, but it's a wilder experience that gets you farther from the crowds.
And there may very well be a crowd, especially on weekends shortly after the put-and-take section has been stocked. Whitetop Laurel Creek is one of Virginia's best trout streams and very easy to access.
Much of the stream runs parallel to U.S. Route 58 east of Damascus, and there are numerous pull-offs along the way.
Farther upstream, the Virginia Creeper Trail follows the creek, providing access to the special regulations section within Mount Rogers National Recreation Area.
Hiking upstream provides access to some beautiful pocket water, plunge pools (some deceptively deep), and sections of traditional run-riffle-pool configurations. Working slowly upstream is the best approach.
A multitude of insects hatch here. Blue Winged Olives are one of the most consistent in both spring and fall, but there are many others. Eastern Pale Evening Duns and Sulfurs—the two species are similar, and locals call them both "Sulfurs"—are important from May into July.
As a general rule, if you don't see insects hatching or trout rising, nymphing is more effective. Classic patterns like Hare's Ear and Pheasant Tail nymphs usually do the trick.
And don't hesitate to throw a streamer in fall for big spawning browns.
Also worth keeping in mind is that fly fishing isn't the only way to fish Whitetop Laurel Creek. Some anglers do quite well with ultralight spinning tackle and various small jigs and single-hook spinners.
South River
One of the more popular trout rivers in the central part of Virginia, the South River is regularly stocked with rainbow and brown trout.
The South River offers a wide range of stream types and habitats that support an equally varied spectrum of fishing tactics and techniques.
Virginia is actually home to two South Rivers, which are—confusingly—just 50 miles apart despite being part of two separate watersheds. This South River begins south of Waynesboro, and eventually merges with the North River to form the South Fork Shenandoah River.
The South River begins as a small, low-gradient stream with a character much like a spring creek. It widens and takes on a fresh supply of limestone spring water in Waynesboro, which helps support trout and all sorts of aquatic insects and crustaceans.
The South River has five different sections that are managed with varying regulations, including areas that are fly-fishing only. It's important to check the current regulations before you go, and keep your bearings while you're there.
The two main sections for anglers are the Special Regulations section on the upper South River (a special permit, available from the state free of charge, is required here) and the Delayed Harvest section in Waynesboro.
The former is a bit more technical, and the latter is accommodating to novice fly fishers as well as spin anglers.
The Delayed Harvest portion of the river has the classic riffles, pools and runs of a freestone stream, and is stocked generously.
Specific insect hatches vary among different areas of the river. Blue-winged Olives, Blue Quill, Quill Gordon, March Browns, and Tricos are some of the most prevalent mayfly hatches, and the river also supports sedges (Cinnamon, Green and Autumn Brown) and stoneflies.
Scuds are abundant in some sections, and sculpins are a major part of a trout's diet, especially the larger browns.
Terrestrials are important during summer, especially in open, grassy sections. Bring some grasshopper, beetle and ant flies that time of year.
North River
Having sung the praises of the South River, let's take a look at its sister stream, the North River. These two rivers meet in Port Republic to form the South Fork Shenandoah River.
Though perhaps not as celebrated as its southern counterpart, the North River offers some truly excellent trout fishing, especially the upper stretch from its headwaters, just a few hundred feet from the West Virginia state line, to Elkhorn Lake.
This section has a great population of wild brook trout, and is remote enough that not a ton of people fish it. You have to drive many miles of rugged Forest Service roads to get there, but it's a beautiful stream with lots of wild brookies that don't get a lot of pressure.
The upper portion of the river is known for prolific early spring caddis fly hatches. Elkhorn Lake itself has a solid put-and-take fishery, and is popular in springtime.
There's also great fishing in the relatively short "Delayed Harvest" section below Elkhorn Lake. This stretch extends from the Elkhorn Dam down to Staunton Lake, a water supply reservoir for the city of Staunton.
Here you'll find a classic freestone stream (there is no tailwater below the earthen dam) with lovely pocket water. Anglers typically catch 10- to 12-inch rainbows here, with occasional brook trout mixed in.
The water chemistry supports a diverse assortment of mayflies, caddis flies and some stoneflies. Blue Winged Olives, Sulphurs, Quill Gordons, and a few other typical hatches happen here. Nymphing is also effective most seasons, and a Panther Martin spinner or other small lures may connect with a few trout.
Below the Staunton Reservoir Dam, the river continues for many miles, and includes some extensive stocked "Put and Take" water. The Staunton Day Use Area of George Washington National Forest provides access.
Smith River
Flowing from Virginia into North Carolina, the Smith River is a tributary of the Dan River that offers varied fishing opportunities. A little over 44 miles of the river are located within Virginia.
The Smith River is mostly known for the tailwater fishery below the Philpott Dam, which impounds Philpott Lake. About an hour south of Roanoke, the Smith River tailwater is a 31-mile section from the dam to Route 636 that offers excellent fishing for brown trout.
These brown trout are wild, stream-bred fish, and there are some real bruisers in here (although 10- to 12-inch browns are more common). Rainbow trout are also stocked in a couple of put-and-take sections within this stretch.
Much of the tailwater section is made up of long pools interspersed with riffles. There isn't a ton of variation, and the surface tends to be smooth.
Trout here gravitate to any structure they can find, be it a rock ledge, fallen tree branch or current edge. In summer, target shady spots.
Dry fly fishing can be quite challenging, and subsurface flies often work better. Midges are the number one food source for Smith tailwater trout, and the best presentation is almost always a midge nymph on a very light tippet.
Some folks make the mistake of going too big here. Downsizing your flies is a good call, unless you're really trying to select for the biggest brown trout. Those bruisers may strike a well-presented crawfish, sculpin or leech imitation.
The river also includes a long section where bait fishing is allowed.
Bigger trout tend to hold in the pools and can be very difficult to catch. Riffles are much easier to fish, but mostly harbor smaller trout.
Fishing here is a fun challenge, and discharges from the dam maintain the temperature and keep the tailwater fishable in every season.
Although the Smith River is best known for its tailwater fishing, there are also some native brook trout in the uppermost portion of the river near its headwaters.
The upper Smith River meanders through some charming countryside, with several historic covered bridges.
South Fork Holston River
A small stream known for producing big trout, the South Fork Holston River is formed by several tiny limestone spring creeks and freestone streams in Virginia's mountainous southwestern corner.
An angler landed a state-record brown trout weighing nearly 15 pounds here in 1990.
The South Fork Holston River includes several sections with varying regulations (including catch-and-release or restricted harvest areas), but the stream itself can be characterized as two different sections: above the Buller Fish Hatchery, and below.
Water is diverted from the South Fork to feed the hatchery, which raises rainbow trout, walleye and black crappie, among other species.
A dam on the river just above the hatchery marks the boundary between the wilder upper part of the stream and the more developed section below.
Above the hatchery, the South Fork Holston River tumbles down the side of a mountain over the course of many riffles, pools and runs, with an abundance of pocket water and productive current seams along the way.
The stream is mostly narrow, and overhead growth is substantial.
This upper section is not stocked, but has a great population of wild rainbow and brown trout, which include plenty of 12-inch rainbows and browns over 16 inches.
Buller Hatchery Road crisscrosses the stream, and a bit of hiking and wading will get you to the best spots.
As it flows through and below the hatchery, the river widens out, but maintains its charmingly rambling character as it meanders through the woods. This section below the hatchery boundary is heavily stocked, and some truly massive trophy browns lurk in some pools.
The hatchery itself provides some of the easiest access and parking.
The South Fork Holston River has a reputation for being easy to fish, and while that can be true, these trout can be wary, especially the bigger ones.
Newly stocked fish may readily strike spinners and Trout Magnet lures, but catching a trophy generally requires a subtle approach. Fly anglers have a lot of opportunities to match the hatch, as this small river supports a great diversity of insect hatches.
Little Winter Stoneflies are first in the year, usually hatching in January. Blue Winged Olives hatch from February through May, with less consistent hatches of Blue Quills, Quill Gordons and others. Cranefly larvae are also a major food source, as are hellgrammites.
Dry River
Don't be put off by its less-than-promising name. The Dry River never runs dry, and this tributary of the North River offers great fishing for wild brook trout year-round.
Apparently, the river was so named either because its stream bed is wider than the actual stream, or because it goes completely underground for a brief stretch. But with 14 miles of publicly-accessible fishing water, it's among Virginia's longest wild brook trout streams.
The Dry River has also been noted to have the highest brook trout density in the state. The best fishing is in the upper portion of the river above the community of Rawley Springs, where the river gradually rolls down from the Allegheny Mountains along the VA/WV state line.
The river bends in and out of George Washington National Forest throughout this area. U.S. Route 33 runs roughly parallel to its banks, providing plenty of pull-offs for easy access. The farther up you go, the better the fishing seems to get.
The first good spot is Riven Rock Park, but this spot is probably the most pressured part of the river. You're likely to encounter stocked rainbows and brookies here that have come up from the put-and-take water farther downriver.
Some of the best fly fishing is farther up around the confluence with Skidmore Fork, which adds cool water courtesy of the Switzer Lake Dam just a little ways up the fork.
During normal flows, the Dry River is easy to wade, and the width of the banks makes fly casting relatively easy as well.
Caddis and Sulphur hatches take place in April and May, and the Dry River hosts one of the biggest Green Drake hatches in Virginia, usually around Memorial Day.
This part of the national forest is popular among ATV riders, which has its pros and cons.
There's always a chance a group will come roaring up the stream bed while you're trying to fish. On the plus side, the trout here seem less wary than elsewhere because they are accustomed to human noise.
North Fork Moormans River
The North Fork Moormans River is a small river that lies mostly within the boundaries of Shenandoah National Park. Flowing north to south, it runs roughly parallel to Skyline Drive along the eastern slope of the Blue Ridge Mountains.
The main attraction is native brook trout fishing, which increases in quality the farther you go toward the river's headwaters.
The lower portion of the river below Charlottesville Reservoir (a.k.a. Sugar Hollow Reservoir), is also operated as a put-and-take fishery for stocked rainbows and browns.
It's a beautiful river, and is also a freestone stream in the truest sense. Conditions can vary widely, with low flows in summer and occasional high waters resulting from heavy rains.
Above the put-and-take section, the North Fork Moormans River is managed for wild brook trout. Fishing is catch-and-release only with single-hook artificial lures. The native trout average about 7 inches, but the opportunity to fish for them in this wild setting is not to be missed.
The main access is from Sugar Hollow Road, which runs along the north side of the reservoir.
You can drive about two miles up the river from the reservoir, but fishing beyond that requires some hiking. That hike is well worth it.
The lowest part of the river is frequented by families who swim in and picnic alongside the waterfalls and pools. Farther up, you'll find solitude, not to mention brookies at the tail of practically every pool, especially in spring.
For the most part, insect hatches don't come into play here in a big way. Standard attractor flies like Adams and Stimulators usually do a good job tempting the native brook trout, and a Tan Caddis pattern is also a good option.
Another access point is a little farther upriver from the Blackrock Gap Trailhead on Skyline Drive. Just be aware that it's a downhill hike from here to the river, and a fair amount of elevation gain hiking back out.
Virginia Trout Lakes
In addition to the rivers listed above, the Virginia Department of Wildlife Resources stocks trout in numerous lakes across the state. Most lakes are too warm for holdovers and function as put-and-take lakes, but a handful do support healthy year-round populations.
Several of the lakes listed below are Trout Heritage Waters, which are stocked every spring for an "opening day" of sorts on the first Saturday in April. Here's a link to a listing of Virginia Trout Heritage Waters.
Lake Moomaw
An impoundment of the Jackson River in the Alleghany Highlands, 2,530-acre Lake Moomaw is a deep, clear and cold reservoir that supports year-round brown trout and rainbow trout populations. Both species are stocked annually, and browns commonly reach 5 pounds.
Alewives have been stocked here too, providing essential forage for the trout. Trolling with alewife imitations is a popular tactic, but casting with spinners and spoons can also be productive.
This is also one of Virginia's lakes that allows bait fishing for trout.
Trout often suspend at 15 to 20 feet, but may also feed on the surface.
The Forest Service maintains several accesses around the lake with boat ramps and campgrounds.
Bolar Mountain Recreation Area is a good place to start. Bank fishing is available, though shorebound anglers more commonly catch bass and panfish.
The cool water here also is conducive to producing some of the better smallmouth bass fishing found outside of Virginia's famous bronzeback rivers.
Switzer Lake
Perhaps the best brook trout lake in Virginia, Switzer Lake (also known as Skidmore Lake) is a 118-acre lake in the wooded mountains west of Harrisonburg. Brookies measuring 12 to 16 inches are common, and individuals up to 3 pounds have been confirmed.
Brook trout feed within 10 feet of the surface in spring and fall, when the water temperature is below 60 degrees.
Skidmore Fork feeds the lake. Trout will gather at the head of the lake in October, eventually heading up the creek to spawn if water levels allow.
Access is available through Switzer Lake Recreation Area. Gas-powered motors are not allowed, but a launch is available for cartop boats.
There is excellent bank fishing access near the dam.
Laurel Bed Lake
Perched at the top of Clinch Mountain at an elevation of 3,600 feet, Laurel Bed Lake is an excellent trout lake that also offers trophy-size smallmouth bass and spectacular scenery.
Brook and rainbow trout are stocked annually, and anglers can catch larger holdovers for both species.
Rainbows hold over more successfully, commonly reaching 15 to 18 inches and providing year-round catches. In summer, look for rainbows around cool tributaries and springs.
Brook trout fishing is best from November to June, and anglers catch quite a few over 12 inches.
Laurel Bed Lake is accessible through Clinch Mountain Wildlife Management Area, and is closed for a week leading up to the first Saturday in April.
It's an excellent lake for kayak fishing.
Bark Camp Lake
Scott County's 61-acre Bark Camp lake is a picturesque lake surrounded by thick forest in Southwest Virginia. Catchable rainbow and brown trout are stocked several times between October and May each year.
Bark Camp Lake is managed as a Trout Heritage Water, so it's closed the day before the first Saturday in April for stocking. Expect it to be busy during the following weeks!
In summer, when trout fishing is likely to be slower, there is excellent fishing for largemouth bass and sunfish.
Bank fishing access and a fishing pier are available at Bark Camp Recreation Area within Jefferson National Forest.
No gas-powered boats are allowed on the lake, but there is a boat ramp for smaller craft.
Douthat Lake
Located within Douthat State Park in the Allegheny Mountains of Bath County, Douthat Lake is a 50-acre man-made lake that offers excellent put-and-take fishing for stocked trout.
We've included it here because Douthat Lake is a great family fishing lake that is very popular during spring and fall.
Douthat Lake is seasonally operated as a fee fishing lake from the first Saturday in April through June 15, and from September 15 through October 31.
Brook, brown and rainbow trout are stocked twice every week during those fee-required seasons and occasionally at other times.
Catch More Trout
Check out our full guide to favorite trout fishing techniques and tips.