Main Source: Steve Fleming, Mah-Hah Outfitters
Also see:
John Day River Smallmouth Bass (Spring)
The John Day River is among the places in Oregon where every year dozens of competent anglers join the "100 Club" by landing bass in triple-digit numbers. Every now and then, someone tops 200 in a good day's fishing.
While spring fishing brings the biggest bass (see the separate article on this website, linked above), summer bass fishing on the John Day is fast and furious.
On some days, perhaps a bigger challenge would be to find a lure in your tackle box that they WON'T hit.
Still, Fleming has found that some approaches will net more bass (and larger ones) or bring more squeals of delight during the warm months when the fishin' is easy.
The John Day River enters the Columbia only about 15 miles east of the mouth of the Deschutes River, but it is a sprawling river system with headwaters far away in northeast Oregon's Blue Mountains.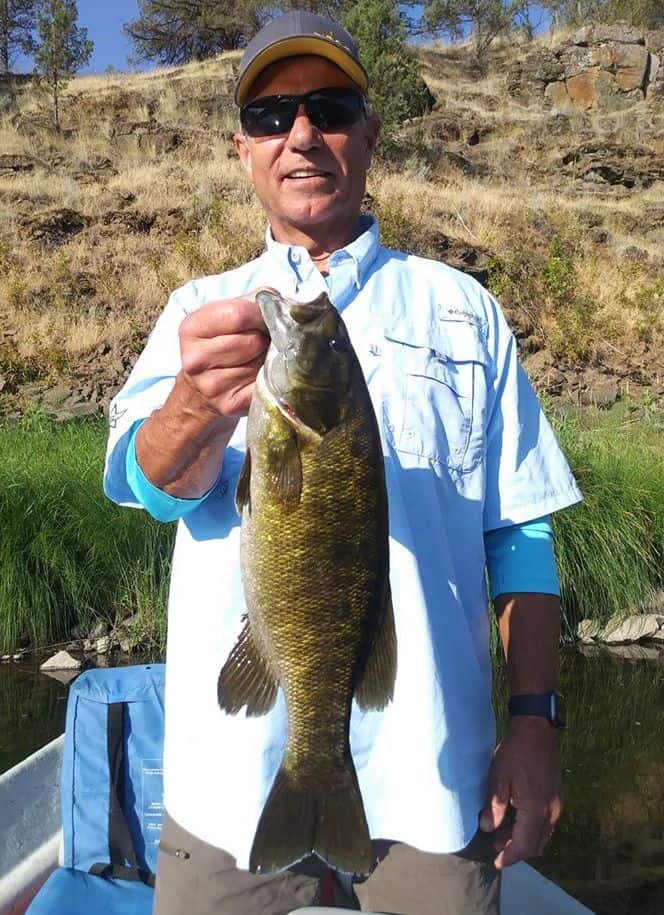 Angling Regulations
The Oregon Department of Fish and Wildlife in 2016 ended all size and number limits for the river's smallmouth bass, an introduced species.
In practice, most bass anglers who want to maintain one of the West's premier smallmouth bass fisheries will continue to practice catch and release, especially with the larger fish.
Fleming suggests that if anglers want to keep some bass to eat, that they should keep fish that are 10 inches or smaller, which are very numerous on the John Day.
Those pan-sized bass aren't yet breeding age and keeping them won't have the same impact on the fish population as keeping larger bass.
Plus, the smaller fish are better eating anyway, he added.
The main river is open for bass angling all year, the same as for hatchery steelhead (strays).
The John Day has a good run of wild steelhead but actually quite few fin-marked steelhead, which aren't planted in the system but occasionally find their way into the river.
Angling regulations here tend to be set to protect wild fish such as steelhead, so check for current regulations regarding the river's forks and also special regulations governing the area immediately around Tumwater Falls at the upper end of the John Day Arm.
Know Before You Go
Fleming said the single-most important thing to have with you while learning to fish this river is a copy of the U.S. Bureau of Land Management's John Day River Recreation Guide — Kimberly to Tumwater Falls.
At this writing, the guide is available for purchase through BLM's Prineville District Office.
Also note that the BLM requires a launch permit for certain floats, with more information and online permitting information available here.
Check the river flow before planning to boat the river. Flows dictate much of the boating activity on the John Day.
For summer fishing, an aluminum drift boat likely won't be able to get through if the water level drops below 500 cubic feet per second. It's possible a seasoned boater with a drift boat with a flexible fiberglass bottom might manage it a little lower flow, but definitely be aware of the risks.
Rafts, canoes and kayaks can typically navigate the river down to 150 cfs.
(Check the spring smallmouth bass fishing article on the John Day for information about extra-high flows.)
When to Catch Warm Season Smallmouth Bass
Basically, summer heat turns on the appetite for more smallmouths.
Sometime around the middle of May, as temperatures rise and snowmelt subsides, the water temperatures in the John Day hit the 52-degree mark.
Earlier, large breeding bass are active but only make up about 10 percent of the river's smallmouth population. The other 90 percent (all those "drinks") get active once the river warms to at least 52 degrees.
The hordes of smallmouth bass emerge from the near-hibernation of winter – and they come out of it hungry.
They will attempt to eat everything they can through the hot months into at least October and usually even into November.
Where to Catch Smallmouths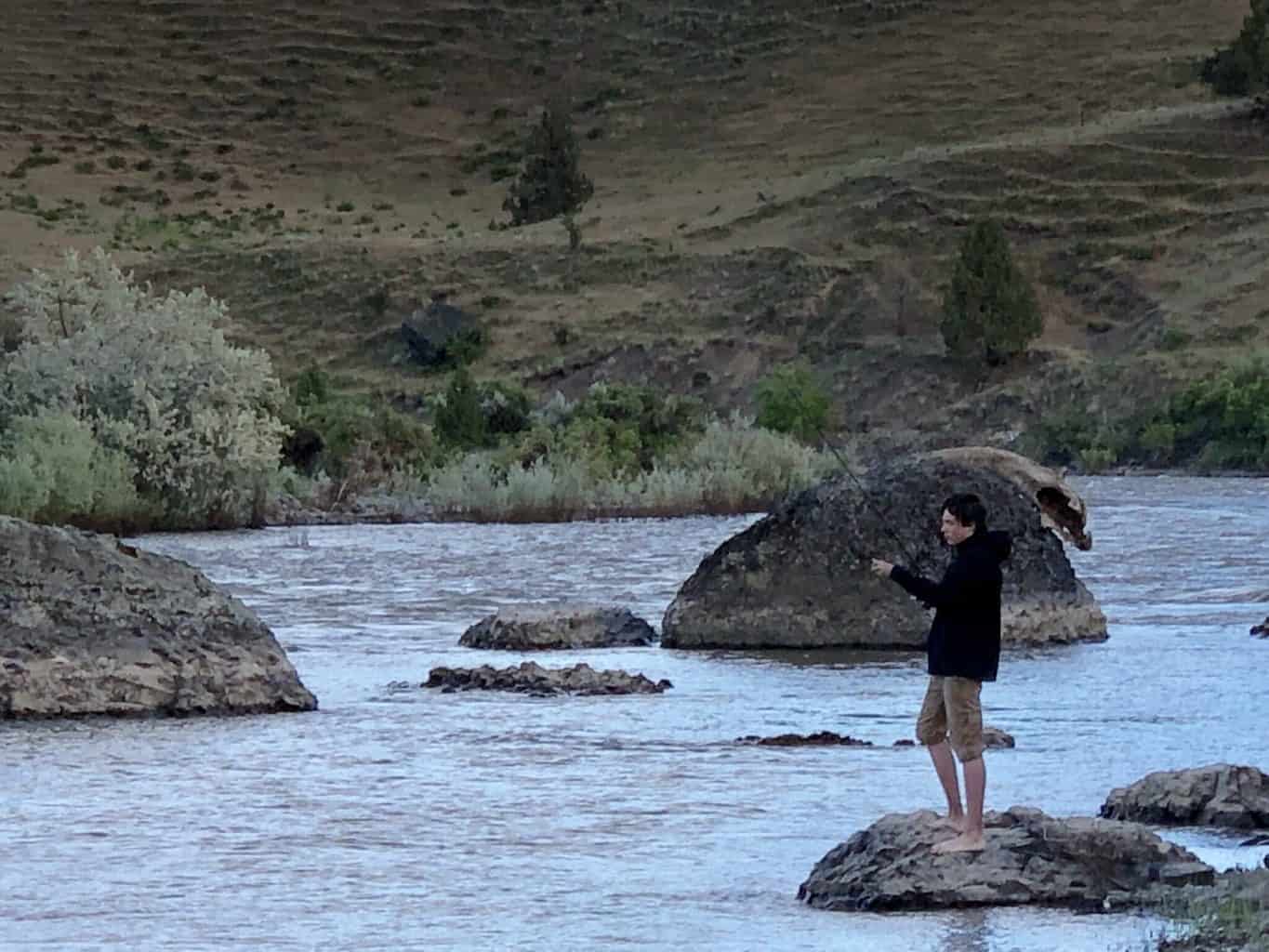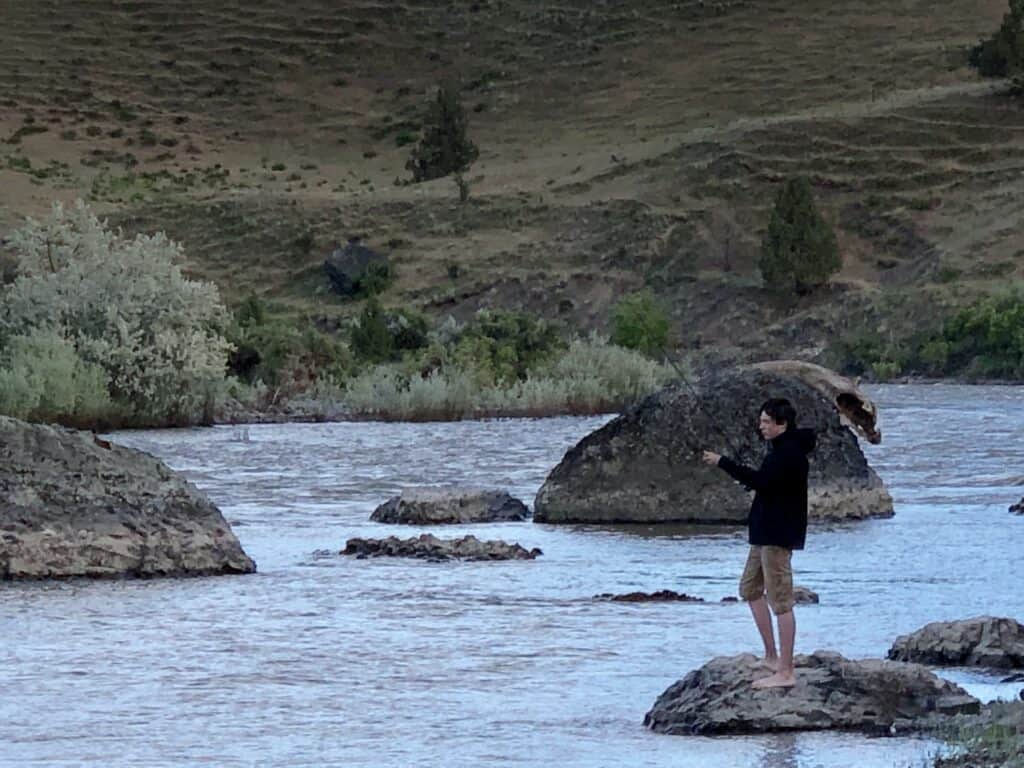 As with spring, relatively slower water is still the best place to catch smallmouths.
Smallmouth bass don't mind a little current, especially in warmer water.
But the John Day runs so shallow in the summer that most bass will seek the shelter of slower, deeper waters. Try current line areas at the junction of current and slack water.
Bass are well-distributed in this river, from the mouth to Kimberly and also into the North Fork, which is generally too small for boating but has good bank fishing up to Monument.
Boaters will find launches at Kimberly, Spray, Service Creek, Twickenham and Clarno.
The BLM also recent acquired access to Armstrong Canyon/30 Mile Creek and opened a new spot for boaters to put in or take out. However, it's best to check first with the BLM to see whether the road is passable.
There is a takeout at the Cottonwood Bridge (Highway 206) for boaters who make the multi-day float down from Clarno through a long area only accessible by boat or with permission to cross private property.
The fairly new Cottonwood Canyon State Park provides some amenities at this popular take out spot.
How to Catch Smallmouth Bass
Summertime smallmouth are very aggressive on the John Day River. They will attack active baits with abandon.
The soft plastics that work well in the cool spring also will catch huge numbers of fish in the summertime, although faster techniques attract more strikes in warm water.
Small tubes such as Outlaw Baits' Slim Slam Tube will really catch fish in volume in the summer.
Use these on a 1/16th-ounce jig head – or even just with a heavy hook as the river flow drops. Rubber worms, grubs and similar lures all catch lots of fish.
Flukes such as those made by Big Bite Baits or ZOOM are a fun and effective way to catch smallmouth, including some big ones. Try tossing these near (or even on) the bank and jerk and reel them back to you close to the surface.
Speaking of the surface, the top is a fun place to fish. Try a floating Rapala, jerking it back in an erratic retrieve that keeps it splashing across the surface.
Fleming's favorite crankbaits lately are custom-painted by Willamette Weapon Custom Lures, which are designed to accurately match what the bass actually eat.
Fly fishers also have a blast with floating patterns. A good place to begin the slam-fest is with poppers. Fleming's favorites come from the Gaines Company, especially its Dixie Devil popper and its Sneaky Pete slider (the head is reversed).
Other great fly patterns for smallmouth bass are an old standby, the woolly bugger in black, brown or olive, or try a Girdle Bug tied with a gold bead head and white rubber legs.
The easiest approach for fly anglers is to use a weight-forward floating line. You'll only need about 4 feet of tapered leader to get the job done.
Anglers who are new to fly fishing might start by tying on a 1/32-ounce crappie jig to a short length of monofilament leader. Chartreuse, black and olive are among good jig colors.
If All Else Fails
That's a good one! This is the John Day River in the summertime, so it won't take long to find something that works.
But if you aren't catching as many fish as you'd like, or they are too small for your taste, switch colors and lure styles until you find what they REALLY want that day.
Remember that smallmouth preferences can change rapidly, so the best lure today might not work as well tomorrow.
Steve Fleming has operated Mah-Hah Outfitters since 1989. He conducts more smallmouth trips on the John Day than anyone. He no longer does overnight trips but can help connect you to other guides for longer trips or for fly fishing specialists. In addition to smallmouth, Fleming guides for steelhead on the river and for largemouth bass on a private lake.
More: Oregon Bass and Warmwater Fishing page
Oregon Resources
ODFW Weekly Fishing Report
ODFW Trout Stocking Schedule
Oregon Fishing Regulations
National Weather Service