Stocked in Ohio lakes since the 1970s, saugeye have become one of the more popular game fish in the Buckeye State. They offer year-round fishing opportunities, are fun to catch and, like walleye, saugeye are a great-eating fish when you get them to the table.
Saugeye are a hybrid species between walleye and sauger, and they are similar to their parent species in both habit and appearance. Capable of exceeding 10 pounds, saugeye in the 2- to 5-pound range are most common.
Much like walleye, saugeye sometimes bite best at night. But in turbid waters and on cloudy days, the fishing can be just as good during the day.
Focus on rocky structure, except around April, when saugeye head toward shallow coves and creeks and are frequently caught on shallow flats.
And while saugeye usually avoid strong currents, they also thrive in rivers and streams. Excellent tailwater fisheries exist below most of Ohio's best saugeye lakes.
Ohio's Best Saugeye Spots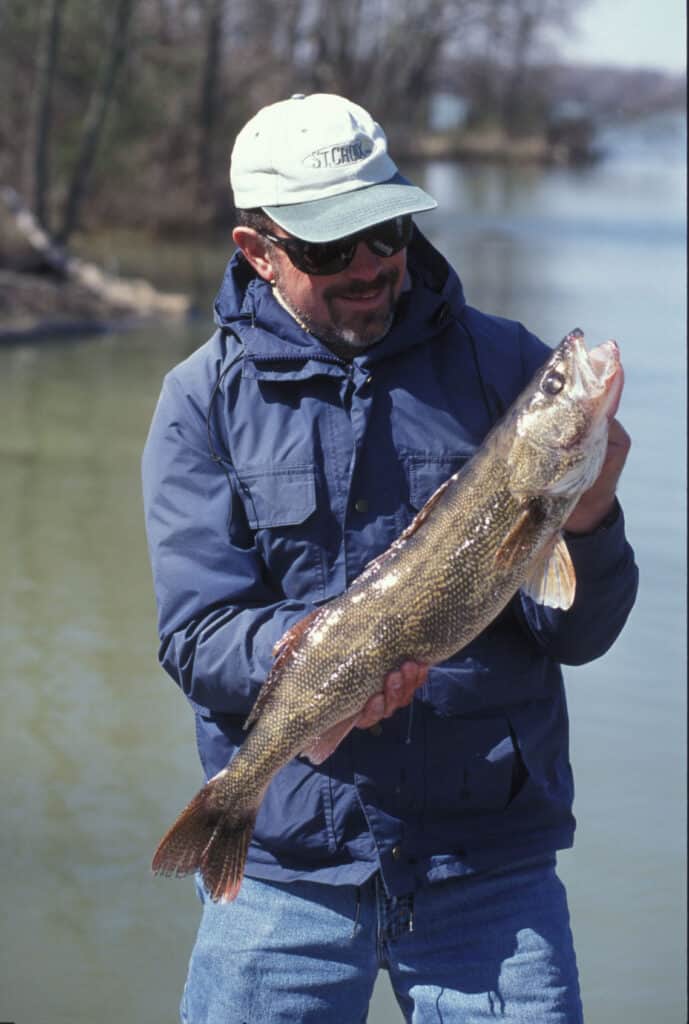 You can catch saugeye in quite a few waters here, but the following are the very best fishing lakes and tailwaters across the state.
Indian Lake
Located in Western Ohio's Logan County, Indian Lake is widely regarded as the best saugeye lake in Ohio, and is certainly the lake where most anglers specifically target this species.
Maybe that's not surprising: The Ohio DNR socks over 500,000 saugeye fingerlings here every year.
At 5,157 acres, Indian Lake is one of the largest reservoirs in Ohio, but it is also exceptionally shallow. The maximum depth is 15 feet, and the vast majority of the lake is 6 feet deep or less.
As a result, saugeye are often caught in shallower water here than in most lakes, and many anglers catch them from shore. Bridges, rock piles, and rip-rap banks are good areas to target, especially if there is somewhat deeper water nearby.
The Dream Bridge area between Lake Ridge Island and Shawnee Island can be a great place to fish. The Moundwood and Lakeview areas are often are productive as well. Access is available through Indian Lake State Park.
April and May offer some of the best saugeye fishing, and anglers often catch crappie as well as saugeye. The two species happen to share a lot of habitat in Indian Lake and will bite on a similar array of jigs, brightly colored soft plastics, and small crankbaits.
Indian Lake freezes every winter, and many saugeye are also jigged up through the ice.
The size of the fish tends to be cyclical; anglers often report catching mostly saugeye in the 12- to 14-inch range in a given year, but then some years the lake offers a greater abundance of 16- to 20-inch fish.
Buckeye Lake
Located a stone's throw from Columbus in Central Ohio, Buckeye Lake is one of Ohio's oldest reservoirs, first built in 1830. This 2,873-acre lake has a lot in common with Indian Lake and has been amply stocked with saugeye.
One thing the lakes have in common is depth. Almost all of Buckeye Lake is less than 10 feet deep, and the majority of the bottom is made up of shallow flats with little in the way of distinct structure.
Trolling worm harness rigs over the flats is the go-to tactic for saugeye in spring and early summer. The deepest parts of the lake near Leib's Island, known as the Channels, are also productive.
Cooler temperatures in spring and fall offer opportunities to catch saugeye from shore around the Channels, Fairfield Beach, and the pier at the North Shore Boat Launch within Buckeye Lake State Park.
Ice fishing is also very popular on Buckeye Lake. Try fishing for saugeye using jigs tipped with live minnows close to the bottom from late January through February.
Buckeye Lake tends to be not quite as good as Indian Lake for numbers, but it often produces bigger saugeye.
The Fish Ohio Program, which recognizes noteworthy catches from across the state, logs more 21-inch-plus saugeye from Buckeye Lake than any other lake most years.
Alum Creek Lake
Though best known as one of Central Ohio's best bass lakes, 3,330-acre Alum Creek Lake is also one of the state's top saugeye producers. A former state record weighing 12.84 pounds was caught here in 2002.
Alum Creek Lake is quite deep, with depths up to 60 feet near the dam. Some saugeye are caught from the bank, especially in spring, but targeting deeper structure tends to be the most productive way to fish this lake.
The riprap face of the dam and the Cheshire Road bridge are both great spots. The shoreline of Alum Creek Lake is made up of numerous points and coves, and a lot of saugeye are also caught along sloping rocky points.
The eastern shore of the lake is best, partly because it is the side most often facing the wind, but also because an old submerged roadbed along this bank serves as a highway of sorts, leading saugeye from point to point.
There is also an excellent winter saugeye fishery in the tailwaters below the lake in late winter and early spring. A day-use park at the dam provides access to Alum Creek immediately below the reservoir.
Alum Creek State Park almost completely surrounds the lake and provides a lot of great access. The state park marina on the western shore is a great place to launch, and saugeye are often caught from the rocky pier that encircles the marina.
Deer Creek Lake
Southwest Ohio's Deer Creek Lake (not to be confused with Deer Creek Reservoir in Northeast Ohio) was the first lake in the state to be stocked with saugeye, way back in 1978. More than 40 years later, it's still a great place to target these fish.
Deer Creek Lake is a U-shaped lake that spans 1,301 acres. Arguably the best fishing spot for saugeye on the lake is off the tip of Adena Ridge, the long, sloping point that forms the joint at the center of the "U."
Anglers often troll for saugeye using worm harness rigs off the end of the point. The bottom descends swiftly in this area, with rocky drops to 15 or 20 feet not far from shore. Drifting with live minnows is another popular tactic.
Deer Creek State Park encompasses much of the lakeshore and offers a variety of access. These include several boat launches and fishing piers, a marina on the western shore, and a hiking trail that extends the length of Adena Ridge to provide bank access.
While Deer Creek Lake is a solid saugeye fishery, the tailwater below its dam is often even better. Live minnows and curlytail grubs account for many of the fish caught here.
Late fall through early spring is best in the tailwaters, but there's often a great bite any time water is discharged from the dam.
Atwood Lake
One of several Eastern Ohio lakes under the management of the Muskingum Watershed Conservancy District (MWCD), Atwood Lake is one of the best saugeye options in this part of the state.
As with many Ohio lakes, there's a great tailwater fishery in addition to the main lake.
Atwood Lake spans 1,562 acres, and has depths up to 30 feet in the lower portion of the lake. There's a lot of rocky structure here, and saugeye are frequently caught along ledges and drop-offs, as well as rock piles and other hard-bottomed structure.
The greatest numbers of saugeye are caught in spring and fall, but summer anglers also find success trolling 10- to 18-foot depths. Lots of saugeye over 20 inches are caught here.
Jigging is often the most effective technique, and anglers utilize jig/minnow and jig/nightcrawler combos to great success. Jigging spoons are highly effective; try casting and retrieving your spoon with a jig-like motion close to the bottom.
The MWCD-operated Atwood Lake Park is the main access to the lake, offering a campground, marina, and several boat launch sites. If you're fishing from the bank, the tailwater is your best option, especially during the colder months.
Griggs & O'Shaughnessy Tailwaters
This is a two-fer listing of prime tailwater spots to catch saugeye.
Griggs Reservoir and O'Shaughnessy Reservoir are two man-made lakes along the Scioto River in the Columbus area of Central Ohio. Both have been stocked extensively with saugeye over the years.
But because many saugeye end up washed over the dams and into the river below (while others also migrate into areas of the river above each reservoir) the tailwater fisheries below the Griggs and O'Shaughnessy dams are where the best saugeye action is really found.
The Griggs Reservoir tailwater is easily reached through Griggs Reservoir Park. Saugeye usually stack up below the dam throughout the colder months. That said, the fishing is also notoriously fickle, with 50-fish days just as likely as walking away skunked.
A little farther up the river, the O'Shaughnessy Reservoir tailwater is perhaps a bit more reliable. It's also a popular winter fishing spot, but saugeye are occasionally caught all year, along with smallmouth bass and channel catfish. Access is available below the dam at Glick Park.
There's also solid saugeye fishing in the reservoirs themselves, especially along rocky ledges and drop-offs. The area around the Home Road bridge in O'Shaughnessy Reservoir is a perennial favorite.
Piedmont Lake
A 2,363-acre reservoir in Southeast Ohio, Piedmont Lake is long and narrow, meandering among densely wooded hills and offering a mostly-undeveloped shoreline.
The lake is heavily stocked with saugeye, though it's generally better known for numbers than size.
The saugeye fishing is concentrated in the lower half of the reservoir for most of the year. Structure like steep, rocky drop-offs and submerged road beds often hold fish, and this area is especially popular among ice fishermen.
The best opportunity to catch bigger saugeye is usually around early April, when fish head toward the lake's various feeder creeks, and often strike jerkbaits and live baitfish.
Nearshore areas on either side of the dam also provide good opportunities to catch saugeye.
Piedmont Lake also supports an abundant smallmouth bass population, so expect to nab a few smallies along with saugeye in rocky areas. The main access point is the MWCD-operated Piedmont Marina.
Tappan Lake
Located midway between Atwood and Piedmont lakes in Eastern Ohio, Tappan Lake has a lot in common with its neighbors.
This 2,272-acre reservoir offers a mix of rocky structure and broad flats, and has been stocked abundantly with saugeye.
Most folks catch saugeye by trolling worm harness rigs over the flats at 6- to 12-foot depths.
And don't ignore the night bite. Just like walleye, saugeye often head toward the shallows after dark. In summer, night fishing is often the best option.
That said, the best fishing on Tappan Lake tends to be during the cooler months.
The lake is drawn down significantly in fall, and saugeye congregate around openings beneath the various U.S. Route 250 bridge crossings, especially at the mouths of Willis Run Bay and Lower Beaverdam Bay.
Jigs tipped with minnows and nightcrawlers are effective, and these presentations continue to produce as saugeye head toward warming shallows in spring.
MWCD Lands around Tappan Lake provide bank access and boat launch facilities.
Caesar Creek Lake
Less than 45 minutes from both Cincinnati and Dayton, Caesar Creek Lake is one of Southwest Ohio's best bets for saugeye. Quite a few 22- to 26-inch 'eyes are caught here, and smaller keepers are very abundant.
Caesar Creek Lake is the deepest lake in Ohio, with a maximum depth of 115 feet at normal pool.
Saugeye have a lot of deep structures to choose from here, and fishing rocky ledges, submerged road beds, and cobble-bottomed areas around 20 feet is a great tactic in summer.
But in spring and fall, most saugeye are caught in 12 feet of water or less. The upper end of the lake consists of mostly broad flats, with areas of brush and timber that often produce a mixed bag of saugeye and crappie in spring.
Drifting with live minnows is usually the best tactic, though many anglers favor crankbaits and grubs to cover more water. The area around the small island just off the Caesar Creek State Park campground and boat launch is a good place to start.
Editor's Note
We're going to guess that you're also interested in the best walleye fishing lakes and rivers in Ohio. Are we right?