Sometimes it seems like catfish get no respect.
When you think of the marquee game fish in Ohio, you probably envision a smallmouth bass going fully airborne as it attempts to shake free of the hook. Or maybe it's a walleye, with its unfathomable eyes reflecting moonlight above the riverbank.
And that makes sense. There's something alluring, even glamorous about these fish. They look good on a magazine cover, or hanging on the wall of your local bait shop.
Catfish… well, they don't. Catfish are many things, but "glamorous" is not one of them.
But ask a group of Buckeye anglers what fish they target most, and a surprising number will tell you, catfish. These fish inhabit rivers and reservoirs all over Ohio, and are some of the most fun fish to catch.
At the end of the day, there's no fish in Ohio that fights harder than a 60-pound flathead hell-bent for deep water, and none that makes a tastier fish fry than a stringer of freshly-fileted channel cats dredged in cornmeal.
If you're looking for a place to catch catfish in Ohio, you won't have to look far. Chances are, no matter where in the state you may find yourself, there's a great catfish lake or river just a few short miles away.
Catfish Species in Ohio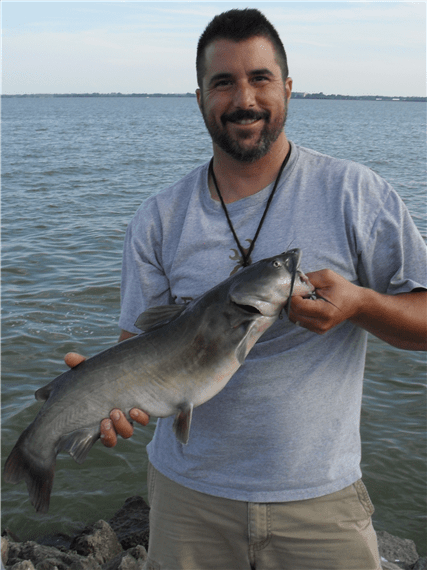 Anglers can target three primary species of catfish in the Buckeye State. Many of the best catfish lakes in Ohio offer angling opportunities for all three species:
Channel Catfish: By far the most abundant catfish species in Ohio, channel cats are native to both the Lake Erie and Ohio River drainages. They typically weigh up to 10 pounds but are capable of getting much bigger. Channel catfish have deeply forked tails and coloration that ranges from silvery gray to olive, with sparse black dots.

Flathead Catfish: Often growing to more than 50 pounds, flathead catfish can be identified by their brown coloration, broad heads with large mouths, and un-forked tails. They're native to the Ohio River and its tributaries, but were also stocked in many Ohio reservoirs during the mid-20th century.

Blue Catfish: The true giants of North America's catfish, blue cats grow to well over 100 pounds. They can be differentiated from channel cats by their bluish color, lack of spots, and the number of rays in their anal fin (typically 30 to 36). They're native to the Ohio River, but have been stocked in a handful of other lakes in Ohio.
Ohio is also home to three species of bullhead: yellow bullhead, brown bullhead and black bullhead. Though they seldom exceed 2 or 3 pounds, they are greatly sought-after by many anglers, especially in early spring.
Bullheads can be found in practically every lake and river in the state, so we're not focusing on them in this article.
Best Catfish Rivers in Ohio
Ohio River
It's impossible to talk about catfish fishing in Ohio without talking about the Ohio River. This mighty artery spans 451 miles of Ohio's southern and eastern border. And it offers what is almost certainly the best catfish water in the state.
Channel catfish are abundant throughout the entire river, and there isn't a single pool along its length that doesn't produce channel cats. Flatheads are also quite common, often weighing 25 pounds or more.
Some of the best fishing spots are along the portion of the river that borders eastern Ohio. The 3-mile Pike Island Pool is an especially productive area, especially in the tailwaters below the New Cumberland Lock and Dam.
There's bank access to the tailwater just off state Route 7, and several boat ramps provide access to the Pike Island Pool. Late May through early July is a great time to fish this stretch, and some of the biggest flatheads are caught after dark.
The Ohio-adjacent portion of the Ohio River is also, increasingly, becoming known for producing giant blue catfish. Fish in the 50-pound class are the norm, and there's always an outside shot at one even bigger.
Blue cats are most common in the lower portion of the river. If you're targeting blues in Ohio, the best place to be is the Markland Pool, which stretches 95 miles from the Meldahl Dam tailwaters westward past Cincinnati and into Indiana.
The Schmidt Boat Launch Ramp in Cincinnati is an excellent place to launch on the Markland Pool of the Ohio River. The mouth of the Little Miami River, about four miles above the launch, is an especially good area. 
The Riverside Boat Launch Ramp is another good spot just downriver of Cincinnati, which also provides bank fishing access. 
Any ledge or drop-off can be productive, and the best spots tend to be where a steep drop is close to the bank.
Blue catfish prefer to stay out of the heaviest current, and they typically hang out in relatively slack waters below outside bends, rising at night to feed in the shallows.
Cut bait, including bluegill and perch, is best for big blues, and heavy tackle with at least 40-pound test line is essential.
Muskingum River
Flowing southward through about 112 miles of Ohio's eastern Hill Country, the Muskingum River is the epicenter of Ohio's flathead fishery. There may be no other river in the state, with the possible exception of the Ohio, that gives up more flathead catfish.
Channel catfish are abundant too, and anglers catch tremendous numbers of 3- to 5-pound fish for the table, as well as some that are much, much bigger. The fishing gets going as early as late March most years, and peaks from May into June.
The Muskingum River is broken up into pools by eight lock-and-dam structures south of Zanesville. Tailwaters below each of these dams provide the best catfish bites on the river.
Catfish are caught throughout the Muskingum River, but the Marietta Pool—the lower 5.8 miles of the river from the Davola Dam tailwater to the Muskingum's confluence with the Ohio River—is quite possibly the best stretch.
Fish near sand and gravel bars, along the main river channel, and current edges in the tailwater area for channel cats in the 12- to 20-inch range and flatheads that sometimes top 30 inches.
Live creek chubs and sunfish are the preferred flathead baits, but channel cats are more likely to go for cut bait or dough/stink baits.
The fishing gets tough around the spawn in late June, but once the catfish have finished spawning, summer nights are great times to be on the water.
The Davola Pool (next up above the Marietta Pool) is probably the next-best stretch for catfish. Each of the river's lock-and-dams provides public fishing access, and it's common to see lanterns along the banks on summer nights as anglers ply the river.
The entirety of the Muskingum River is navigable, and the official Muskingum River Water Trail map and guide is a great resource for anglers looking for places to bank fish or launch a boat.
Sandusky River and Bay
The Sandusky River is a 133-mile tributary of Lake Erie in North-Central Ohio. It empties into the lake through Sandusky Bay, and the combined river and bay represent one of the state's great channel cat fisheries.
The Sandusky River is best known for spring walleye and white bass runs (expect to see anglers rubbing shoulders at all the best bank spots in March and April). But there's also an outstanding resident channel catfish population in the river.
Fishing the Sandusky River for catfish is at its best in summer and fall, when the river is relatively low and easy to wade or float.
The deepest spots in the river are about 10 feet deep, and any hole deeper than 5 feet is deep enough to harbor catfish in the summertime.
Channel catfish between 2 and 5 pounds are extremely common in the Sandusky River, and fish in the 10-pound class are a real possibility. Focus on deep pools, especially those with rocks, log jams, or other cover.
There's a lot of great access on both banks of the Sandusky River in and around the city of Fremont. Much of the river is bordered by park land. Try fishing around the Hayes Avenue Bridge and the North Coast Inland Trail crossing.
Sandusky Bay, the vast 41,000-acre embayment that links the river to Lake Erie, may offer even better catfish angling than the river itself.
There are opportunities to catch catfish here from April through September, and some weighing over 20 pounds have been pulled from the bay.
There are seemingly endless 5- to 10-foot flats throughout the bay that harbor catfish, but the best area to start is around the bottleneck between Bayview and Danbury.
Three bridges span the bay at this point: the Route 2 bridge, a railroad bridge, and remnants of the "Old Route 2 bridge," which has been turned into a state-owned public fishing pier.
All three bridges are lined with rip-rap, and are irresistible to spawning catfish from May into June.
Scioto River
A 231-mile tributary of the Ohio River, the Scioto River cuts a path right through the heart of the Buckeye State. From its origins in Central Ohio's farm country, the Scioto flows through Columbus before eventually emptying into the Ohio in Portsmouth.
It's undoubtedly one of the best rivers in the state for channel catfish, which are abundant in nearly every section of the Scioto.
There are also decent numbers of flatheads below the Greenlawn Dam, which is the final dam before the Scioto meets the Ohio.
Along the upper Scioto River, access is abundant, but mostly consists of informal pull-offs and bridge crossings. This stretch through Marion and Delaware counties offers great options for bank anglers to get off the beaten path.
But catfish fishing gets better the farther downriver you go.
As the Scioto approaches Columbus, it is dammed to form O'Shaughnessy Reservoir and Griggs Reservoir. Tailwater sections below both reservoirs are publicly accessible, and offer great catfish opportunities.
The City of Columbus maintains numerous parks and boat ramps along the Scioto River, making it easy for anglers to find a place to reach the water. Lower Scioto Park is a great spot to launch or fish the banks in the heart of the city.
Backwaters and other areas away from the main current are usually productive on the Scioto. During summer, channel cats will often move up from deep holes around dusk to feed in shallower runs.
They often stack up below fairly predictable current break areas this time of year, but those kinds of spots also get hit pretty hard by city anglers. Hike the banks to find out-of-the-way spots, and use cut bait for best results.
Catfish Lakes in Ohio
Hoover Reservoir
No lake in Ohio produces more trophy-sized catfish than Hoover Reservoir.
This 2,884-acre lake north of Columbus sustains a tremendous population of channel catfish. Flatheads are found here as well, and blue cats have also been stocked since 2011.
Stocking blue catfish in Hoover Reservoir was a bit of an experiment at first. Over a decade since the program began, blues around 24 inches are common, and increasing numbers of fish measuring 36 inches are being caught.
The upper (northern) basin of Hoover Reservoir tends to be best for catfish in general, and especially for big catfish. The upper basin is broad and shallow, mostly 15 feet or less with a few deep areas up to 30 feet.
This section of the lake features a vast expanse of 8- to 10-foot-deep flats. Catfish feed actively at night in this area, and anglers often have the most success drifting cut shad and raw shrimp close to the bottom from dusk until well after dark.
A lot of big fish are caught during the early morning hours, so if you can't make it to the lake around sunset, aim to get on the water before dawn the next day.
Flathead catfish are less common than channel and blue catfish. As is usually the case, flatheads are more apt to strike a live bait fish than their relatives. Try a live shad or bluegill for big flatheads.
Hoover Reservoir has a 10 hp limit on outboard motors, which helps keep boat traffic and noise to a minimum. Considering how close Hoover Reservoir is to Columbus, that's a big help to anglers who don't particularly enjoy competing with speedboats.
Several access areas around Hoover Reservoir are owned by the city of Columbus. The Oxbow Road Boat Ramp is a great place to launch on the upper basin, and also provides bank fishing access.
Hoover also has excellent fishing for several other game fish, including some of the best crappie fishing in Ohio.
Clendening Lake
Eastern Ohio's Clendening Lake is a long, narrow, meandering reservoir that has a longstanding reputation as one of Ohio's best catfish lakes. The state record flathead weighing 76 pounds, 8 ounces, was caught here in 1979.
Clendening Lake was once one of the most heavily stocked lakes in the state with flathead catfish. Although the Ohio DNR discontinued flathead stocking decades ago, these fish still flourish here.
It's also worth noting that, while most Ohio catfish anglers know Clendening as arguably the state's best flathead lake, there's also an abundance of channel catfish available. Anglers commonly catch channel cats weighing 10 pounds, and smaller fish in the 5-pound class are extremely common.
Spanning 1,800 acres, Clendening Lake has numerous small bays, coves, and creek arms that provide a lot of the lake's best catfish opportunities. Flatheads in particular move into the shallows at night to hunt.
The stretch of the lake between Huff Bay and Deersville Bay offers some really great fishing opportunities. In addition to the bays themselves, try along the Clendening Lake Road bridge, which crosses both bays as well as the main lake.
Flatheads are often caught in less than 5 feet of water in springtime, and they tend to invade areas where crappies are spawning this time of year.
Locals catch a lot of the biggest flatheads on jug lines, but live chubs, shad and bluegill can be just as effective on a rod and reel.
Clendening Lake is managed by the Muskingum Watershed Conservancy District, which operates Clendening Marina and three launch sites on the lake's otherwise-undeveloped shoreline. Boats are limited to 10 hp, and ample bank access is available.
Following their success in Hoover Reservoir, the DNR also began stocking blue catfish in Clendening Lake in 2017. This is definitely a lake to keep an eye on as an up-and-coming blue cat fishery.
Seneca Lake
Also known as Senecaville Lake, Seneca Lake is another outstanding Eastern Ohio Lake that's part of the Muskingum Watershed Conservancy District.
Quite a few of Ohio's best catfish lakes are clustered in this particular region, and Seneca is a real standout for channel cats.
Seneca Lake encompasses 3,585 acres, with several fertile bays and creek arms along its 45-mile shoreline.
Cadillac Bay, located toward the lower end of the lake, is especially productive, with a deep creek channel that runs through the bay adjacent to broad, sloping flats.
Most channel cats in Seneca Lake are in the 12- to 16-inch range, but there are also a lot of fish measuring 24 inches and up. Try cut bait, nightcrawlers and dough baits along the channel edge, up onto the adjacent flats, and around nearby bridge pilings.
Seneca Lake also has a more limited population of flathead catfish. They're much less common than channel cats, but flatheads over 50 pounds have been caught here, many of them in the Cadillac Bay area.
Seneca Lake is very accommodating to bank anglers.
Seneca Lake Park provides a wealth of access, including several shore fishing sites and a marina with a floating fishing pier. Quite a few channel catfish are caught right off the pier in spring and summer.
Seneca Lake is managed for a wide range of recreational uses. A large area in the center of the lake is a designated "Speed and Ski Zone," while much of the rest of the reservoir is no-wake.
There are also three shallow, marshy bays at the upper end of the lake that are designated trot line areas.
Much like Clendening Reservoir, the DNR has begun test-stocking blue catfish in Seneca Lake in recent years. Expect to see some big ones turning up in anglers' catches soon.
Honorable Mentions
Don't stop your search for Ohio catfish in the lakes and rivers mentioned above. Catfish inhabit waters all over the state, and these honorable mentions are nearly as likely to provide a great day on the water.
Indian Lake
Surrounded by rolling farmland southeast of Lima, 5,157-acre Indian Lake is one of the top spots for catfish in Western Ohio. Channel cats are the primary target catfish here, though there are enough surly flatheads around to keep things interesting.
Indian Lake was originally built as a canal feeder lake in 1851, but today it's managed mostly for recreation. The lake bottom is predominantly made up of shallow, muck-bottomed flats, punctuated by stump fields and beds of emergent aquatic vegetation.
The maximum depth is just 12 feet, and catfish can be caught throughout the lake during any season. During the prime summer months, you're likely to see stringers of eating-sized channel cats being brought in on any given day.
Indian Lake State Park is the primary access, stretching around a large portion of the lakeshore. There's great fishing around the lake's many islands, along the Chippewa area, and off the jetties at the state park campground.
Indian Lake is known for its annual summer catfish derby, a winner-takes-all tournament in which the single largest catfish takes home the entirety of the prize money.
Cut shad is the bait of choice for catfish.
Indian Lake also is a top choice on our run-down of the best places to go saugeye fishing in Ohio.
Maumee River
The Maumee River flows 137 miles from Indiana into Ohio, where it eventually empties into Lake Erie in Toledo. Though best known for its epic spring walleye run, the Maumee is also a great catfish river.
Mostly broad and shallow, the Maumee River's bottom is primarily bedrock. As a result, there isn't a lot of variation in depth. The best places to find catfish are the deepest holes in the river, which are mostly 6 to 8 feet deep.
Cats stay in those deep holes for the most part during the day, and venture onto surrounding flats to feed at night. Expect to catch channel catfish measuring 12 to 18 inches, and flatheads in the 20- to 40-inch range.
Some of the best fishing is in tailwaters below the Providence and Independence dams (accessible along State Routes 110 and 424, respectively) but there are productive holes throughout the river above Toledo.
Informal access sites below bridge crossings are also common, and there are often deep holes that harbor catfish below bridges. Just be cautious about trespassing; bridges are state-owned and open to the public, but the surrounding lands may not be.
Check out the Maumee River Water Trail guide for more access info.
Salt Fork Lake
Surrounded by Salt Fork State Park, the largest state park in Ohio, Salt Fork Lake is nestled among the rolling hills of Eastern Ohio, not far from other catfish heavy-hitters like Clendening Lake and Seneca Lake.
Salt Fork Lake offers just over 3,000 acres of water and harbors an abundant channel cat population. The lake is better known for numbers than for size, but you can expect to catch plenty of 2- to 5-pound cats here.
There is also a more limited flathead population, with occasional monsters up to 50 pounds. Channel cats are widespread, but the best bet for flatheads is to fish a live sucker or bluegill in areas where the creek channel swings close to the bank.
The state park includes campgrounds and two marinas, as well as multiple boat launch sites with bank access.
Other than park facilities, the shoreline is completely undeveloped, and some of the best fishing is in the various coves and arms of this sprawling lake.
Boats with unlimited horsepower are allowed on Salt Fork Lake, which means boat traffic can get a little heavy. Night fishing is the best bet for anglers to beat the crowds, especially on busy summer weekends.
Great Miami River
The 160-mile Great Miami River flows through the heart of Dayton and around the western outskirts of Cincinnati before emptying into the Ohio River in the southwesternmost corner of Ohio.
It's a great fishing destination for smallmouth bass as well as catfish.
Channel catfish are the dominant species throughout the river, but flatheads are also on the table, especially in the lower stretches.
Blue cats are also rumored to swim as far up as the Low Level Dam in Hamilton, though verified catches are hard to come by.
Throughout the river, anglers have success drifting cut bait for channel cats and live bait for flatheads. Cast your bait above a pool and let it drift with the current down into deep water.
There's great access at public parks like Lodder Park in Hamilton and Miami Bend Park in Carrollton. Much of the river is paralleled by hike and bike trails, which also offer a lot of great access to off-the-beaten-path spots.
Farther up above Dayton, there's excellent fishing throughout the stretch of the river that flows through Piqua, Troy and Tipp City.
Access in this upper area is mostly via bridge crossings and informal pull-offs, and there are several productive 10- to 12-foot holes in this stretch that almost always hold catfish.
Findlay Reservoirs #1 and #2
A pair of neighboring upground reservoirs in Northwest Ohio, the Findlay Reservoirs were built as water supplies for the nearby city of Findlay. They've also come to be known as some of the best fishing lakes in that part of the state.
Channel catfish reside in the 186-acre Finlay Reservoir #1 as well as the 644-acre Findlay Reservoir #2, though they are more abundant in the latter. Both reservoirs have steep drop-offs to a mostly-featureless bottom, and vegetation is sparse.
Anglers typically catch catfish by fishing live nightcrawlers within a foot of the bottom.
Most channel cats here weigh a pound or two, though 5-pound fish are reasonably common, and a handful of 10-pounders have been caught.
Long story short: think numbers, not size.
There's plenty of bank fishing access along the reservoirs' riprap-lined banks. Some catfish are caught this way, but a boat is necessary to reach the deeper water where most cats live.
Try drifting or trolling a nightcrawler just off the deep edge of the riprap.
Access facilities to both lakes are located in Riverbend-Findlay Reservoirs Park.
Boats are limited to electric motors only on Reservoir #1, and gas motors up to 9.9 hp on Reservoir #2.
Soaking nightcrawlers (especially switching off to smaller baits and hooks) is quite likely to bring you a mess of yellow perch if you instead get into a school of these tasty fish while looking for whiskered fish.
Tuscarawas River
The principal tributary of the Muskingum River, the Tuscarawas River offers up significant populations of channel and flathead catfish.
Catfish don't get truly huge in this river, but there are plenty of 5-pound channel cats and flatheads that occasionally top 10 pounds.
The Tuscarawas River begins just south of Akron, and winds through a corridor of fertile East Ohio farmland before meeting up with the Walhonding River to form the Muskingum.
Much of the best fishing is in the stretch from the confluence up to the town of Tuscarawas.
There's an excellent boat launch just off Main Street in Gnadenhutten that provides access to a stretch of river with several deep, productive holes. Catfish are caught here all summer. Try fishing around the bridges just upriver from the launch.
As is so often the case, the best fishing is at night. But the Tuscarawas River is usually quite turbid, which makes it possible to catch plenty of catfish in broad daylight, especially in spring.
The Tuscarawas is a particularly meandering river with numerous deep bends.
Outside river bends are great places to fish, not only because they usually have deep water and relatively mild current, but also because they tend to accumulate logs and brush where catfish hide.
Mosquito Creek Lake
Alternately referred to as Mosquito Lake or Mosquito Reservoir, the 7,199-acre Mosquito Creek Lake is one of Ohio's largest man-made lakes. It's mostly known for walleye and lots of nice crappie, but there's also an often-overlooked catfish population here.
Giant flatheads from Mosquito Creek Lake will occasionally make local headlines, but this is primarily a channel cat lake. Loads of channel catfish measuring 16 to 20 inches are caught here, but live bait might tempt a 30-pound-plus flathead.
At a glance, Mosquito Creek Lake is a large, oval-shaped lake, but a closer look at its shoreline reveals numerous small cuts and coves, and fishing these areas can be very productive.
In early summer, head to the mouths of the many tiny streams that feed the lake.
Another great fishing spot is the Route 88 Causeway, which crosses the lake from east to west about two-thirds of the way up the lake.
There are pull-offs on either side of the causeway for public fishing, and plenty of catfish are caught along the riprap embankments.
This is a very angler-friendly lake thanks to multiple bank access and boat launch sites within Mosquito State Park.
The northernmost end of the lake is a wildlife refuge with no trespassing, but the remainder of the lake above the causeway is mostly a shallow flat with great cat-fishing.
Huron River
The Huron River is a Lake Erie tributary that empties into the lake just a few miles east of Sandusky. It's a solid channel cat fishery that also kicks out the occasional big flathead.
The main stem of the Huron River is just 14 miles long, although its East and West Branch offer a lot more water. Those two branches meet up in the village of Milan, and there's a lot of really excellent catfish water from there all the way down to the lake.
A lot of typical catfish patterns work here. Fish typically spend their days in deep holes, emerging at night to feed on nearby flats. Summer nights offer especially productive fishing.
Of course, "deep" is a relative term. There aren't many spots deeper than 7 feet on the Huron River, and any hole 5 feet deep or more is worth exploring. Expect to catch mostly 2- and 3-pound channel catfish, with the occasional big flathead.
One of the best places to fish the Huron for catfish is Milan Wildlife Area, which offers an abundance of river access right at the confluence of the East and West Branch of the river.
A few miles downriver, The Coupling MetroPark also offers a canoe launch and bank access.
Catch More Catfish
Follow the tips and bait suggestions for each location, and you're bound to catch catfish at any of the waters featured in this article.
If you'd like to continue your catfish fishing education, though, take a gander at our simple guide to catfish fishing techniques, tackle and bait.