Imagine a stream that offered chances at giant steelhead, lake-run brown trout, and river-strong smallmouth bass and had regions so remote that, as one guide put it, fishing it at times made you feel like you were in Alaska?
We're talking about Western New York's Cattaraugus Creek, which offers anglers chances at some of the Northeast's most colorful, hardest-fighting species in one of its truly beautiful regions.
We'll show you where, when and how to catch steelhead, trout, bass and more in this stream just an hour south of Buffalo.
Known to locals as the "Catt," Cattaraugus Creek's north branch flows out of Java Lake, and its south branch originates where Elton Creek and Stony Creek combine in Delevan. The branches meet and flow through the Zoar Valley Unique Area before emptying into Lake Erie.
One of the intriguing elements about fishing the Catt is the sheer variety you'll find along its banks. When it finally empties into Erie, Cattaraugus Creek a slow-moving river. But upriver, as it flows through the Zoar Valley Unique Area, it's a boulder-strewn stream with ripping currents.
While New York's famous Salmon River draws anglers from around the Northeast and across the United States with salmon and steelhead runs, Cattaraugus Creek stays slightly under the radar.
We spoke with long-time steelhead fishing guide Vince Tobia of Cattaraugus Creek Outfitters to get the most precise insight on how to find and catch every major game fish swimming through the Catt.
Steelhead Fishing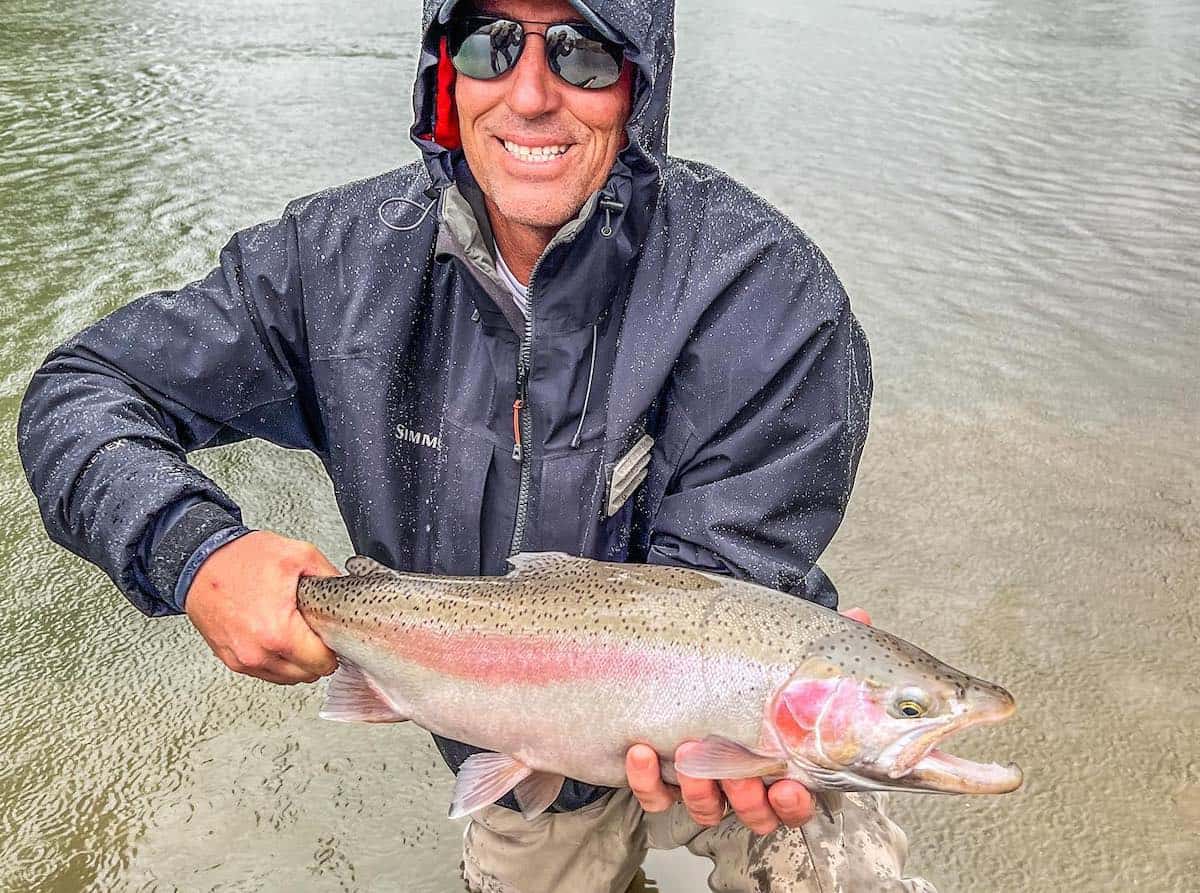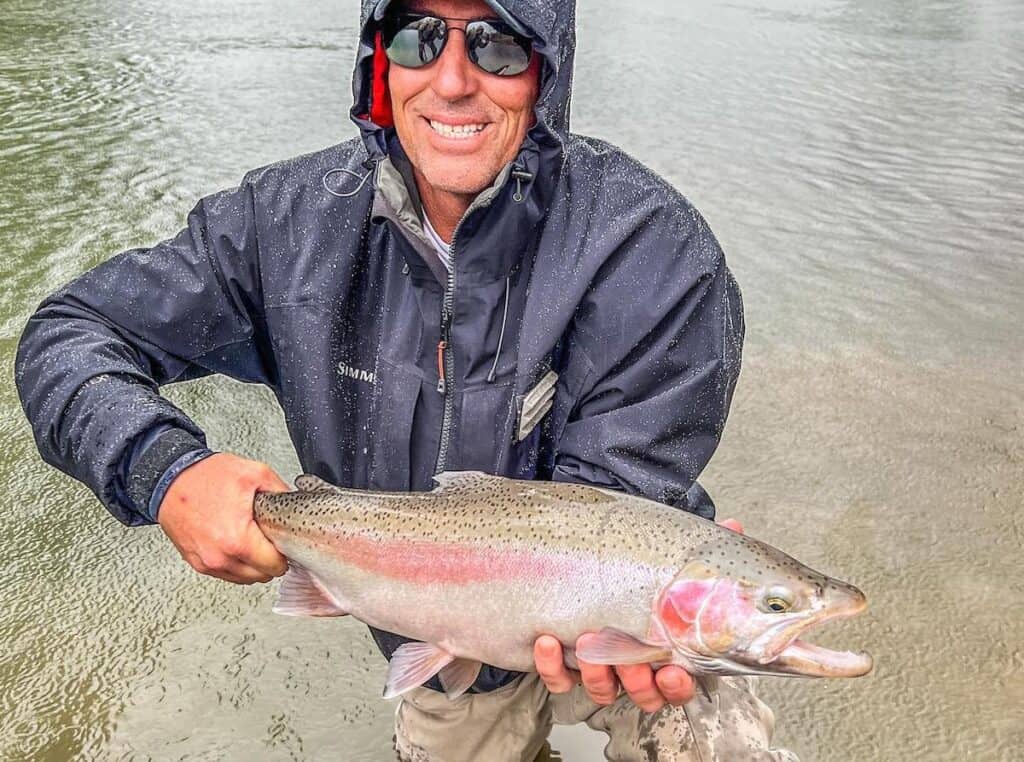 Steelhead bring anglers to Cattaraugus Creek year after year.
These migratory rainbow trout are challenging to catch but will leap and screech your drag with wild abandon when hooked.
In their native West Coast range, young steelhead migrate downstream to spend most of their lives in the Pacific Ocean. In New York, they treat the Great Lakes as their feeding grounds, growing to the size of salmon before returning to tributary streams for annual spawning runs.
Fall Steelhead Fishing
The New York Department of Environmental Conservation (DEC) has planted both Washington and Skamania strains on Cattaraugus.
Washington-strain fish return to the stream as adults starting in the fall and are much more common, in large part because the DEC has continued to stock as many as 90,000 young steelhead in the stream during a given year.
State biologists found steelhead reproducing naturally in Cattaraugus Creek, with as many as 25 percent of returning fish born in the system rather than in a hatchery.
The state closes two creeks, Spooner Creek and North Branch Clear Creek, in January, February, and March to protect the spawning and young-of-the-year steelhead.
Although these fish are in essence lake-run rainbow trout, the sizes they reach feeding in Lake Erie give them strength and stamina unlike any rainbow you'll find in a stocked pond.
These fish routinely reach weights of more than 15 pounds and frequently measure between 25 and 35 inches. The strength of fish that leave a Great Lake to swim for miles up a swiftly moving river is profound and has made steelhead devotees out of anglers all over the Northeast.
Although many anglers target these fish in Cattaraugus Creek primarily in October and November, a mild December will stretch the prime fishing toward the end of the calendar.
Fishing the creek at different times during the run offers distinct advantages.
"Whereas in October the fish are more likely to be stacked at the mouth of the stream, in November and December, the fish are more likely to be spread out along the stream's length," guide Vince Tobia said.
Later in the season, you've got more elbow room for every angler looking for pods of fish.
Once you get past December, when water temperatures are plummeting, Tobia stressed that the metabolism of these fish slows to a glacial pace.
Because the fish are conserving instead of exerting energy, your best bet at finding them in winter conditions is searching for deeper holes with slower-moving water.
January and February of course can be difficult with frigid temperatures. Anglers who pursue steelhead in the heart of winter are truly devoted and seemingly immune to the conditions that would send most of us running for the truck and the heated living room.
"We get fresh fish in December, January, February, and March as well," Tobia said.
Spring Steelhead Fishing
Because steelhead don't die at the end of their spawning run like salmon, survivors will drop back down Cattaraugus Creek into Lake Erie.
In April and May, the Upper Zoar Valley can have fish heading back downstream mixed with a few incoming fresh fish, Tobia said.
Because it marks the furthest point of eastward migration and is a barrier for these fish, the area right below the Scoby Power Plant and Dam in Springville can be a popular spot for anglers to target fish that bunch up there.
Fall fishing is most popular, when the largest numbers of fish are at their brightest and most powerful.
However, March through May can be another great time to hit Cattaraugus Creek, depending on water temperatures and flows,
How to Catch Cattaraugus Steelhead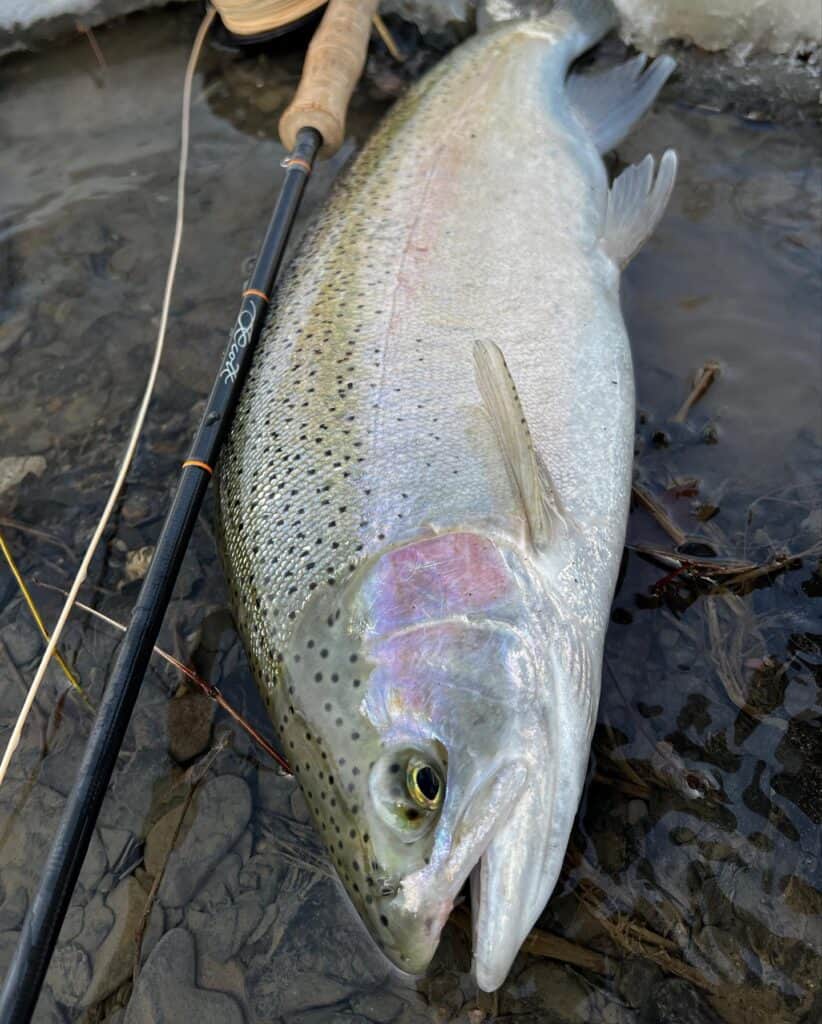 Tobia and his clients regularly chase steelhead while fly fishing on Cattaraugus Creek. They'll catch steelhead on nymphs, egg patterns, and even occasionally on dry flies, although that's the most challenging.
"Stone flies, pheasant tails, hare's ears, any kind of streamer.… These fish are trout, so a lot of times they're eating the same stuff you'd typically target trout with," he said.
He said that steelhead also feed on emerald shiners in the stream. So mimicking these baitfish using streamers with some flash tied in can be productive.
"When the water is low and clear, we'll scale down to flies as small as size 16 pheasant tail nymphs," he said.
For the streamer set, olive, white, black and brown wooly buggers are popular choices.
Fly anglers will usually use rods between 9 and 11 feet, typically with 6-to-8-weight setups.
Conventional anglers will often throw spinners, spoons or egg sacks while fishing for Cattaraugus steelhead.
The sheer variety of egg colors is mind-boggling, but orange and pink are popular natural choices. Blue-dyed eggs, although more popular on the Salmon River, can work well on the Catt, too.
Spinning anglers choose rods between 9.5 and 11 feet, using line from 8- to 14-pound test, typically.
Steelhead devotees will swear that heavier line will spook these wary fish, and will scale down as light at 6- or 8-pound test. However, you will likely need to decrease your reel's drag and be ready to move along the creek to land these powerful fish on light line.
It's worth experimenting with less-visible lines like fluorocarbon to potentially hook more fish.
Find more advice in our guide to steelhead fishing techniques and tips.
When to Catch Cattaraugus Steelhead
Although Tobia stressed that lure choice can make a difference and, of course, location and presentation are significant factors, the single-most important factor in finding steelhead on the Cattaraugus Creek will be your timing.
Your best bet is timing your trip to coincide with cooling water temperatures with enough rainfall to raise the stream level, which combine to send these fish flooding out of Erie.
You can have the hottest steelhead egg pattern on the market and the best technique in the world. But if you don't time your trip to conditions that prompt these fish to push upstream, you'll miss the boat.
When water temperatures are near the ideal 50-degree mark in the fall, expect significant rain to trigger big pods of fish moving upstream. That's when you want to be on the water.
Tobia stressed that walking or wading away from popular access points, where these fish get fished hard, can work wonders, too.
Smallmouth Bass Fishing
An added bonus, Cattaraugus Creek features healthy numbers of gigantic Lake Erie smallmouth bass that use the stream to spawn during the late spring.
Beginning typically in mid-May and lasting through June, you can see almost-volleyball-sized smallmouth using undercut banks to create spawning beds in the lower river.
These fish are particularly defensive this time of year, protecting their beds. Imitating a crawfish, which will try to prey on the bass eggs, is a great way to dare smallmouth to strike.
Crawfish-imitation crankbaits, and soft-plastic baits like the Yum Craw Papi, especially in chartreuse, can be exceptionally productive in the spring and early summer.
Rig the soft-plastic crayfish on a Z-Man ShroomZ jighead so that it stands straight up and down on the bottom, making it more likely to elicit a strike even when you're not moving it.
The area around the mouth is a bass hot spot for Lake Erie, a world-renowned smallmouth factory and easily one of the best smallmouth bass fisheries in New York.
Also, be sure to check out some of the methods and lure suggestions in our bass fishing guide.
Brown and Brook Trout Fishing
New York state does an incredible job stocking trout in its streams, and Cattaraugus Creek is no exception.
On the upper Catt above Springville, especially around the villages of East Arcade, Yorkshire and vicinity, the DEC stocks many thousands of yearling brown trout and perhaps a few thousand larger two-year-old brown trout every year, making it one of the more reliable trout fishing streams in New York.
The DEC also has stocked more modest numbers of keeper rainbow and brown trout on the stream's South Branch around East Otto.
The stream also supports healthy populations of wild brown trout.
Recent stream surveys found as many as 630 adult trout per mile on the creek.
You have a shot at potentially larger trout between the mouth and the Springville dam.
Besides the stocked trout in the upper river, big brown trout also join steelhead in the river below the dam, swimming out of Lake Erie on their fall spawning run. September through November can be great months to target big brown trout mixing with steelhead on lower Cattaraugus Creek.
If you're more concerned with targeting wild fish, Spring Brook and Hosmer Brook are two tributaries of upper Cattaraugus Creek.
Both tributaries support healthy populations of brook trout but you'll have to explore the backroads and less-pressured areas to find access and more fish. Try scouting out Spring Brook for wild brookies.
Interested in more techniques to catch trout? Find tips in our easy trout fishing guide.
Catfish Fishing
As an added bonus to give anglers one more species to target, there are also catfish in Catt Creek.
Channel catfish are a lightly fished species in Lake Erie, where they are difficult to find in the massive water body. But they are in there, and some are quite large, pushing 10 pounds or more.
One of the best ways to catch Lake Erie catfish is to wait until they leave the Great Lake on their annual spring spawning run, and Cattaraugus Creek is among the best places to intercept them. In fact, it made our rundown of best catfish fishing rivers and lakes in New York.
Catfish are most common in the very lowest reach of Cattaraugus Creek, from the mouth at Lake Erie up to about the Cattaraugus Reservation. The Irving area just up from the big lake is good bet for catfish fishing and has a boat ramp.
May and June are best, and catfish are most likely to be taken on live bait like a nightcrawler as well as other natural and prepared baits. They sometimes hit a bass lure as well, so be prepared when fishing for smallmouths.
Find more bait, tackle and tip ideas in our catfishing guide.
Cattaraugus Creek Fishing Access
Lower River
Due to lots of private property, access to the lower river can be difficult, but there are some public lands where you can get to the bank.
Probably the single-most popular fishing spot on the lower river is what's known as Scoby Dam Park, an undeveloped bank of Cattaraugus Creek right below the Springville-area dam.
That roughly 100-year-old dam blocks migrating steelhead and other fish from moving upstream, which tends to concentrate them below the structure.
Reach this fishing spot by turning down Scoby Hill Road off Cascade Road. It's located just west of U.S. 219, but you'll need to get on Cascade either from Springville to the north or Miller Road to the south.
When the fish are running, expect Scoby Dam to be busy with anglers.
Some other river access spots to check out include the North Otto Road crossing just south of Zoar Valley Road and the south side of the Aldrich Street crossing in Gowanda.
In lowest reaches, look for public access spots along the stream, including several road and highway crossings as well as a boat ramp in Irving near the mouth.
Upper River
Above Scoby Dam, where the focus is primarily on trout fishing, there are more areas open to fishing.
Among them are several marked fishing access sites that offer some of the easiest ways to get to the river, including in areas where the most trout are planted.
Northeast of the intersection of Johnson Road and Route 39, in Sardinia, is a popular access spot for trout anglers.
To the west, at the intersection of Hake Road and Route 39, about a mile west of the Johnson Road location.
Where Route 225A crosses the creek just west of Yorkshire, there's another angler parking area.
Near the intersection of Olean Road and Hutchinson Road just north of Yorkshire offers more angler parking.
Summary
When you're fishing a stream in Upstate New York where you've got a shot at powerful steelhead, enormous lake-run brown trout, muscle-bound smallmouth bass, and absolutely beautiful wild brook trout, it's about as compelling of a freshwater fishing opportunity as you're going to have anywhere in the Northeast.