Most anglers don't chase walleye for their powerful fight.
I'll be honest: There have been times when I think I'm reeling in weeds or a stick, only to be pleasantly surprised it is a walleye on the end of my line.
So why would you want to target walleye if it's not for the epic battle? It's simple: Walleye are incredible table fare, arguably the best-eating fish swimming in freshwater.
Even though they don't always put up an incredible fight like a bass or a northern pike, walleye are still fun to catch and are among the favorite game fish wherever you can find them in good numbers.
And that is why this article narrows down the best places for you to go walleye fishing in Missouri.
Read through our list. You will likely find that you don't live too far away from catching an unforgettable dinner!
After we reveal the list of top walleye fishing lakes and rivers in the Show Me State, we'll share some tips and techniques on how to catch them. We'll also tell you about sauger, a close relative of walleye found in some Missouri waters.
Best Walleye Fishing in Missouri
Anglers will primarily find walleye in larger lakes or rivers. We'll cover the lakes around Missouri first, then tackle the best rivers.
The Missouri Department of Conservation stocks young walleye in many locations listed below. The result is excellent opportunities for anglers to catch these iconic Midwestern game fish.
Southwest Missouri Walleye Fishing
Stockton Lake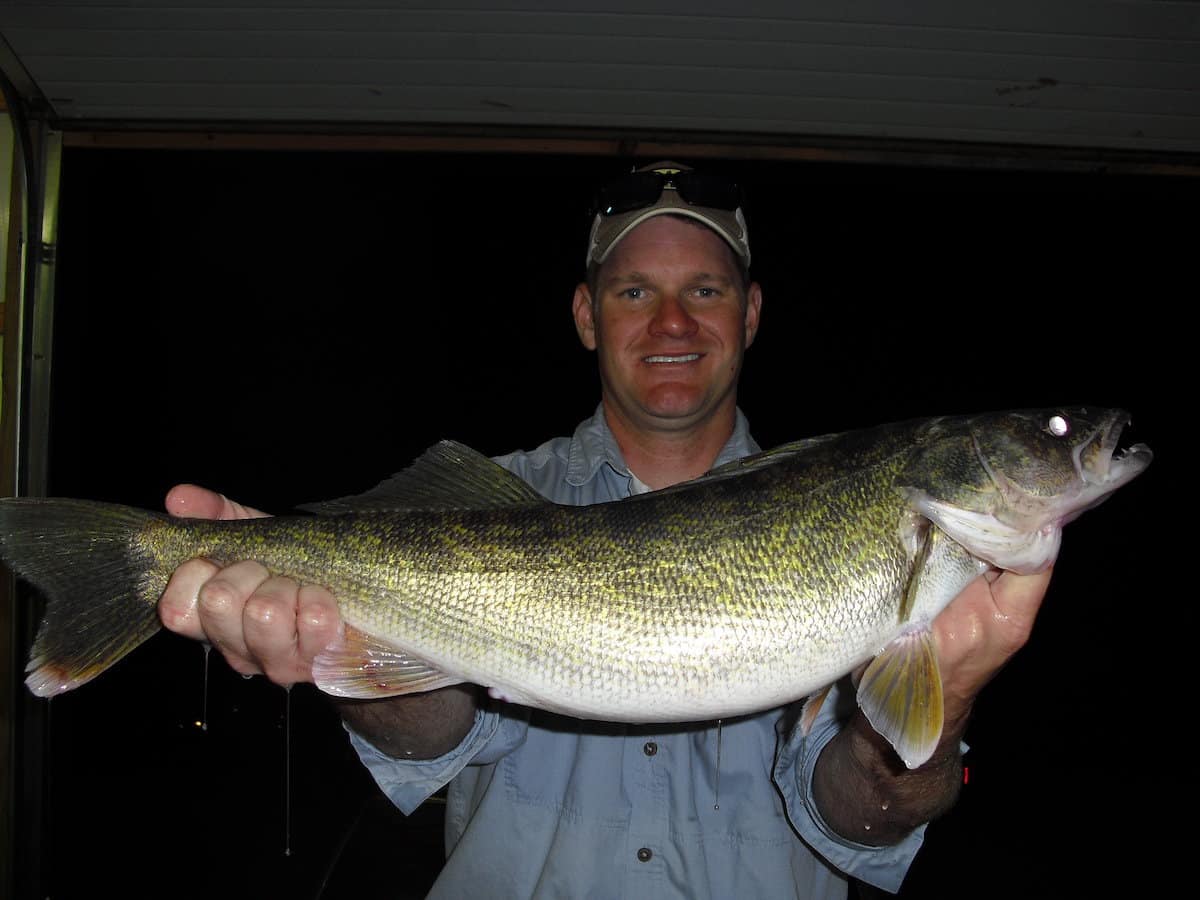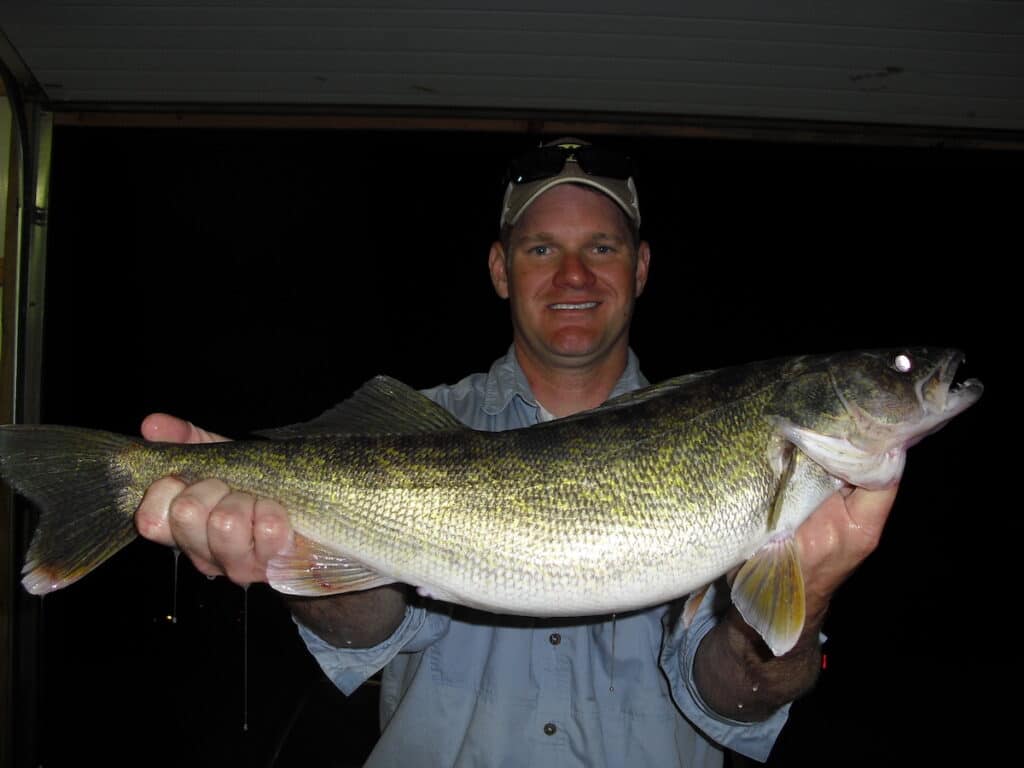 Located northwest of Springfield, Stockton Lake has been stocked annually for over a decade, and the results are showing up in catches.
You'll have an excellent chance of catching a 15-inch or larger walleye on this 24,900-acre reservoir.
The time of year you visit will determine which techniques will work best.
During the spring and fall, you'll catch most walleye in shallow water, along the dam, and coves using suspended jerkbaits. This is the time of year they will be most accessible to bank anglers, but a boat is a significant advantage for catching walleye on large bodies of water like Stockton and others on this list.
During the summer, walleye search for cooler water, so begin your search around the thermocline (where the cool and warm water meet).
Often walleye will hold along the bottom near where it intersects that thermocline. The depth of the thermocline can vary throughout the summer, but you should be able to pinpoint that line if you have sonar on your boat.
Nightcrawlers and minnows on or near the bottom are two of the best baits for the summer.
Trolling is another way to catch walleye; I like suspending crankbaits near depth changes while trolling for walleye.
Bull Shoals Lake
Located on the southern border and shared with Arkansas, Bull Shoals is an angler's dream come true whether you're chasing walleye, crappie, or largemouth bass.
You shouldn't have a problem catching 18- to 20-inchers in the upper section of the lake in Missouri, including into the Beaver Creek area.
Live bait and jigs work best in the spring, while night crawlers and minnows on the bottom work best in the summer.
Slowly trolling crankbaits near the thermocline also works well during the summer. I like to go 1-1.5MPH when trolling for walleye.
Table Rock Lake
What kind of best fishing locations list would this be if we didn't mention one of the best lakes in the country, Table Rock?
The best places to begin during the spring are the White River, James River, Kings River arms, and around the dam.
As summer sets in, it's time to move to deeper waters to fish main lake points and channel swings with deep diving crankbaits, crawler harnesses, and minnows.
The MDC stocked a surplus of walleye at this Branson-area reservoir in recent years, so the numbers and size of walleye should continue to improve for the next few years.
Table Rock Lake is also easily among the best smallmouth bass fishing lakes in Missouri, and is also in that conversation nationally.
Pomme De Terre Reservoir
The MDC also stocks walleye in Pomme De Terre, which has led to solid numbers of 18- to 20-inch fish.
Pomme De Terre is a relatively small lake at 7,800 acres, but it offers anglers lots of bank fishing opportunities, so if you don't own a boat or kayak, this is a lake worth checking out.
If you own a boat, there are marinas and boat ramps to use so that you can find one of the many brush piles placed by the Missouri Department of Conservation. Several are marked with a green "Fish Attractor" sign.
The typical lures and baits work well here, jigs, crankbaits, nightcrawlers, and minnows.
Walleye are more sensitive to the sun than most game fish, so it's best to fish for them in the early morning before the sun breaks the horizon or late evening after the sun has set.
If fishing during the day, keep your bait or lure near the thermocline or bottom in 10 to 20 feet or more of water.
Truman Lake
If you're looking for a challenge to catch walleye, head to massive Truman Lake.
It's not known for producing large quantities of walleye, but it is home to solid-sized fish.
While you can catch walleye across the lake, the best places to begin are the Sac River, Pomme De Terre, Upper Osage, and the lower portion of the lake around the dam.
In the spring, the walleye will run up the tributaries and gather in pools just below riffles; jigs, minnows, and flat-sided crankbaits work best to target these fish.
In the summer, focus your attention near rocky areas, main lake points, and humps with deep-diving crankbaits, crawler harnesses, and jigs.
Dragging a nightcrawler close to the bottom also is likely to attract the attention of Truman's other popular gamefish. For example, it is one of the best catfishing lakes in this part of Missouri.
Northwest Missouri Walleye Lakes
Smithville Lake
Located just outside of Kansas City, Smithville Lake continues to be a quality walleye fishing lake.
However, the MDC has stated that their "management goal is to turn Smithville Lake into a harvest-oriented walleye fishery rather than a trophy walleye fishery."
This change in approach means you'll likely have more opportunities to catch legal-sized walleye instead of a few chances to land a monster walleye. That's not to say some walleye won't make it to trophy sizes, though.
This lake, a smallish 7,200 acres by Missouri reservoir standards, offers anglers multiple ways to catch their next meal.
In the spring, walleye spawn along the dam, so jigs, minnows, and shallow diving crankbaits work well here and along wind-blown banks.
The summer heat pushes walleye to deeper waters off main lake points and flats near depth changes.
Using minnows and nightcrawlers along the bottom or near the thermocline will often yield the best results.
If you get your fill of walleye fishing, this is a great spot to switch it up and take advantage of excellent crappie fishing.
Mozingo Lake
This small 1,000-acre lake in northwestern Missouri is home to some of the biggest walleye in the state.
Stockings have increased the number of walleye in the lake in recent years; however, there are still many over 18 inches, and it's still possible to catch a trophy walleye of 10 pounds.
Points near the channel are the best spots for walleye when using crawler harnesses, deep-diving crankbaits, and jigs.
Mozingo Lake offers boat and bank anglers access to the water, though bank anglers' best bet is to fish during the spring when walleye are closest to the shore.
Longview Lake
Here's another option on the outskirts of Kansas City. Longview Lake is a relatively small lake by walleye fishing standards, but it offers anglers a quick getaway from city life with good odds of boating fish.
Most walleye you catch should be over the legal length limit, and the population is very healthy.
March and early April are the best times of the year to catch walleye near the shore using flat-sided crankbaits and jigs.
The fish spawn during this time along the dam and east side of the lake. So those areas are where I would begin my efforts in the spring.
Using bottom bouncers and crawler harnesses, try moving deeper to troll for walleye during the summer.
Longview is also known for excellent Missouri catfishing, so you'll have even more opportunities to bring home fish for dinner.
Northeast Missouri Walleye Fishing
Mark Twain Lake
While the numbers of walleye in Mark Twain Lake aren't the greatest, they continue to increase thanks to stocking efforts in the streams flowing into the lake.
However, it's not the large 18,600-acre main lake on which you should focus your walleye fishing efforts; it's the lake's tributaries.
During the spring, walleye spawn in these streams, which makes them easier to find and catch.
The typical walleye lures and baits will work on Mark Twain Lake. However, hiring a guide is always an option if you're nervous about tackling this large lake within a reasonable drive of Columbia and St. Louis.
Best Walleye Fishing Rivers in Missouri
Meramec River
The middle and lower reaches of the Meramec River offer the best walleye habitat and fishing.
There is a healthy population of walleye, and they can grow to trophy sizes thanks to abundant food sources along this stretch of the river.
The best walleye fishing begins around the mouth of Huzzah Creek and extends to the Times Beach Access. Focus your efforts on deep pools
The usual lures and baits work best, such as minnows, nightcrawlers, jigs, and crankbaits.
Crayfish, spoons, and spinners are other baits and lures that anglers can successfully use when fishing the Meramec River for walleye.
St. Francis River
The St. Francis River historically has been home to excellent walleye fishing, but it went through some poor years.
However, after years of stocking efforts, the MDC restored the population to a healthy number, allowing anglers to catch these toothy fish again.
There is public access to the river from the bank and by boat, but anglers fishing from a boat have the best opportunity of finding walleye.
Minnows and nightcrawlers are the best baits, while jerkbaits and jigs are the best lures.
Black River
Some anglers consider the lower portion of the Black River below the Clearwater Dam to have the best walleye fishing in Missouri because it has some of the best walleye habitat of any lake or stream.
In particular, rivers often offer anglers better winter fishing opportunities than reservoirs, so I recommend fishing the Black River from October to late April.
This time frame will cover the slower months and the spawn, the latter of which is the best walleye fishing all year.
Spoons, spinners, deep-diving crankbaits, minnows, and nightcrawlers remain the most effective lures and baits in deep pools near an abrupt depth change.
Current River
While the Current River is known for trout fishing, it is also an excellent place to land some trophy walleye.
The best walleye fishing on the Current River begins at the Two Rivers Campground, where the Jacks Fork River joins the Current River and continues past the mouth of Big Spring to the Arkansas border.
Live bait such as crayfish, minnows, and nightcrawlers are the top natural bait choices. At the same time, Rapala deep-diving crankbaits are the most popular lure to use.
The Current is also a great location to test your fly fishing skills on walleye. Try woolly buggers and crayfish patterned flies on sinking lines.
How to Catch Walleye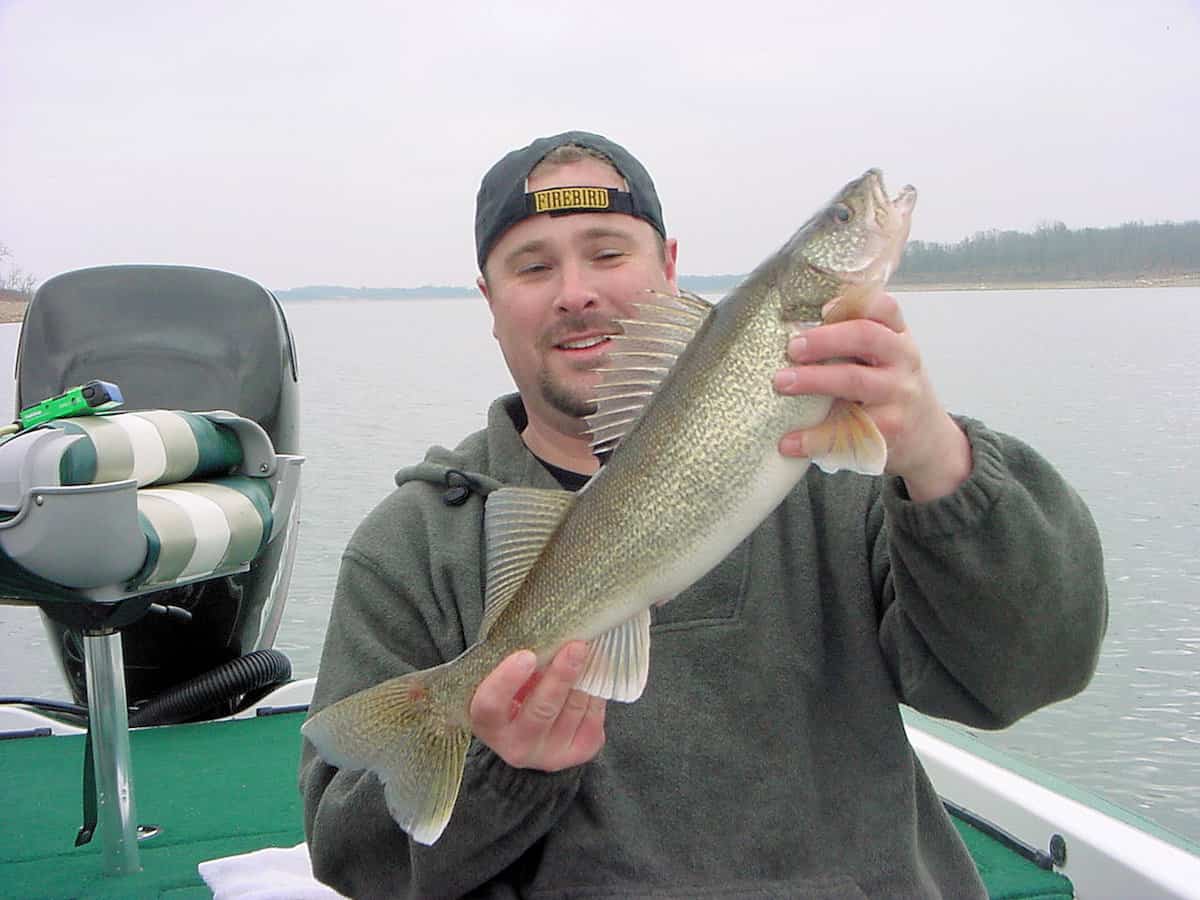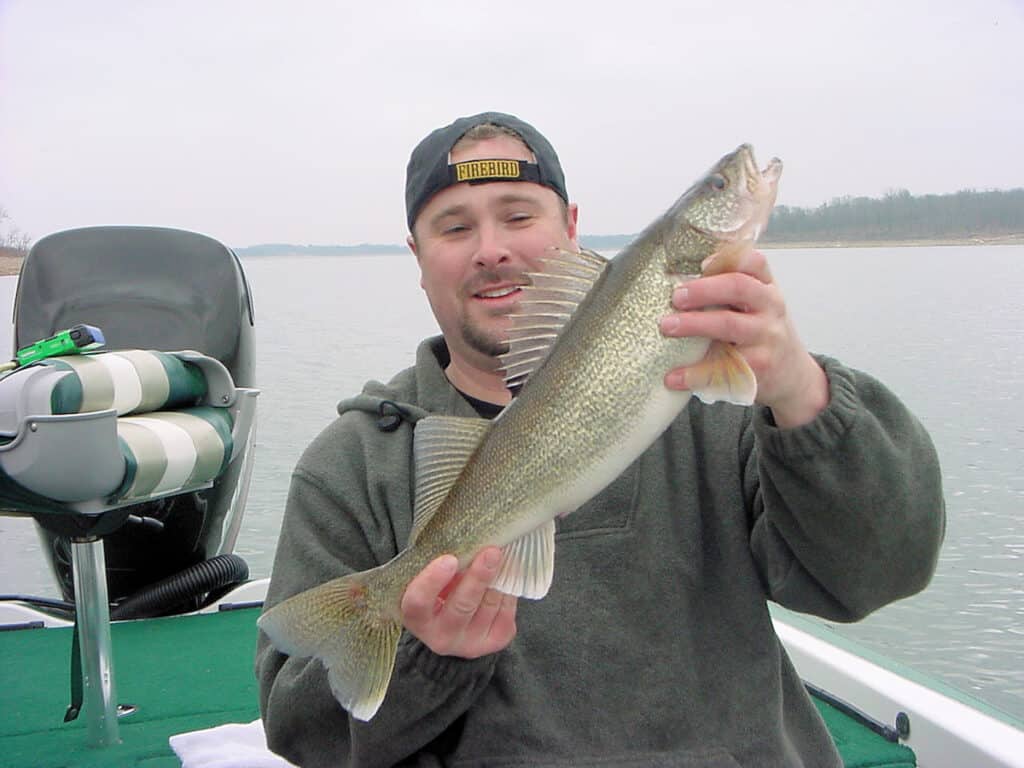 Walleye are not the most aggressive fish, which means they can be challenging to catch at times.
However, there are several things you can do to help increase your odds of landing a walleye for dinner.
Best Walleye Baits and lures
I like to keep my lure and bait selection simple when walleye fishing.
Baits
The live baits that work the best are minnows, nightcrawlers (or other large worms), and crayfish.
Walleye spend most of their time near the bottom, so using rigs that keep these baits on or near the bottom is best.
I like to use a jig on a slip bobber when fishing with minnows, and a crawler harness works best for worms.
Always check the local regulations when using live bait because some species are not legal to use as bait in certain lakes and rivers.
Lures
The best lures are lipless crankbaits, deep diving crankbaits, jerkbaits, jigs, and spoons.
Lipless crankbaits work best in the spring and late fall. Deep diving crankbaits work best during the summer.
Jerkbaits are an excellent early spring lure, while jigs and spoons are often used year-round.
Compared to bass fishing, many anglers will downsize their lures a size or two compared to what they throw for largemouth bass. Walleyes have a slightly smaller mouth.
Where to Fish for Walleye
While walleye are found in different bodies of water, they have specific habitat preferences.
They spawn along shallow rocky flats and spend most of the rest of the year in deep holes near depth changes.
With this in mind, it's best to fish near rocky flats in the spring and main lake points and humps in the summer.
Channel swings are another great place to find walleye.
When to Fish for Walleye
The spring and early summer are the best time to fish for walleye because they spawn and will congregate in or near shallow rocky flats.
However, don't overlook trolling during the summer and using minnows during the winter, as there's never a bad time to go fishing.
Catch More Walleye
If you're new to catching walleye or want to step up your game, we have a full guide to the best walleye fishing techniques and tips.
How to Identify Walleye
Walleye are easy to identify compared to most other fish in Missouri. They're one of a handful of fish with sharp pointy teeth.
However, they're closely related to sauger, another fish found in some Missouri waters (see below). It's easy to confuse the two species unless you know what characteristics to look for when identifying them.
Walleye are green or golden brown torpedo-shaped fish.
A walleye doesn't have spots on its dorsal fin, the large roundish top fin, but it has a white spot on the bottom of its tail.
A sauger has spots on its dorsal fin and doesn't have a white spot on its tail. Sauger typically don't get as big as walleye.
Sauger and walleye are closely enough related to interbreed, creating saugeye, which have characteristics of both parents, making them difficult to identify.
Sauger Fishing in Missouri
Sauger, sometimes called a jack salmon or simply a jack, are another fish you might run into when fishing for walleye in Missouri. Sauger are close relatives and look nearly identical, inhabit the same areas, and exhibit similar feeding habits.
However, sauger are more tolerant of murky water than walleye and primarily inhabit rivers and streams.
In Missouri, sauger are primarily found along the Missouri and Mississippi rivers and some of their tributaries, although the Eleven Point River in Southern Missouri also has a sauger population.
You won't have to change up your approach much from walleye fishing. The same lures and baits will work for sauger.
The main thing to remember if you're targeting sauger is to fish in murkier rivers and streams; they're rarely found in lakes and reservoirs.