Missouri has some of the best smallmouth bass fishing in the U.S.
However, not every lake and stream is an ideal smallmouth habitat. As you fish throughout the Show Me State, you'll find that several places stand out above the rest for bronzeback. In this article, I will show you the best smallmouth bass fishing spots in Missouri.
By the end of this article, you'll know some of the best smallmouth fishing lakes and streams in the state so that you can head out there on your next fishing trip. You'll also have a great idea of how to catch what might be the hardest-fighting bass that swims, pound for pound.
How to Catch Smallmouth Bass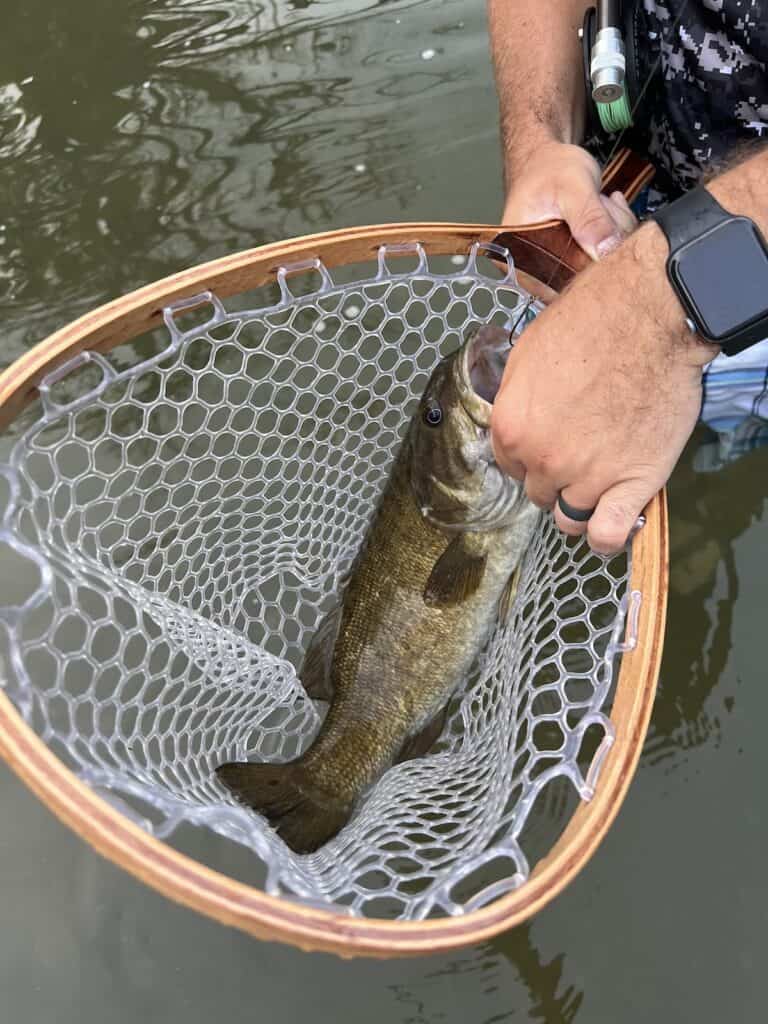 Smallies are my favorite species of black bass to catch because they're aggressive and fight hard. Catching them isn't as tricky as we often make it out to be, yet there are a few tips that will help increase the odds in your favor.
Downsize Your Line
A smaller line diameter keeps the fish from seeing it and allows your lures to act as intended. Which is often to say, so they look like a tasty meal trying to escape.
Because smallmouth are most often in clear water, they're more likely to see your line if you use a braided line with no leader or a thick monofilament.
Downsize Your Lures
Smallmouth are so named because they have smaller mouths compared to largemouth bass. This trait means using smaller lures will increase your chances of getting a hook into their mouth.
You don't have to go with tiny lures, just a little smaller than you would for a largemouth. For instance, if you're using a crankbait you usually use for largemouths, try just one size smaller for smallies.
Use Natural Colors
Smallies thrive in clear water, which means natural and translucent colors work better than others. Try to match the color of the baitfish you see swimming in the water you're fishing.
More Tips
You'll find more excellent bass fishing tips that you can adapt for smallmouth and other black bass species in our simple bass fishing guide, linked at the bottom of this article.
Where to Go Smallmouth Fishing
Bronzebacks typically inhabit clean water and often prefer a modest current. So if you're fishing a muddy lake or river, chances are good that the smallmouth aren't there unless it's usually clear.
The best smallie fishing found in Missouri is generally in the southern part of the state in the Ozark Mountains.
However, that doesn't mean you should overlook the northern lakes and streams when smallmouth bass fishing in Missouri.
In lakes, smallmouth bass tend to spend much of the year around rocky humps and often in deeper water because they prefer cooler waters.
You can catch them shallow, but that's when you typically begin to catch more largemouth bass.
In rivers and streams, smallmouth generally hold behind current breaks to use less energy while waiting for their next meal to come downriver. They also spend a lot of time around boulders in pools where the water slows down.
In the spring, smallmouth bass will move relatively shallow to spawn, but once they've spawned, they'll return to the deep water for most of the day during the summer. They sometimes hunt in shallower water during the early mornings and evenings in warmer months.
In the fall, they'll follow their food source back shallow to bulk up for winter, where they spend most of their time back in deeper waters.
Best Smallmouth Bass Lakes in Missouri
Below, you'll find the top smallmouth bass lakes in Missouri. As mentioned, these great smallmouth fishing lakes are in the state's southern portion.
Bull Shoals
Missouri shares this 71,000-acre lake with Arkansas and offers outdoors enthusiasts many activities besides fishing.
However, we're here for smallmouth fishing, and whether you fish from a boat or the bank, you have several opportunities to land a lot of smallies.
The water is incredibly clear, so using lures that are natural and translucent in color will be best no matter the time of year.
During the summer, bass will move shallow in the early morning but head out to deep water as the sun rises, so drop-shotting and Carolina-rigging work well as the sun's intensity increases.
Beaver Creek is where many bass anglers have the most success. However, the middle and lower parts of the lake also offer good smallmouth fishing.
Norfork Lake
Primarily known for largemouth bass as well as spotted bass, Norfork is a small 2,000-acre lake and a fantastic smallmouth fishery shared with Arkansas.
There are numerous smaller bass, so you should expect a high catch rate, but most likely won't be giants.
Fishing the bluff banks with a jig during the summer will often yield great results.
Missouri residents 16 and older who fish the portion of the lake in Arkansas should look into the White River Border Lakes Permit. It allows anglers to fish the Arkansas portion without buying an Arkansas non-resident fishing license.
Stockton Lake
The U.S. Army Corps of Engineers maintains Stockton Lake in southwestern Missouri. This 24,900-acre reservoir has solid black bass fishing all over the lake.
The best smallmouth bass fishing takes place in the lower portion of the lake, near the dam, but they are caught anywhere on the lake.
You'll need a boat for the best chance of landing a smallie but don't let that stop you from trying to catch one from the shore near good cover.
The usual smallmouth tactics work well here as the water is warming during the spring, and moving lures like spinnerbaits, flat-sided crankbaits, and chatterbaits work well.
During the summer, moving baits still work great, but as the water heats up and smallmouth go deep, finesse fishing becomes the key. Summer is an excellent time to try using a drop-shot rig.
Fall means bass begin to feed up for winter, and moving baits that imitate their forage work well. Try using a lure that looks like a gizzard shad.
Stockton Lake also has one of Missouri's really solid walleye fisheries.
Table Rock Lake
Table Rock Lake near Branson is not only the best smallmouth bass fishing lake in Missouri but one of the best in the nation.
Because of the clear waters, anglers frequently find bass farther offshore. Therefore, a boat will give you the best chance of finding smallmouths during much of the year.
However, during the spawn in the spring, bass will move into the shallows, where bank anglers are more likely to catch them.
The best places to find smallmouth bass at Table Rock Lake are main lake points, humps, and bluffs during the summer. Use jigs, spoons, and drop-shot rigs in the 10- to 25-foot depth range.
Best Smallmouth Bass Streams in Missouri
Many rivers and streams across the state are worth wetting a line in search of a bronzeback. However, it still rings true that the southern and central parts of the state have the best river fishing for smallmouth bass.
Big Piney River
The Big Piney River, located in central Missouri, is a smallmouth bass special management area best fished from a kayak, canoe, or by wading.
Smallies tend to hang out around root wads, boulders, and other current breaks. So when you see those types of structures, bring your lure as close as possible. A bass is likely to "ambush" it.
Fishing the pools during the spring with crankbaits and spinnerbaits is one of the best ways to catch smallmouth bass. During the summer, they search for shade pockets and the current breaks.
Shallow moving baits work best in the current, while you can opt for finesse tactics in the pools.
The Big Piney is a tributary of the Gasconade River, listed below.
James River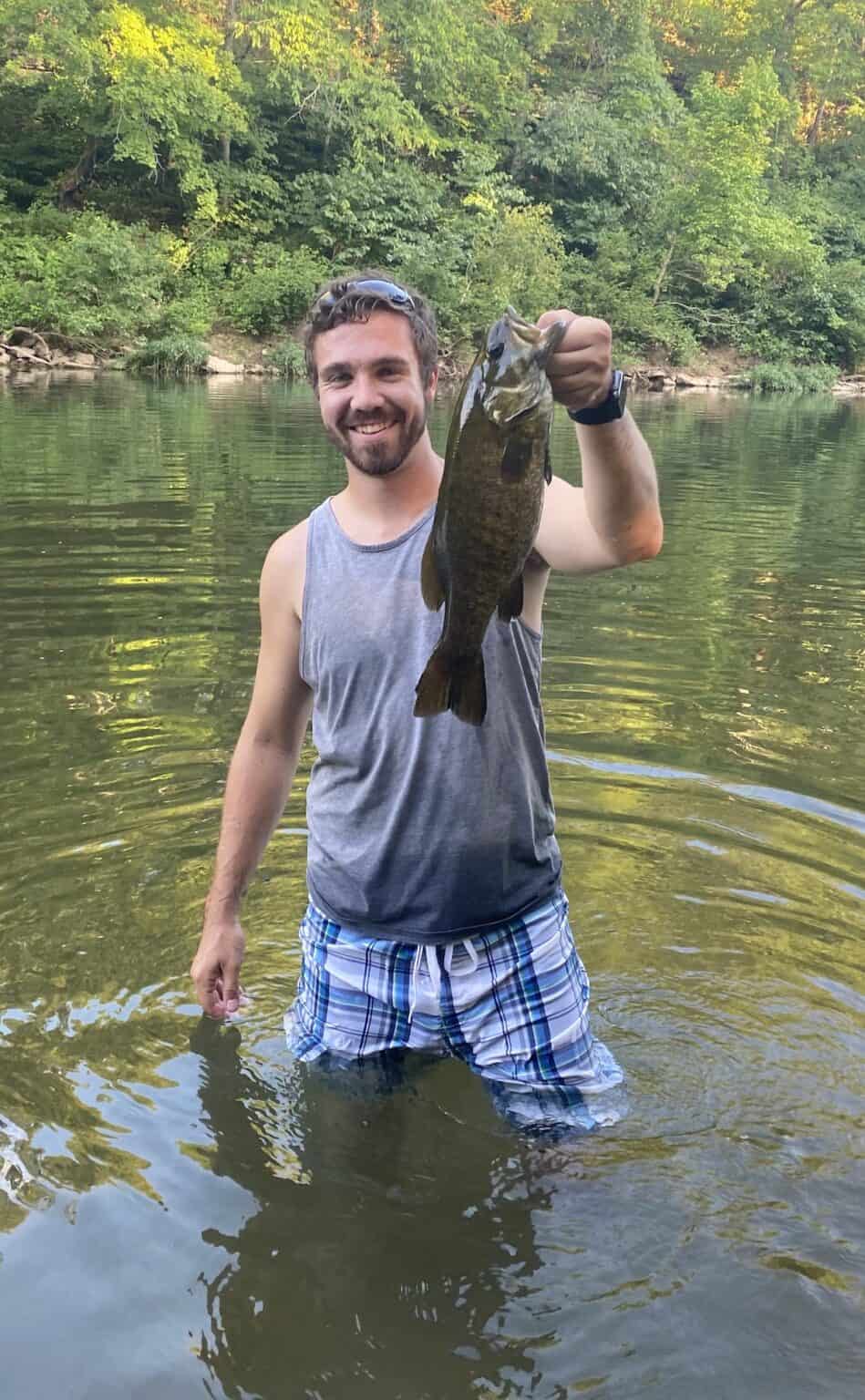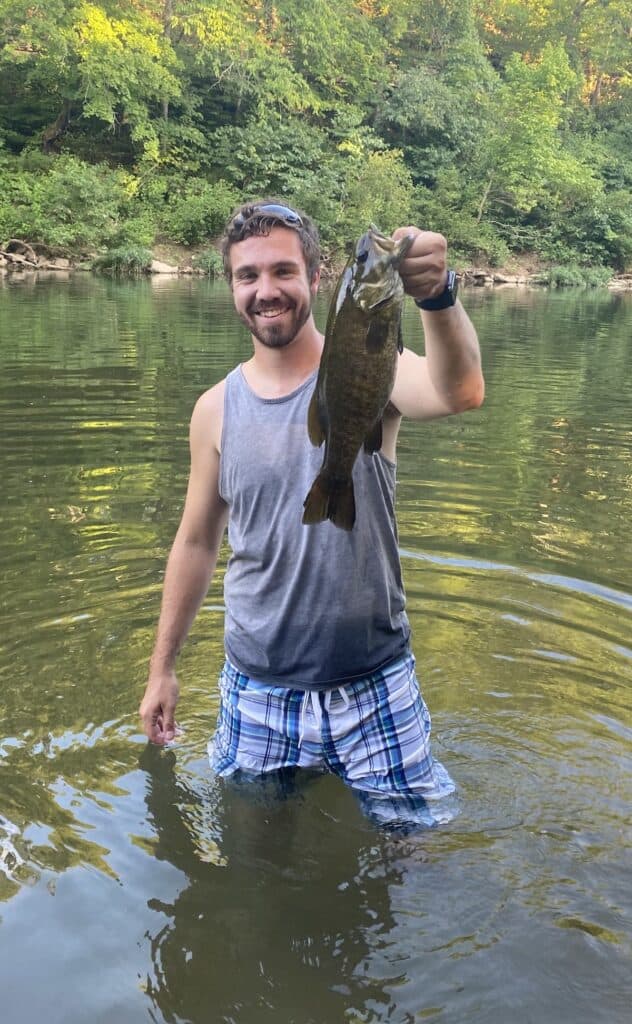 The James River in Southwest Missouri flows into Table Rock Lake and has special regulations for smallmouth that you should check before heading there to fish.
This gentle flowing stream offers anglers many opportunities, with plenty of rocky and woody pools where smallmouth bass spend much of their time.
It will fish like most other rivers because you should look for current breaks and use moving lures that closely match the look of baitfish and crawfish.
Finley Creek, a tributary that enters the James south of Springfield, also can be an excellent smallmouth bass stream where you can find public access. (The Just One Outdoors photos on this page are from Finley Creek.)
Current River
The Current River is a popular destination for smallmouth bass because it offers anglers an excellent chance of landing one in the southeastern part of the state before flowing into Arkansas.
It is closely monitored by the Missouri Department of Conservation, with multiple studies on the smallmouth bass population taking place in the last several years.
The rocky sections, deep holes, boulders, and root wads are still the best places to find smallmouth bass waiting for their next meal.
Colder parts of the Current River also offer some of the best trout fishing in Missouri.
Jacks Fork River
Another Missouri smallmouth bass special management area, the Jacks Fork River is located in southeastern Missouri and is a tributary of the Current River.
A healthy population of smallies resides in this stream running through the National Park Services Ozark National Scenic Riverways.
You'll find the most smallmouth bass along rock ledges and boulders in the bluff pools.
Meramec River
The Meramec River in the east-central portion of the state near St. Louis is one of the most popular smallmouth streams in Missouri.
The reason so many anglers visit isn't just that it's close to the city. It also is well managed by the MDC as a smallmouth bass special management area.
You should expect to catch smallies of all sizes in this stretch of water in good numbers. Wading, kayaking, and canoeing will be the best chance to locate bass in the pools and near current breaks.
The Meramec River also made our big list of the best catfish fishing rivers and lakes in Missouri.
Bourbeuse River
The Bourbeuse River is also located near St. Louis and is a waterway that offers anglers of all skill levels an excellent opportunity of catching smallmouth bass.
Though it's not as popular as the Meramec River, which it flows into, the Bourbeuse still has good numbers of all black bass species, especially smallmouth.
Fishing this river is very similar to other rivers in Missouri; look for the pools with boulders and current breaks. Moving lures should still be your go-to.
Big River
The Big River in east central Missouri has unique regulations because it is a smallmouth bass special management area, so be sure to be up-to-date on the local fishing laws.
Most of the Big River (a tributary of the Meramec River) is only accessible by floating or wade fishing but offers anglers a good shot at quality smallmouth over 15 inches.
Smallies have a similar pattern in this river, holding tight to current breaks, cover, and pools.
Gasconade River
The Gasconade (a Missouri River tributary) is in the southwest part of the state and has excellent smallmouth bass fishing opportunities.
When you find current breaks in otherwise fast-moving water, you'll typically find a smallmouth or two hanging out there.
Crayfish-colored crankbaits, jigs, and soft-plastic worms work well here. You can also use live bait, but you must be careful not to introduce minnows and crayfish from other stream systems into the Gasconade.
Upper Black River
You will find some of the most scenic fishing around on the Upper Black River in Southeastern Missouri.
This stretch of the Black River is above (north of) Clearwater Lake and is a solid place to go smallmouth bass fishing.
The clear water in the river means you should keep your lures as natural as possible and use a 6-8 pound test light line.
While you can catch smallmouth in the lower portion of the Black River, they're not as abundant as in the upper part because the water is a little murkier and warmer.
Catch More Bass
Check out the simple bass fishing tips and techniques we use to catch more smallmouth bass, as well as other black bass species like largemouths and spotted bass.