If you made a list of states with incredible fishing variety, Massachusetts would certainly be on it.
You can catch striped bass and bluefish from the state's famous beaches or giant brown trout in Western Massachusetts rivers like the Deerfield.
We made this guide to Massachusetts ice fishing to remind you that you don't have to stow away the fishing gear once the snow flies.
You can catch largemouth and smallmouth bass, brook trout, pike, muskies, and even lake trout through the ice all over the Bay State, along with the usual yellow perch and panfish.
MA Ice Fishing
What follows are our recommendations for Massachusetts' top ice-fishing lakes.
Chauncy Lake
Let's start with a lake that, at only 182 acres, gives you a relatively small body of water to work.
Add in the fact that both giant northern pike and tiger muskies call this body of water home, and now you're setting yourself up for one heck of an ice adventure.
The Westborough-area lake has been stocked with both northerns and tigers for more than 20 years, so some of those fish have had the opportunity to get enormous.
Add in the fact that Chauncy Lake also holds largemouth and smallmouth bass, perch, pickerel, and bullhead, and the odds are certainly in your favor. The deepest hole, at 21 feet, is in the east-central part of the pond, also known as Lake Chauncy.
Anglers have taken tiger muskies at this lake in the 18-plus-pound range several times, according to the Worcester Telegram and Gazette.
Lake Chauncy Boat Ramp and Lake Chauncy Beach are public areas on the south side of the lake for ice fishing access.
Fivemile Pond
Near Springfield, Fivemile Pond Park sits adjacent to Lake Lorraine and the Lake Lorraine Conservation area.
The intriguing element about Fivemile Pond isn't necessarily the state-stocked brown and rainbow trout, although they're what you're most likely to catch.
However, the off chance at a landlocked Atlantic salmon, which the state stocked in Fivemile several times, including in 2019, might give you an incredibly memorable day on the ice.
Landlocked salmon are often in shallow areas of the lake, perhaps in 15 feet of water or less.
Lake Mattawa
The draw of Lake Mattawa, in Orange in northern Massachusetts, is the big brown and rainbow trout.
Two factors allow these fish to live longer and get bigger than they otherwise might.
First, natural cold-water springs feed the lake to keep it from becoming lethally warm in the summer months.
Also, a healthy smelt population provides ample forage for the trout and the smallmouth bass that call the lake home.
You'll find your best access off Lake Mattawa Road in Orange.
Cheshire Reservoir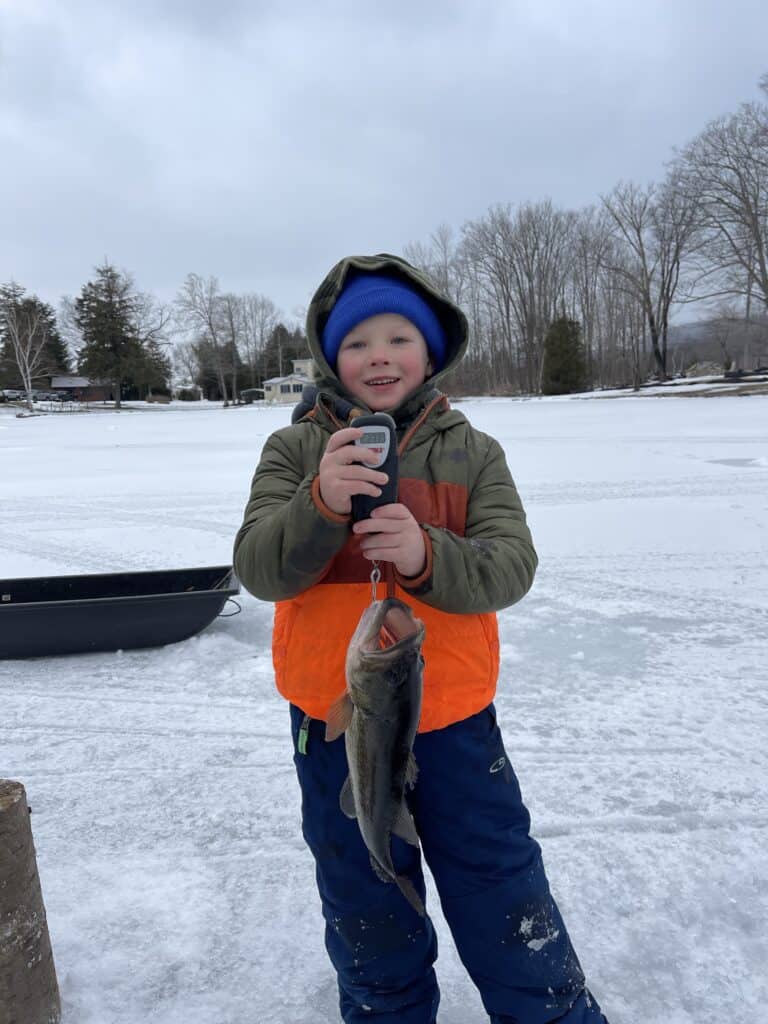 There's a reason that a community fundraising ice fishing derby on this Berkshires lake benefitting Cheshire's volunteer fire department has been held in recent years: Cheshire Reservoir produces giant pike.
Competitors have caught pike in the 35- to 43-inch range on the reservoir, also known as Hoosac Lake.
According to the Berkshire Eagle, a successful derby angler reported that his huge pike could not resist a big sucker as bait.
The Cheshire Lake Boat Ramp on the northeast side of the lake has parking and public access to the ice.
The southern end of the north basin of this reservoir (also known as First Lake) has a launch as well but may have unsafe ice or open water at times during the winter.
When you've got a lake giving up multiple pike in the 40-inch range in a single year, that's worth a visit.
Lake Onota
At 653 acres, Lake Onota in western Massachusetts is a great option for various species.
This lake supports several types of trout and bass and pike, pickerel, carp, crappie, rock bass, and bullhead populations.
The lake gets as deep as 70 feet and offers good access next to the Onota Lake Boat Launch off Lakeway Drive on the west side of Pittsfield.
Brown trout of more than 10 pounds have been taken out of Onota, as have pike as large as 27 pounds.
Officials have at times stocked Lake Onota with some tiger trout, a striking cross between a brown and a brook trout that, while not a common catch, would surely be a memorable fish.
Pontoosuc Lake
There could be some beefy tiger muskies swimming around this Pittsfield lake, thanks to previous plantings from New Jersey and time to grow.
Add in the fact that the lake supports largemouth and smallmouth bass, northern pike, pickerel, perch, crappie, and brown trout, and it's an excellent option for any ice fisherman.
Pontoosuc Park off Hancock Road at the south end of the lake has public lake access.
Bare Hill Pond
If you want to tell people that you spend your weekends in Harvard, this is the place to support that claim.
Just don't mention to the more erudite friends that you're studying a flasher and tip-ups at Bare Hill Pond.
Bare Hill Pond, which offers public access off Tahanto Trail, is primarily a largemouth bass destination.
You've got a good chance of finding bass in this 320-acre lake, which is 25 feet at its deepest point.
Stockbridge Bowl
Not often a single catch can make a compelling argument to fish a body of water relentlessly, but that's the case on Stockbridge.
In early 2021, Jamie Pollard pulled a brown trout out of a hole in the ice at Stockbridge Bowl that weighed a few ounces shy of 16 pounds.
For comparison's sake, the state-record Massachusetts brown trout is 19 pounds, 10 ounces, and has stood since 1966.
The western Massachusetts lake is periodically stocked with good-sized brown trout.
A short driveway off Rte. 183 will lead you to a ramp with parking for as many as 40 cars. You can walk onto the ice from there, once it's safe.
Quaboag Pond
Quaboag, or North Pond, in Brookfield, is primarily famous for one thing: thick pike.
The state reports that anglers catch numerous 20-pound pike from Quaboag yearly, and we don't think this season will be the exception.
It's no wonder because the pond supports healthy populations of yellow perch, white perch, and black crappie, delicious fish species that would give any big predator a veritable buffet. And the golden shiners and white suckers are a bonus for Quaboag's pike.
The fact that the pond also has produced largemouth bass over 7 pounds is a good second option if the pike aren't biting.
Quaboag Street (becomes Shore Road) runs along the pond's northern side and offers ice fishing access at Brookfield Boat Ramp.
Long Pond
This 227-acre pond near Plymouth is stocked every year with brown trout, rainbow trout, brook trout, and in some years, even tiger trout.
Any time you've got a body of water where you've got a chance at a trout slam, that's worth a day or two on the ice, at the very least.
Oh, and some of those brown trout are double-digit fish. Massachusetts officials confirm that anglers have pulled brown trout pushing 14 pounds from Long Pond in recent years.
There are two deep parts of the pond to consider fishing.
About a quarter mile from the southernmost point of the pond, a basin sits more than 90 feet deep. Then, about a quarter mile northwest of the pond's center, another hole drops to more than 100 feet.
The Long Pond Plymouth Boat Ramp at the north end of the lake is a convenient spot to get out on the ice.
Catch More Fish
Check out our complete guide to getting started with ice fishing, including the equipment you'll need, the best lures and baits, and some safety tips.