Moosehead Lake is a 75,000-acre body of water in northern central Maine where anglers can catch enormous lake trout, native brook trout, spirited landlocked salmon, and smallmouth bass.
The variety of fishing makes Moosehead, which is the largest mountain lake in a single state, a destination for many Northeast anglers.
Moosehead has such varied opportunities, so follow our guide closely to ensure your best odds of a successful day on the water.
We'll cover Moosehead's favorite gamefish species, first focusing on conventional open-water angling tactics.
However, if you're heading to Moosehead Lake for fly fishing or winter ice fishing, we also have you covered with additional information below. Use the table of contents if you'd like to jump ahead to your favorite topic.
Moosehead Lake Trout Fishing
Brook Trout
Moosehead Lake's brook trout fishing has had its ups and downs but has shown real promise in recent years. State officials encourage anglers to harvest lake trout, which in turn has increased the number of rainbow smelt in the lake.
More smelt gives big brook trout more to eat. And they have. A 2018 study showed that 35 percent of brook trout harvested in the lake were over 20 inches. Anglers land brook trout pushing 4 pounds frequently enough to remind themselves that big trout are still there.
Although you can catch brookies throughout Moosehead, the lake's northern half is often best. The area near Rockwood is popular for brook trout.
Brook trout cruise shallower water from ice-out until about mid-May. Trolling spoons across flats can be an effective method for catching early-season brookies.
In the summer, these cold-water fish will typically hold deep.
A brook trout's ideal temperature range is between 45 and 65 degrees, with water temperatures in the 50s perfect. In a typical summer, the top layer of water on Moosehead will climb above this threshold.
At or below the thermocline, however, you can find brook trout cruising and chasing rainbow smelt throughout the summer.
You can use your fish finder to locate the thermocline. Then set your trolling or jigging depth accordingly.
Trolling or jigging spoons that imitate rainbow smelt should be your first option.
Brook trout are fall-spawning fish. As water temperatures drop, they move into shallow-water spawning areas within the lake or head up tributary streams.
The lake's largest tributary is the Moose River. The mouth of the Moose near Rockwood is a good starting point for anglers targeting fall brookies.
The Brassua Dam, a few miles upriver, limits the spawning run to below Brassua Lake.
The Roach River, which flows into the east side of Mooshead, attracts sizable brook trout and landlocked salmon as well. However, please read up on strict release regulations in the river itself.
Lake Trout
Moosehead Lake has produced these non-native trout into the 30-pound range, and we wouldn't be surprised if a larger specimen is swimming in its waters right now. Maybe even a state record closer to 40 pounds.
If you enjoy fishing for dinner, Moosehead's lake trout (also known as togue) are a perfect fit. The state encourages anglers to take their limit of lakers, as these fish have become so abundant that they endanger the native landlocked salmon and brook trout populations by gobbling up the forage.
For regulations specific to Moosehead for lake trout as well as the other species discussed below, check here.
As the water warms after ice-out in the spring, these fish come out of deep wintering holes to chase baitfish on shallower flats. Trolling or casting spoons on flats adjacent to steeper drops can be a great tactic for spring lakers.
Mooselook Wobblers are a great spring option as well.
Tomhegan Cove on the lake's western shore has flats as shallow as 2 to 10 feet with a steep drop to depths of more than 70 feet just a short distance from shore.
During the summer months, look for lake trout at the top of the thermocline.
You can use downriggers to troll at this depth specifically. Luhr Jensen's Dave Davis Spinners are a popular trolling lure for summer lake trout.
For another approach, first locate active fish or large schools of bait with a depth finder. Then vertically jig over the bait for lakers that will give chase up through the water column.
As a general rule of thumb, the largest lake trout will be at the top of the thermocline, but smaller fish often prefer depths of 90 feet or more. So, if you're determined to find lakers and are not having luck in the 40- to 50-foot range, try using a depth finder to locate bait or trout much deeper.
When you locate lake trout in deeper water, dropping a tube bait on them can be deadly. White seems to be a particularly effective color.
Try a 5-inch, oversized tube, and drop until it hits bottom in a location where you've marked bait. Keep the rod tip low to the water (giving you leverage for when you get a hit to set up). Work the bait by snapping the tube jig off the bottom and letting it flutter back down.
As water temperatures cool in late September and early October, lake trout again move shallower in Moosehead Lake, chasing bait.
These big trout are chasing rainbow smelt up onto shallow flats or near drop-offs, and imitating these forage fish can be the key to success.
Mooselook Wobblers, in orange and black or in white and fluorescent orange, can be tremendously effective this time of year.
In the northeast corner of the lake on Rte. 8 (Ross Farm Road), a public boat launch is near both shallow flats and steep drops that will attract feeding lake trout. The steep drops, including those in the Norcross Point area, are promising for fall as well as spring.
Trolling over these drops with Mooselook Wobblers or your own favorite spoon at first and near last light can be tremendously effective.
Moosehead Lake Salmon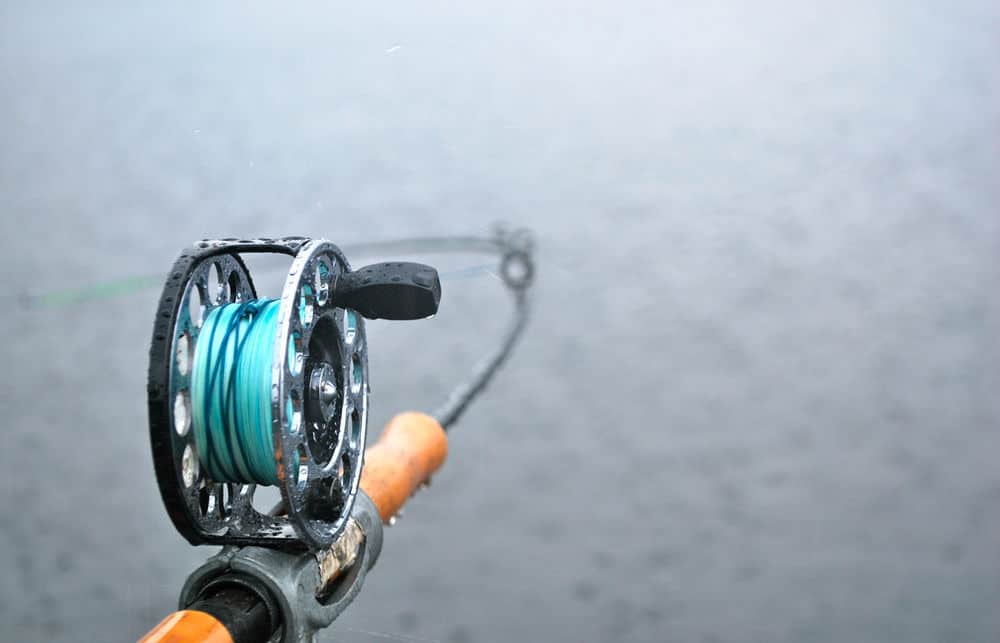 Landlocked Atlantic salmon are an iconic Maine species, and Moosehead Lake has its share of them.
From first ice-out into early summer offers your best (or at least most predictable) chance to catch landlocked salmon.
As with trout, salmon cruise the shallows during the early season to chase rainbow smelt. The smelt make their spawning run in the spring, and the salmon take advantage.
A tandem streamer trolled on a six-weight fly rod can effectively imitate a rainbow smelt. Trolling streamers along the shoreline can be an excellent means of catching spring salmon.
Choose a level-sinking fly line at least 150 feet long for the most effective presentation. The Grey Ghost is perhaps the most popular salmon streamer in Maine, as it offers an ideal smelt imitation.
The mouth of the Moose River in May is a top option for targeting salmon.
When water temperatures start climbing in late May and early June, when the thermocline sets up, look for landlocks to be holding between 30 and 50 feet.
Troll a bait that imitates the rainbow smelt. Spoons such as the Michigan Stinger, especially in the color 'Monkey Puke,' can be deadly. So can classic red and white spoons.
Focus your efforts at or below this thermocline where the smelt and salmon will concentrate during the summer.
Remember that landlocked salmon are notoriously fast, so picking up your trolling speed even by a slight measure could make you more likely to land them.
Like brook trout, salmon spawn in the fall, meaning they will be staging in shallower water near tributaries as water temperatures drop.
Spoons like Mooselook Wobblers and streamers (especially jointed, smelt-imitation streamers) can trigger aggressive strikes from colorful spawning landlocks.
Trolled streamers or spoons near river mouths can be exceptionally effective in September. Look for salmon to move shallow and toward rivers like the Roach River.
The Roach River can produce some fish, but it is catch-and-release only, and certain portions are fly-fishing only.
Moosehead Lake Bass Fishing
During spring, as water temperatures pass through the 40s and into the 50s, smallmouth will move up to shallower water in pre-spawn mode. Spawning can take longer to get going here due to Moosehead Lake's size and northern latitude.
A suspending jerkbait fished where drop-offs near islands and other shorelines can be a day-maker when fish do become active in the spring. Look for jerkbaits that dive 15 to 20 feet to find smallmouths moving up toward spawning grounds.
In roughly late June, post-spawn smallmouth will move to deeper structures with more constant water temperatures. They'll hold here throughout the summer.
This is the season when having a depth finder can be a game-changer for Moosehead Lake smallmouth bass fishing.
Look for areas where a hump or plateau rises significantly from the surrounding bottom structure. The change in depth will draw and hold baitfish like smelt, and smallies should be close behind.
Learning to fish a drop-shot rig this time of year can be enormously beneficial. Both drop-shot and ned rigs are great options for targeting fish that are deep and aren't terribly active.
Come fall, smallmouths will more actively chase schools of baitfish closer to shore.
Lily Bay, on the southeastern portion of Moosehead Lake near the state park, is especially well known for its smallmouth fishing this time of year.
The eastern bay holds shallow flats ranging from 10 to 35 feet deep, which is particularly attractive to smallmouth bass trying to corner schools of baitfish.
Shallow-diving crankbaits can cover water quickly here and find feeding fish. The bay is rocky, shallow and has exposed boulders, which can be good structure points to target.
To the west of the bay, look for relatively shallow flats to the north and west of Deer Island, another great place to start a smallmouth search in the fall.
More Moosehead Lake Fish Species
Besides brook and lake trout, Atlantic salmon and smallmouth bass, Moosehead Lake also is home to various other species of fish, including cusk (burbot), yellow perch, white perch, brown bullhead catfish (hornpout), and pumpkinseed sunfish. Also present are various types of minnows, suckers and other nongame fish.
Moosehead Lake Fly Fishing
Anglers waving the long rod can find success on Moosehead as well, especially in the shoulder seasons.
Although summer water temperatures tend to push most of the game fish deeper than you can consistently reach with a fly, the cooler months of spring and fall are ideal for fly fishing.
Spring Fly Fishing
Smallmouth Bass
The best bet in the spring is targeting spawning smallmouth bass, which will be setting up on beds between 10 and 20 feet of water near Moosehead's shorelines or at the mouths of rivers like the Roach.
Target shallow flats near shorelines or islands, especially where you find rocky structure.
Streamers that imitate rainbow smelt will be your absolute best bet for these fish. Aggressive smallmouth protecting their beds will strike a streamer ferociously.
Crayfish-imitation flies can also be effective in the spring, as these creatures are natural enemies of bedding smallmouth.
Landlocked Salmon
After ice-out, trolling flies that imitate smelt can be one of the most effective means of catching landlocked salmon that fly fishers have all year.
You can catch both wild and stocked salmon on the Roach River in the spring. Lily Bay Road, south of Kokadjo, is a good access point.
The area known as the East Outlet of the Kennebec River is another popular place.
Remember that while trout might prefer a fly trolled at between 1 and 2 miles per hour, salmon are faster. Bumping up your trolling speed to between 2 and 3 miles per hour will help you target them specifically.
Summer Fly Fishing
Smallmouth Bass
Casting a topwater popper around rocky structure in coves like Lily Bay can produce some smallmouth in the early summer, especially at first light.
In the early summer, depending on the duration and severity of the winter, these fish may still be in spawning mode. Don't hesitate to look for them near river inlets and on shallow bars and shoals.
When the season heats the lake, smallmouth will almost certainly push deep. Sinking lines and streamers can get you down to suspended fish on structure, but it will get more difficult to fool them on the fly in the summer.
Landlocked Salmon
Trolling streamers imitating the smelt population will be your most effective means of catching these fish, especially early in the summer.
Fall Fly FIshing
Brook Trout and Salmon
In the fall, the brook trout in Moosehead will prepare to spawn, moving to shallower bays and river mouths in mid-September and early October. As discussed above, these fish will spawn on shallow, gravel flats near in-flowing rivers or run up the rivers as far as they can before reaching a dam.
Fall is when these fish are most aggressive and most easily hooked. The East Outlet on the Kennebec River down to Indian Pond is another spot to find sizable fish.
The coloration on a fall brook trout alone makes even the smaller ones a delight to catch in the fall.
The mouth of the Kennebec River and the 3.5-mile stretch between Moosehead and Indian Pond is another good bet for landlocked salmon in the fall.
Colorful, jointed streamers can be especially effective for landlocked salmon.
Smallmouth Bass
As days get shorter and cooler, look for bass to come up from the typical deep-water summer haunts and move onto shallow flats between mid-day and early evening.
Streamers fished near rock piles or changes in depth in Lily Bay can be a good bet for fall smallmouth chasing schools of baitfish.
Moosehead Lake Ice Fishing
Because of its size, Moosehead isn't the first body of water to freeze over, but when it does, it is a mecca for ice anglers from throughout the state and region.
Brook Trout
​Big brook trout make exciting ice-fishing targets.
Live shiners and rainbow smelt on tip-ups will be your most effective baits.
The northern portion of the lake is a good place to start. However, anywhere with an inlet on the lake, especially in areas between 5 and 20 feet of water, can be a promising spot to set up tip-ups for winter brook trout.
Brookies often hold near structures like rock piles.
After April 1, you must release all brook trout caught while ice fishing. (Ice-out on Moosehead in recent years has often been in the second half of April to early May, but seasons vary.)
Landlocked Salmon
Landlocked salmon are typically found in shallower water in the winter, often close to islands or shore and higher in the water column. Keep this in mind when setting tip-ups or jigging if you are targeting landlocks specifically.
As of this writing, salmon can only be targeted between February 15 and April 1 through the ice, but keep an eye on the most up-to-date regulations here.
Lake Trout
Lake trout (togue) are one of the most popular targets through the ice for Maine's hard-water anglers.
You want to drill and set up where you've got the sharpest changes in depth.
For instance, some holes drop to 100-plus feet with relatively steep slopes on all sides. The northeast portion of the lake has plenty of this structure.
These holes will have more stable water temperatures in the dead of winter, so lake trout will hold here for most of the day, pushing up onto the adjacent flats to chase baitfish in the warmer afternoon hours.
More Ice Fishing Information
Planning Your Trip
Where is Moosehead Lake?
The Moosehead Lake Region is in Piscataquis County. It's under three hours driving northwest from Bangor to the state park, or closer to four hours north of Portland.
Route 6 takes you to the southern end of Maine's largest lake, while other roads access different parts of this massive lake but may extend your drive time significantly.
Boat Launches
The Greenville Junction Launch: This is a public launch near the intersection of Depot Street and Route 6 in Greenville Junction.
Lily Bay State Park: State Park Road off Lily Bay Road in Lily Bay Township offers a public launch on the lake's southeastern end.
Jewett Cove: Jewett Cove campsite and boat launch is northwest of where Fire Road 7B turns into South Roach River Road in Piscataquis. This launch will put you near the Roach River, a popular landlocked salmon and brook trout destination.
Spencer Bay: Spencer Bay Campground is just a couple miles due north of Lily Bay State Park in Greenville. It offers a public launch off Spencer Bay Road.
Cowan West Campground: Baxter State Park Road in Rockwood will take you to Cowan West Campground, with a launch on protected Cowan Cove.
Rockwood Town Landing: Kineo Dock Road off Village Road in Rockwood offers a public, gravel launch.
For a complete list of launches and the amenities at each, visit this state site.
Shore Fishing
While having a boat will provide you the best chance at finding active fish on any large body of water, savvy shore anglers can land their share too. Moosehead Lake has some tremendous bank fishing access.
Lily Bay State Park
The water off Lily Bay State Park is strewn with large rocks and boulders that should provide smallmouth structure near the shore. State Park Road offers walk-in access. Mud Cove is a nearby area to try shore fishing, especially for spring smallmouth.
Brookfield Moosehead Station Recreation Area
This public area sits right at the mouth of the Kennebec River's East Outlet and near a series of tiny islands with near-shore structure for land-based anglers.
Tomhegan Cove, Tomhegan Game Sanctuary
This protected state land offers public access on the lake's northwest corner. Relatively steep drop-offs pushing 20 and 30 feet relatively close to shore provide another place to try shore fishing.
The sanctuary also offers an above-average chance to spot deer, eagles, bobcats, foxes and mink.
Camping and Accommodations
Lily Bay State Park
Lily Bay sits on Moosehead's southeastern shore and offers camping and other amenities. See the park's website for more information.
Moosehead Family Campground
One mile south of the lake, Moosehead Family Campground offers sites for RV and tent campers. You can also book fly-fishing guides, lake cruises, and even moose-spotting tours.
Seboomook Wilderness Campgrounds
Seboomook, a family campground with RV, tent sites, and cabin rentals, sits right on the northwest shoreline of the lake. Their hunting and fishing guide, Norman Lewis, is a retired Maine game warden of 28 years.