Despite its size, Connecticut has some phenomenal bass fishing water.
Whether you're targeting river smallmouths or drop-shotting a lake for largemouths, Connecticut gives you options to catch some of the Northeast's biggest bass.
Bassmaster Elite Series pro angler Alex Wetherell, who's originally from Middletown and honed his fishing skills in Connecticut, offered expert insight on how to succeed on the state's best bass water.
Connecticut River
Why not start with the river bearing the state's name, right?
But the real reason it's here is that you've got a chance at smallmouth pushing 5 pounds in moving water. That has to make it to any best-bass list.
The Connecticut is the largest river in New England, stretching more than 400 miles and flowing through the entire state.
Your best bet for targeting smallmouth bass on this river is in the stretches running through Enfield and Windsor.
Smallmouth will gather in the deeper holes, especially those with structure, when the water begins to warm and drop in the early-to-mid-summer months.
Look for bass on the downstream side of rock piles, tree stumps or fallen trees in the river, especially if the structure creates a significant current break.
In Enfield, an island splits the river in two near the Kings Island Boat Launch. That island provides structure and a current break that can hold bass in this excellent river section.
Access: The Kings Island Boat Launch in Enfield offers convenient access to the heart of this river's great smallmouth fishing.
Candlewood Lake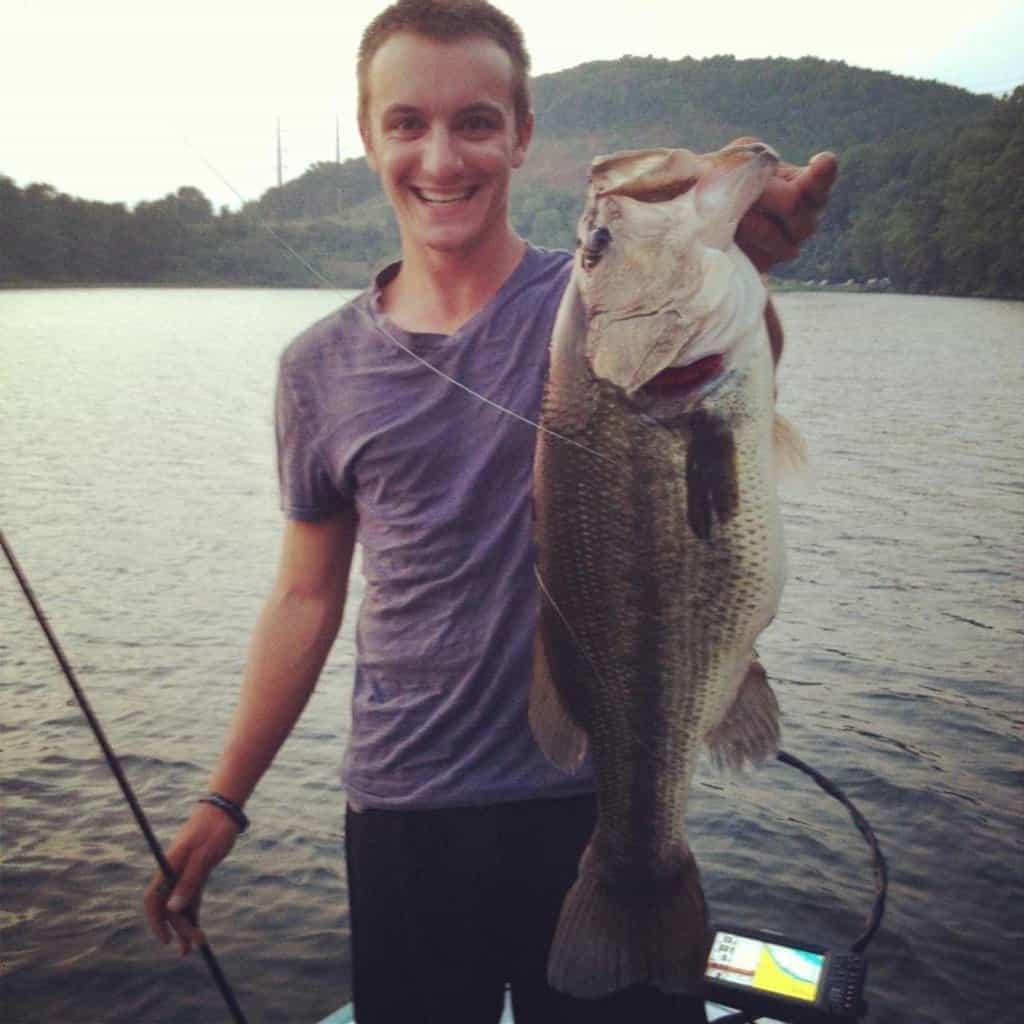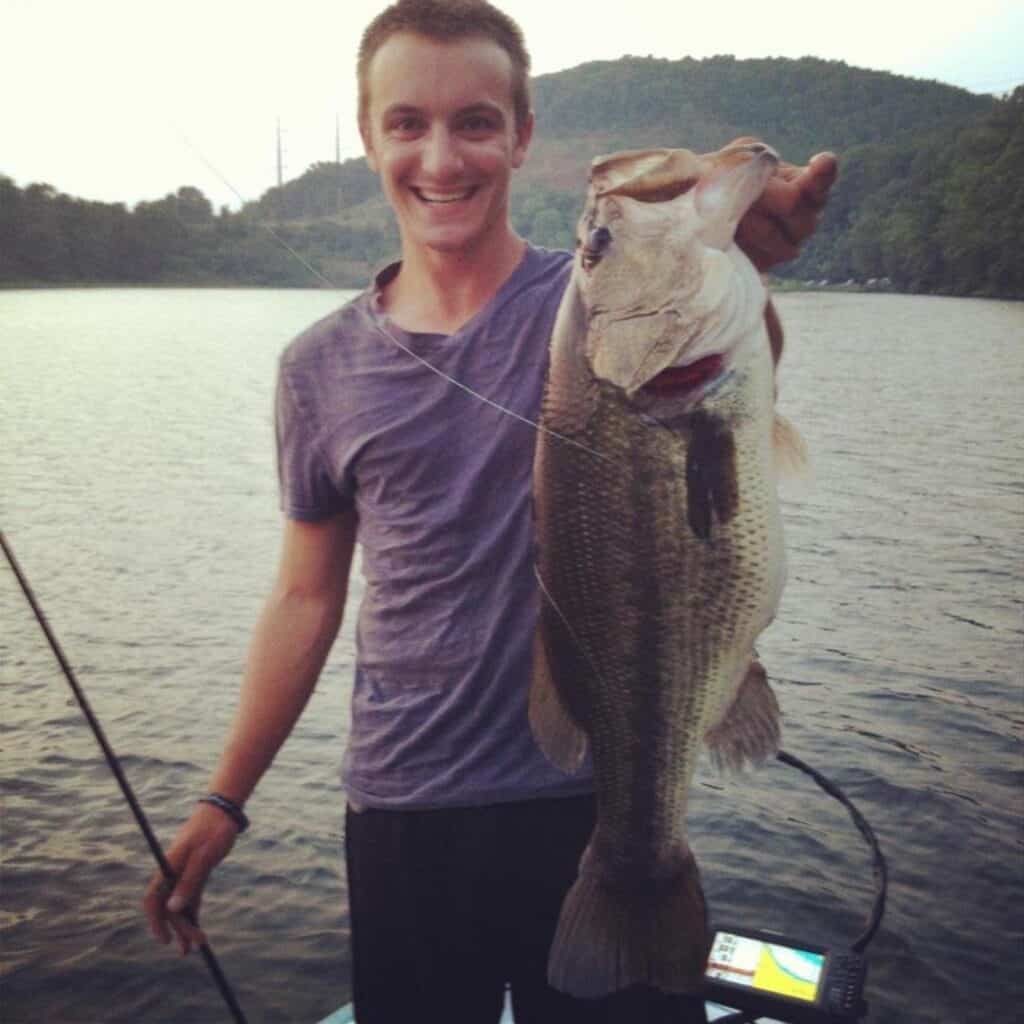 Candlewood Lake is arguably Connecticut's most popular bass fishing destination, and with good reason.
"You can catch fish there pretty much any way you want to," Wetherell said when talking about the state's biggest lake. "You can flip, drop-shot, throw a crankbait, throw a swimbait," he said.
Considering Candlewood Lake covers 8.2 square miles in total, you'll find areas where each of those tactics can be extremely effective.
In the spring, Wetherell prefers a small hair jig or a swimbait on the reservoir. He said a black hair jig between 1/8 and 1⁄4 ounce could be deadly. Crayfish imitations, especially in the spring, can be extremely effective too.
Wetherell said spring is his favorite time to hit Candlewood Lake, as bass will move shallower before spawning, especially when water temperatures get between 50 and 60 degrees.
He's seen seven-pound largemouth and five-pound smallmouth come out of Candlewood on a regular basis during the spring.
In the summer bass push deeper, and because Candlewood Lake is a reservoir built on a submerged city, there's plenty of structure to target.
In the fall you can go back to fishing shallow, targeting structures like docks with soft plastics like worms in the 7- to 10-inch range.
Diving crankbaits in a perch pattern will imitate one of the primary sources of forage on the lake and can be another good option.
Much More: Read our complete guide to fishing at Candlewood Lake
Twin Lakes (Washining/Washinee)
Commonly referred to as the Twin Lakes, Lake Washining and Lake Washinee are adjacent lakes in northwestern Connecticut that fish particularly well in the summer for big largemouth bass, Wetherell said.
He said there can be crayfish as big as eight inches on these lakes, and they're understandably one of the primary sources of forage for the bass.
Washinee, also known as West Twin Lake, is shallower, rarely getting deeper than 25 feet, while Washining (a.k.a. East Twin Lake) reaches 80-plus feet at its center.
While crayfish-imitation crankbaits can produce here, Wetherell said that fishing the weeds and pads with a frog in the late spring and early summer can be incredibly effective, too.
But with the predominant forage of giant crayfish, he stressed that you won't beat jig fishing on either one of those lakes.
Access: State Boat Ramp Access Road off Twin Lakes Road will put you on the north end of Washining Lake. Nearby O'Hara's Landing marina rents pontoon boats, canoes and kayaks.
Access is tougher on Washinee but there is a private marina where you can launch for a fee.
Lake Lillinonah
When it comes to bass fishing in the fall, Wetherell leaned toward Lillinonah as the state's best option.
Because Lillinonah is a narrow reservoir containing the Housatonic River, it always has some current moving through. That moving water can help you locate bass, which will typically hold down current from structure.
Wetherell recommended that a drop-shot rig or a topwater bait like a Zara Spook can be particularly effective on Lillinonah.
A bonus for this western Connecticut lake is that you've got a shot at hooking a tiger muskie like the 26-pound, 41-inch specimen angler Joe Rivas landed.
A Wildlife Management Area (the Aldo Leopold WMA) on its northeast shore and the Upper Paugussett State Forest along its southern bank help insulate the lake from urban development. Numerous bald eagles call the 43 miles of forested shoreline home.
Access: You'll find a public Lake Lillinonah (Pond Brook) Boat Launch on a small lake arm off Hanover Road in Newtown. Lake Lillinonah Town Park also offers a public launch on the Housatonic River at the upper end of the reservoir.
Congamond Lakes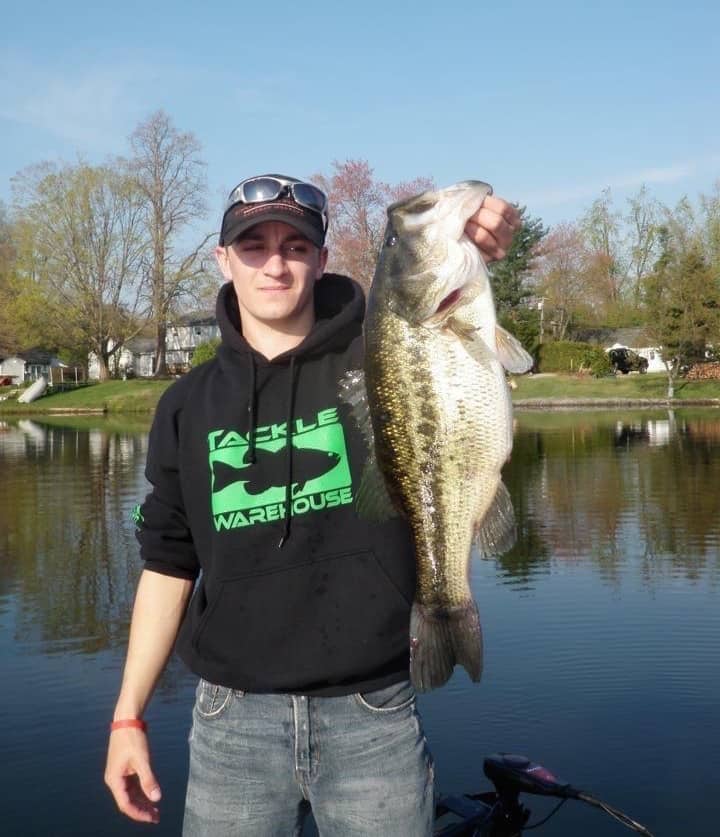 Congamond Lakes are a trio of connected and navigable lakes straddling the notch in the state line at the Massachusetts border.
This unique environment has healthy populations of both largemouth and smallmouth bass.
The lakes host several tournaments every spring and summer and is a Connecticut bass angler favorite.
Although this location is more popular for largemouth bass, with numerous reported fish pushing 5 pounds, you've got largemouth, smallmouth, crappie, pickerel, and brown trout that have all earned anglers state recognition caught out of Congamond Lakes.
The South Pond is fully within the state of Connecticut has a hole pushing 25 feet deep in the eastern central portion of the pond.
Its southwestern corner has flats that gradually descend to 20 feet, whereas the remainder of the pond's perimeter features steeper drops.
The Middle Pond, which is the largest, has a basin reaching as deep as 40 feet in the southern third of the lake where it's the widest.
Just the northern tip of Middle Pond is entirely north of the line in Massachusetts, as is the much smaller North Pond.
The two states allow anglers to be licensed in either state on all three ponds, but Connecticut anglers in particular should pay attention to the regulations here, which follow Massachusetts rules.
Access: Route 168 runs between the Middle and South ponds and offers access to a kayak launch for anglers paddling in either of the lakes. In addition, Southwick, Massachusetts, has a public launch at the northern end of Middle Pond, located off Point Grove Road.
Highland Lake
Wetherell spoke highly of this west-central lake as well. The bass in Highland Lake have the luxury of being "fed" stocked trout every spring, meaning they can reach sizes larger than fish in unstocked lakes might.
Largemouth pushing 6 pounds are not uncommon in the lake.
If you need some motivation, Hartford's Register Citizen newspaper reported a largemouth in the 7-pound range caught from the shore of Highland Lake. And the angler was a local Winsted resident, seven-year-old Greyson Crossman, in 2019.
So you don't need an expensive boat filled with high-end rods to find gigantic fish on this lake.
Even though the lake spans more than 440 acres, it is relatively shallow, never reaching more than 65 feet deep. The lake is a series of three wider segments known as bays that are connected by narrower sections.
The deepest hole, at 60-plus feet, is on what's locally known as Second Bay. The western shore of Second Bay and the eastern shore of Third Bay have the steepest drops, rapidly descending to 40-plus feet, and should especially hold fish in the corner seasons.
Wetherell reported that crayfish as large as eight inches have been discovered here, and he thinks this can partly explain the presence of oversized bass. Therefore, he recommends a jig or crayfish imitation to catch Highland Lake bass.
The trout stocking isn't just meant for the big bass, as it also fuels Highland Lake's place among the top trout fishing lakes in Connecticut.
Access: Highland Lake Boat Launch is on West Lake Street on the north end of the lake.
Housatonic River
The upper section of the Housatonic River, especially the section that runs through the towns of Cornwall and Kent down to Gaylordsville, can hold some solid smallmouth bass.
If there's anything better than fighting one of the most aggressive freshwater fish, it's fighting one in a swiftly moving current.
Since you are fishing moving water here, jigs can be incredibly effective, especially jigs fished with a curly-tail soft plastic trailer.
Look for sections of the river that slow into pools or pockets, which are more likely to concentrate and hold these fish, especially in the spring.
Focus on pools and eddies, and let the current work your bait.
Grubs, curly-tail worms, crayfish imitations, and hair jigs can all work well.
Access: The New Milford River Trail parallels the Housatonic River on the east bank for walking or hiking anglers. Rte. 7 follows the western bank.
Lake Zoar
Lake Zoar is a 1.4-square-mile reservoir on the Housatonic River a quick drive northwest of New Haven.
Directly upstream of the Stevenson Dam you'll find deep holes pushing to 60-plus feet, and its steepest drop-offs are along its southwestern shoreline.
These are great ledges to work a jig or crankbait in the corner seasons when bass are moving between deeper and shallower water.
Because the Housatonic flows through, there'll be some current in Zoar, so targeting the down-current side of structure will be your best option. Fish deeper areas as the water warms in the summer.
Access: Lake Zoar Public Boat Launch is located at the end of Scout Road, on the north bank (Southbury side).
Lake Waramaug
Lake Waramaug in western Connecticut was so polluted in the middle of the 20th century that state officials funded a task force to restore its health.
They succeeded beyond any expectations, and Waramaug is now among the state's cleanest lakes, home to brown trout, largemouth bass and smallmouth bass for anglers to target.
You may see bears, deer and eagles along the shores and in shoreline trees reflected in the lake's mirror-like surface on calm days.
The southeastern arm of the lake has the deepest holes, pushing to about 40 feet, and the steep drops along the eastern shoreline can hold bass in the corner seasons.
Fishing the drop-offs near docks lining the lake's shores can be an effective method for the lake's largemouth bass population, which are apt to push three, if not four pounds.
In addition, submerged rockpiles and boulders in the lake can hold some of its biggest bass, which often feed on alewives.
Alewife-patterned crankbaits or spoons can be an effective means of getting these fish to eat.
Access: Lake Waramaug Boat Launch is on East Shore Road (Rte. 45). is on Waramaug's southeastern tip. Lake Waramaug State Park offers bank access, rental canoes and kayaks, and a campground at the northwestern end of the lake.
Shinipsit Lake
Because Shinipsit is a lake used for public drinking water, anglers need to follow specific regulations (like no bodily contact with the water).
Don't let these rules keep you from fishing it. Consider that in 1995 the lake, sometimes known as "The Snip," produced a 7-pound, 12-ounce smallmouth bass that stands as the state's record.
Only boats registered by the Connecticut Water Authority and Shinipsit Lake Association can be launched here, and only after being quarantined for 48 hours.
Now you're probably thinking: That sounds like a significant hassle, but guess what? That's what everyone else is thinking, too.
Put in the extra time and effort, and you'll have opportunities to catch trophy-sized fish that fewer anglers bother to target.
The northeastern shore of the lake features the steepest drop. Running a crankbait or working a jig along that drop-off can be effective methods of hooking large smallmouth.
Access: There is a boat storage and launching site on Ellington Road on the lake's northeastern shore. There are designated bank fishing areas located on Ellington and Snipsic Lake roads, both on the north end of the lake.
Please see Connecticut Water's website to adhere to all rules specific to lakes used for drinking water.
Bantam Lake
Wetherell was adamant that Bantam Lake, a 947-acre lake in the western part of the state that is Connecticut's largest natural lake, was an "overlooked honey hole" for Northeast bass anglers.
The lake has some enormous pike in it, but the smallmouth and largemouth fisheries are getting better by the year, he says.
The center of the lake has the deepest holes, at 20-plus feet.
If you launch from either ramp on the South Bay end and head northward, you'll go through a bottlenecked portion of the lake with a hole that reaches 16 feet. This is an excellent area to target as the water warms in the summer months.
Access: Bantam Lake Boat Launch off Bantam Lake Road on the southwest side of the lake is a good spot to launch and park. A smaller public launch is located off E. Shore Road on the southeast corner of the lake.
Bashan Lake
Bashan Lake between Hartford and New London has been an improving fishery over the past decade.
The state is working to eradicate invasive milfoil, which was problematic on the 273-acre body of water in the past decade. The smallmouth are the story here, with some truly gigantic specimens, but there are decent-sized largemouths for the taking, too.
Boulders and steep rock ledges along the bottom of the lake provide ideal smallmouth territory. Paying careful attention to the fishfinder can yield great dividends here.
Golden shiners are naturally present in the lake, so mimicking them can be a great first choice for smallmouth.
Access: You can reach Bashan Lake Boat Launch taking Ballyhack Road No. 1 north off Mount Parnassus Road (Rte. 434). The launch is on a narrow arm on the very southern end of the lake.
Summary
As this list clearly demonstrates, despite its size Connecticut has some of New England's absolute best bass water.
Connecticut boasts largemouth bass pushing double-digit weight classes and smallmouths as big as you'll find anywhere in the region.
That means that whether you're drop-shotting, fishing a live minnow, punching through the mats in the summer, or working a jig along structure, you might be casting at the fish of a lifetime on any given cast at any of the lakes and rivers we've highlighted here.
Acknowledgment
Thanks to pro bass anglers Alex Wetherell for sharing his knowledge of bass fishing in Connecticut with our readers. Learn more about him on his website.