The McKenzie River near Springfield easily is among the most popular fishing streams in the Willamette Valley.
The McKenzie has abundant wild and hatchery trout, runs of both spring Chinook and summer steelhead, and at least some angling opportunities all year.
This river is on our top choice for Western Oregon in our run-down of Best Fly Fishing Rivers in Oregon, and there are a number of local guides who specialize in fly fishing here.
Here is a quick look at the McKenzie River's primary fishing opportunities:
Wild Trout
For fly fishers, wild redside rainbows are the biggest draw to the McKenzie and are available for catch-and-release angling year-round. (All wild trout throughout this river system must now be released, including nonnative brook trout.)
The best fishing for larger wild trout, which also includes a smattering of cutthroat trout, is typically in the lower reaches closest to Eugene and Springfield.
Wild trout populations are best from Hendricks Bridge (a few miles east of Springfield) downriver to the confluence with the Willamette in Eugene, including the popular Hayden Bridge area.
This entire stretch of river is not just naturally productive but also is not stocked with hatchery fish (only those fin-clipped planters that drift down from stocking locations upriver may be retained between Hayden and Hendricks bridges).
Additionally, no-bait rules for trout and wild fish releases result in plenty of fish living to fight another day.
Much of this section of stream flowing on the north side of Springfield is difficult to access on foot due to private property.
Drift boats and other small craft often are used to get to the area from several launches, including one at Hendricks Bridge.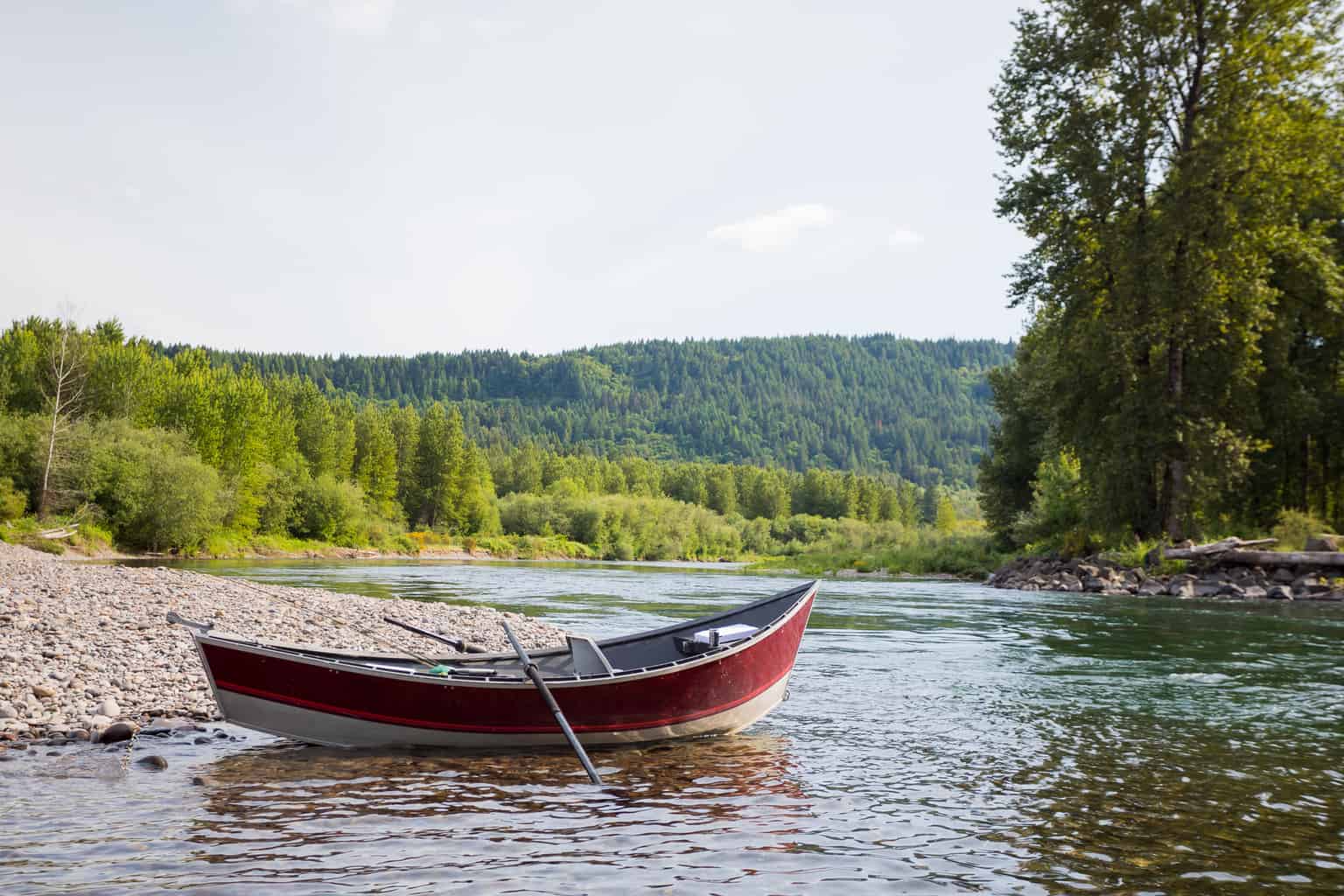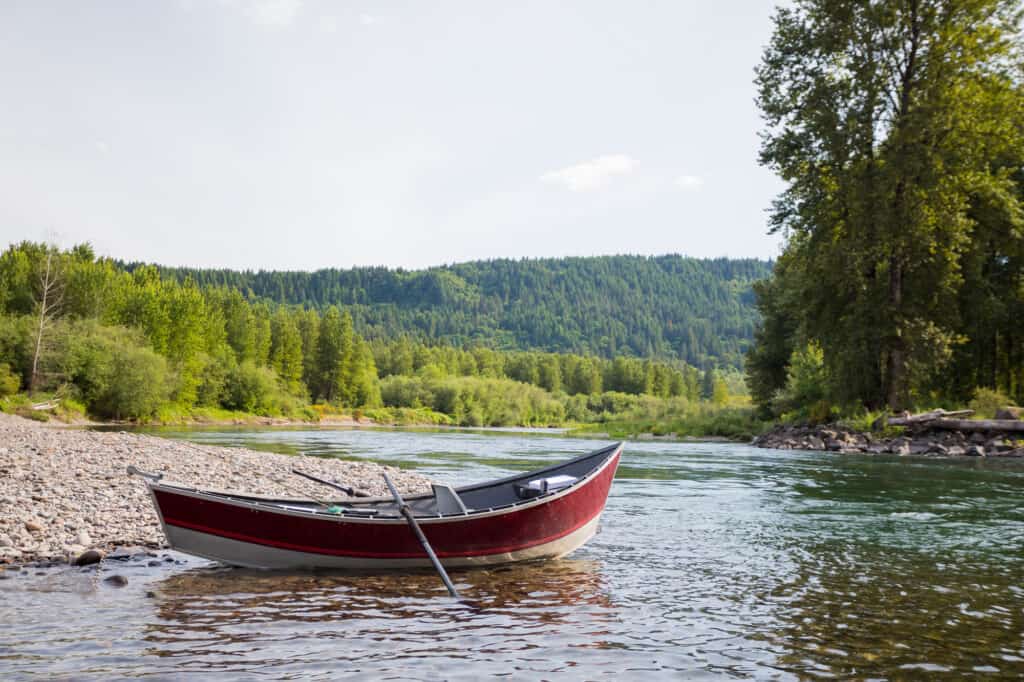 There also can be good catch-and-release fishing for wild trout in the upper reaches of the McKenzie River, particularly in the stream above Forest Glen, the upper end of the stocked section.
Above Forest Glen, the river returns to no-bait regulations and largely catch-and-release fishing.
In the very upper river and in the headwaters at Clear Lake, there also are naturally producing but non-native brook trout as well as protected native bull trout.
Hatchery Trout
This is the biggest fishery on the McKenzie for people who want to bring home fish to eat.
A long reach of the McKenzie is heavily stocked seasonally, with periodic plantings during the spring and summer months. It is open all year, but fin-clipped fish are hard to come by until stocking begins.
The area stocked is roughly 30 miles of river from Hendricks Bridge upriver to Forest Glen Landing, a county park site near the community of Blue River.
Unlike sections managed for wild trout, this hatchery trout area also is generally open to bait fishing during the trout-stocking season, but check regulations before casting with bait.
The section from Finn Rock up to Hendricks (three to four river miles) typically isn't stocked until mid-June to help protect wild fish spawning in that upper area, ODFW fish biologist Jeff Ziller said.
The stocked area also includes Leaburg Lake, a small reservoir located upriver from the community of Leaburg.
Anglers who want the simplicity of fishing in still water with easy access will often give Leaburg a try. It has similar regulations to the rest of the stocked areas on the McKenzie, except a two-rod validation may be used here but not in the river sections.
Access to most of the stocked section of the McKenzie is very good for bank anglers, and there also are ample launches to cover the area for small river-worthy boats.
Access is available from the McKenzie River Highway (Oregon 126) and also several good roads that parallel the highway on the other side of the river in much of this area.
Trout planted in moving water often stick fairly close to where they were stocked and tend to get caught out quickly. See our schedule below for a simplified version of ODFW's annual stocking plan.
However, there often are a few survivors in the batch that find their way into pocket water and other less conspicuous holding spots nearby, so it's often productive to poke around above a stocked area.
Look for likely stocking areas for best results on hatchery fish.
Stocking areas usually have excellent public access for bank anglers and the ability of a big truck to get close enough to the water to extend its release chute. Campgrounds, bridges and roadside pull-outs have potential.
Much more information: Simple How-To Techniques for Trout Fishing
2023 McKenzie River Trout Stocking
| | |
| --- | --- |
| 2023 Stocking | Total |
| Apr. 17 – 21 (Lower) | 7,500 |
| Apr. 24 – 28 (Upper) | 7,708 |
| May 1 – 5 (Lower) | 6,458 |
| May 8 – 12 (Upper) | 1,250 |
| May 15 – 19 (Upper) | 9,456 |
| May 22 – 26 (Lower) | 5,173 |
| May 29 – Jun. 2 (Upper) | 1,000 |
| Jun. 5 – 9 (Upper) | 7,439 |
| Jun. 12 – 16 (Upper) | 833 |
| Jun. 12 – 16 (Lower) | 5,067 |
| Jun. 19 – 23 (Upper) | 5,632 |
| Jun. 26 – 30 (Upper) | 833 |
| Jul. 3 – 7 (Upper) | 833 |
| Jul. 3 – 7 (Lower) | 2,500 |
| Jul. 10 – 14 (Upper) | 5,499 |
| Jul. 17 – 21 (Upper) | 833 |
| Jul. 24 – 28 (Upper) | 833 |
| Jul. 24 – 28 (Lower) | 2,000 |
| Jul. 31 – Aug. 4 (Upper) | 5,166 |
| Aug. 14 – 18 (Upper) | 833 |
| Aug. 14 – 18 (Lower) | 2,000 |
| Aug. 21 – 25 (Upper) | 2,566 |
| Sep. 4 – 8 (Lower) | 2,000 |
| Sep. 11 – 15 (Upper) | 1,833 |
(Lower) = Below Leaburg Dam; (Upper) = Above Leaburg Lake
Stocked fish are legal-sized rainbow trout unless otherwise noted. Stocking schedules are subject to change for a variety of reasons. The ODFW Weekly Fishing Report linked under Oregon Resources below may provide updated information.
Spring Chinook Salmon
Hatchery spring Chinook salmon have long been a favorite game fish in the McKenzie, but fishing for them has been hit or miss in recent years.
There have been some reductions in smolt plants through the years to reduce the potential impact on native Chinook salmon also found in the river. And there have been some poor returns into the Willamette Valley in general.
That said, the last few years have seen some improvement, with pretty good catches recorded in 2021.
The first worthwhile numbers of springers usually arrive in the river in May, and June is often the month with the highest catches. July can still be good but success falls off as the summer goes on, and what fish you do catch will slowly grow darker with each passing week.
Some of the McKenzie hatchery fish these days are diverted to the Coast Fork of the Willamette River, which offers a fairly modest springer fishery.
On the McKenzie, salmon fishing is allowed below Leaburg Dam, and much of the action is in the section from Hendricks Bridge upriver to below the dam, an area where bait fishing is allowed.
Frankly, most fish are landed in the upper section of this stretch, closest to the dam where they tend to stack up.
Interested in finding all the best rivers near you? We have an article that covers all the best spring Chinook fishing rivers in the Willamette Valley.
Also, improve your odds of tagging a springer with Salmon Fishing: Simple How-To Techniques and Tips.
Summer Steelhead
Summer steelhead are historically another very popular quarry on the McKenzie, where steelies are caught from the mouth up above Leaburg Dam by both fly and conventional angling methods.
The highest catch rates on the river occur in the section below Leaburg Dam, where many of the fish linger and the annual catch can run into the low thousands.
Look for the first fish to arrive in early spring but the peak catches to happen from late May into at least early July.
Biologist Ziller says a good number of steelhead cross Leaburg into the upper river, where angling for them is allowed up to Forest Glen.
Ziller suggests fishing for them in the upper section anywhere below about Helfrich Landing (a county park and launch on the south side of the river above the community of Vida) for decent numbers of fish, although overall catch rates are lower above Leaburg than below.
The area is inside the stretch also generously stocked with rainbow trout.
A small number of steelhead also turn into lower Blue River, a tributary farther up the McKenzie, where they also may be caught and kept.
Maybe even more so than salmon, summer steelhead runs into the upper Willamette Valley including the McKenzie River have been depressed in recent years.
Unfortunately, it's a trend also seen in many steelhead runs across Oregon recently, but the hope is that these runs will rebound. At last check, the numbers of hatchery steelhead tagged here continue to be quite disappointing.
We have more details about summer steelhead fishing in Willamette Valley streams.
Want to know the best ways to catch steelhead? We have you covered in this simple guide to steelhead fishing techniques.
Fishing Regulations
The angling rules for the McKenzie vary wildly, depending on river section, fish species and time of year.
We've given you some ideas about where bait is or isn't allowed, but we suggest a close reading of the annual sport fishing regulations booklet, which also is available online.
Return to Oregon Trout Fishing page
Find more fishing spots in Lane County
Oregon Resources
ODFW Weekly Fishing Report
ODFW Trout Stocking Schedule
Oregon Fishing Regulations
National Weather Service