The Methow River is the best river in Washington you might not have heard of.
Though it doesn't get as much attention as some other Washington rivers – in part due to its remote location north of Lake Chelan – the Methow River historically has been one of the state's greatest trout and steelhead waters.
Recent changes have closed steelhead fishing on the Methow under permanent regulations, but stocking of hatchery-marked smolts continues. So it's worth keeping an eye on this one for potential steelhead opportunity in the future.
Still, it's a great place to catch trout, especially if you'd rather catch big cutthroat on hoppers, the Methow has something to offer.
Trout Fishing
You'll find many anglers on the Methow targeting cutthroat and rainbow trout – many of which grow to be very big.
It depends on the stretch you're fishing, but the Methow is generally open from the late spring through the fall for catch-and-release trout fishing under the state's selective gear rules. This means you'll need to be fishing an artificial lure or fly with a single, barbless hook.
Trout in the river typically average between 13 and 18 inches, but some can grow bigger than five pounds. They can be caught using a variety of methods, but most anglers on the Methow are fly fishing.
Fishing on the river typically heats up at some point during July and continues until the seasonal closure, which is varies depending on which stretch of the river you're fishing. Definitely read the regulations for the mainstem and tributaries carefully.
If you're planning to fly fish, some of the most exciting fishing on the river comes in the form of hopper fishing.
Particularly in August and September, big trout in the river key in on the big bugs. A productive day on the river can be a couple dozen nice trout, so make sure to have a couple hoppers in your box before you head out!
Other than hoppers, little yellow stoneflies, PMDs and BWOs make up the majority of the surface activity on the river.
If you're nymphing, try fishing a variety of catch-all patterns (pheasant tails, hare's ears, frenchies) in addition to BWO nymphs and micro mayfly patterns.
When things just aren't going your way, try fishing a terrestrial pattern or two – there are plenty of beetles and ants lining the river's banks, and there are often trout waiting to snatch them up.
Plenty of large rainbows and cutthroat have been caught on tiny terrestrial patterns!
Parts of the upper reaches of the Methow River system also have protected bull trout and non-native brook trout.
The bulls must be released unharmed, while the brook trout may be kept in any size or quantity. Know your trout!
There also are whitefish in the river system, and there's a special winter whitefish season here as well.
More information: Trout Fishing: How-To Techniques and Tips
Steelhead Fishing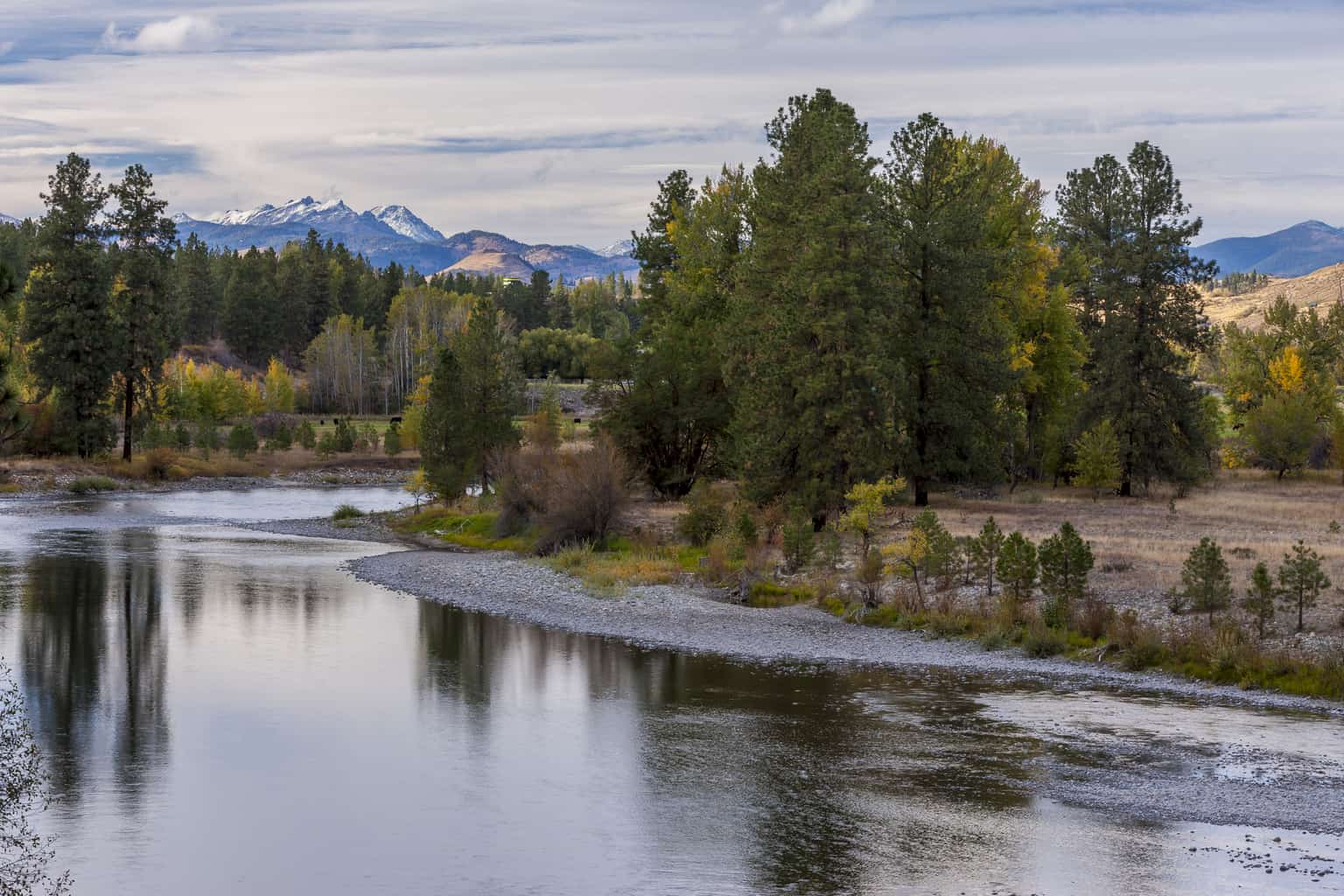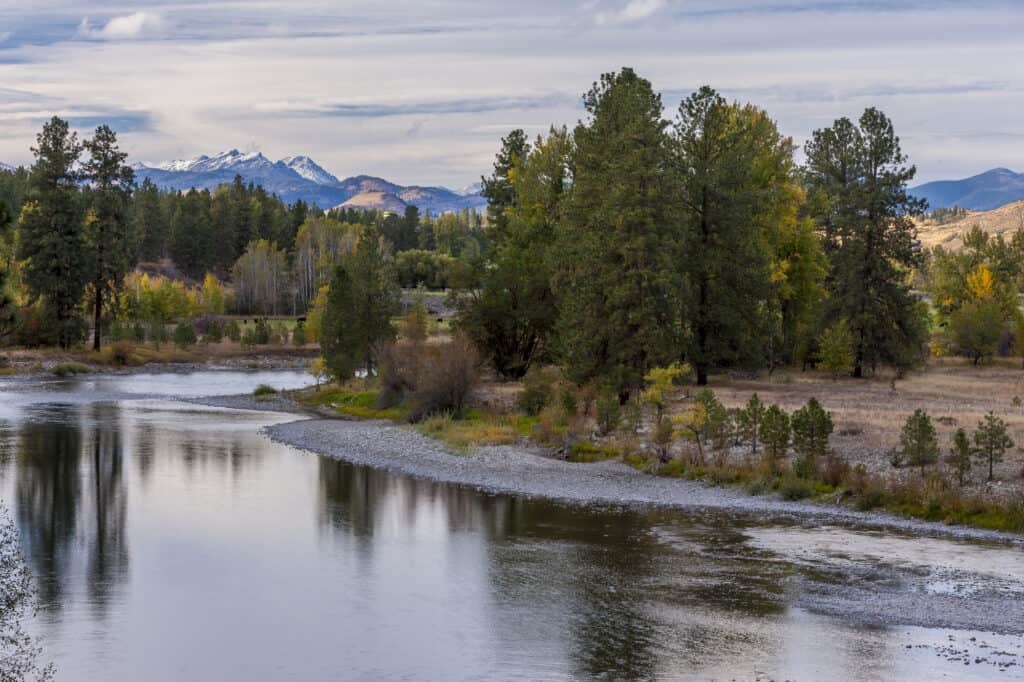 The Methow River is a legendary steelhead river. But, much like most other rivers in the Pacific Northwest, it has had its struggles with steelhead population and returns, particularly in the past couple of decades.
In an effort to help preserve ESA-protected steelhead runs on the river, the steelhead season on the Methow can fluctuate and in recent years has recently been closed down with permanent regulations.
It's unlcear whether WDFW will still exercise a "special emergency" rule to open the Methow River for steelhead fishing, if the agency decides there will be enough fish for a season.
We've noticed that the WDFW has continued to stock large numbers of hatchery steelhead smolts in the Methow even as it reduces angling opportunity, so it's definitely worth checking in on now and then as runs may vary significantly.
Fish typically begin entering the river in July, and stick around well through the winter – though if fishing was allowed, it may close at the end of September.
A decision when to open the Methow for steelhead is quite common in October, and it has been implemented in the spring as well. You should always check for rule updates before fishing, especially when it comes to steelhead and salmon in the Northwest.
Should steelhead fishing open on the Methow, though, it can be electric. Four or five-fish days have been pretty typical among experienced anglers in years past, and the river's medium size makes it perfect for walk-and-wade anglers and boaters alike.
The river historically has been particularly popular among spey fishermen, who have success swinging flies under the surface as well as skating dries on the top.
Conventional anglers find luck fishing spoons and spinners – though it's important to note special regulations.
More information: Steelhead Fishing: Simple How-To Techniques and Tips
When to Fish
The Methow is a mountain stream, flowing down the east side of the North Cascades, and it runs freely for its entire 80-mile length. This means that the river is subject to dramatically changing water conditions throughout the year.
Though trout fishing typically opens in the late spring, it's usually difficult to fish the river until mid-July, as snowmelt renders the river high and its visibility low.
Fishing doesn't start to heat up until the river is at or below 2500 cubic feet per second (you can find the info here), which normally occurs in July.
Once the river levels are manageable, anglers find incredible success fishing for trout.
Many fishermen take float trips to cover extensive water, though walk-and-wade angling is also very viable on the river due to its size and easy access.
As the summer drags on, water levels continue to drop and walk-and-wade fishing continues to become easier. Hot temperatures during the peak of summer can sometimes slow down the fishing and cause trout to become sluggish.
Trout fishing continues to be stellar when September and October roll around, but most anglers have their eyes set on steelhead fishing at that point, if a season will occur.
And, whenever the river is open for steelhead fishing, it can be great.
Location and Access
The Methow River is fairly remote; it's more than 3 hours from either Seattle or Spokane, Washington's two largest cities. Located just north of Lake Chelan, you couldn't ask for a more picturesque setting than this tributary of the upper Columbia River.
If you're overwhelmed by the eight separate stretches that the river and its tributaries are divided up into in the WDFW regulations, you're not alone.
Fortunately, the regulations are fairly similar among each stretch of the river.
The most popular piece of water is the stretch from Lower Burma Road to Gold Creek.
The Methow River is great for bank anglers, making it a popular choice amongst those who don't have a boat.
However, rafting the river is also common, and can get you access to water that would be otherwise difficult to reach!
Check out the Methow River for some exciting trout fishing, legendary steelhead fishing, and a backdrop that looks like it's straight from a painting.
Find more fishing spots in Okanogan County
Washington Resources
WDFW Fishing and Stocking Reports
WDFW Fishing Regulations
National Weather Service forecasts
Carter Reschke is a freelance writer based in Oregon. Passionate about the outdoors, Carter is a fly fishing aficionado and spends his days on the river when he's not writing.