Although Vermont typically conjures images of mountains, maple syrup and ice cream, the state has some fantastic bass fishing for both largemouth and smallmouth anglers.
Hit the following bodies of water this spring and summer for your best chances.
Lake Champlain
Lake Champlain is undoubtedly the best bass lake in Vermont, one of the best anywhere in New England, and a top destination for anglers all over the country.
The variety of species (from northern pike to landlocked salmon), the massive size of the lake, and the stunning scenery make this number one on any Vermont or New York bass-fishing list.
The southern end of the lake, near Fort Ticonderoga, New York, and points to the south, offers some of the best largemouth water on Champlain.
The shallow sections on the southern end typically feature a lot of vegetation, and concentrating your efforts on that cover will help you find cooperative bass.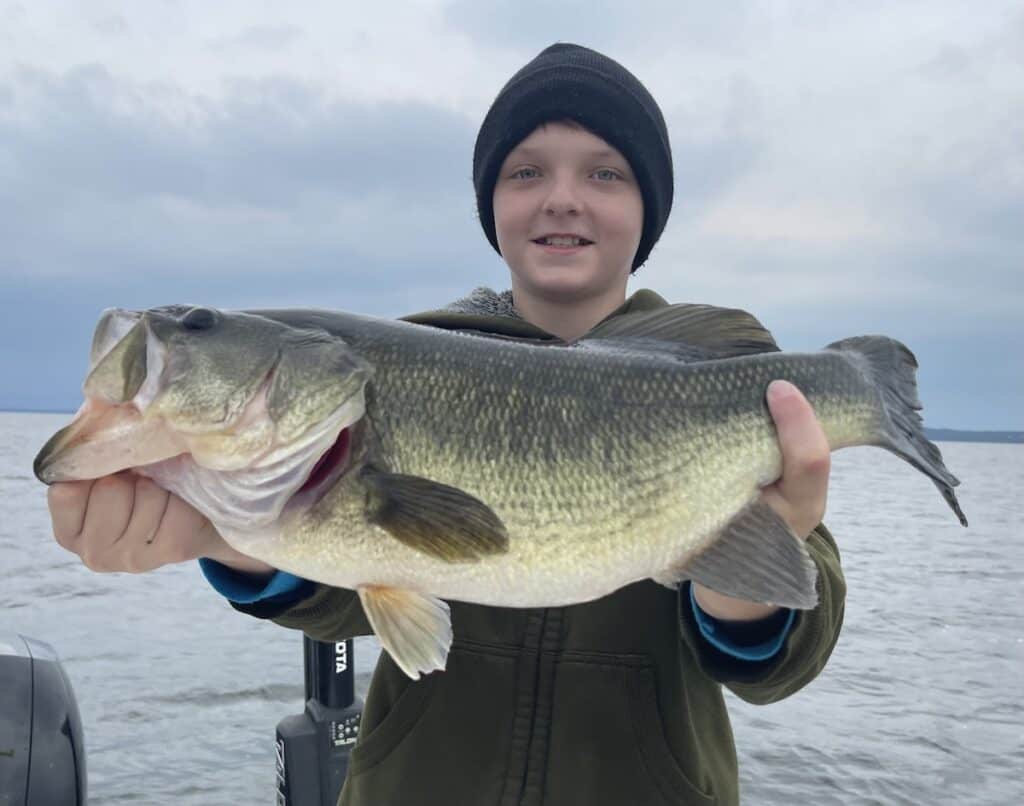 The central portion, or main lake, isn't as popular with bass anglers as the northern and southern ends.
Steep drop-offs, especially on the New York side, mean little in the way of shallower water or vegetation as cover.
On the Vermont side of the main lake, however, there are interspersed grass beds, flats and river mouths.
Anglers can and do find smallmouth around this structure, but the central portion of the lake still isn't as popular as the northern end for bass.
If you're looking at a map of Champlain, the northeast section is called Missisquoi Bay, which sits on both sides of the Canada/U.S. border.
Beneath Missisquoi is a section referred to as the inland sea, which is entirely located in Vermont. Grand Isle and North and South Hero are islands that break up this giant lake section.
In the northern lake, the inland sea is a Vermont basser's best shot at finding largemouth and smallmouth pushing 5 pounds.
There are large grass beds and submerged rocks, both of which can hold largemouth and smallmouth throughout the spring, summer and fall.
In the far northeast quadrant of the lake, the Missisquoi River flows into the lake at the Missisquoi National Wildlife Refuge. While the river itself is among Vermont's best trout fishing streams, its intersection with the lake can be a productive largemouth location too.
Access: Waterfront Park, off Lake Street in Burlington, will put you at a central location on the lake with a public ramp. Launching from Hawkins Road in Ferrisburgh onto Little Otter Creek, which connects to Champlain, will give you faster access to the southern portion. Rock River's public launch on Route 7 in Swanton will put you on the lake's northern end.
More: Complete Guide to Lake Champlain Fishing
Lake Memphremagog
Most of Lake Memphremagog is in Canada, but the stretch that lies inside the United States closer to Newport, Vermont, just happens to be the part of the lake with the best bass fishing.
If Memphremagog doesn't get the recognition it deserves, it's only because it's so close to the world-renowned fishery that is Lake Champlain.
Lake Memphremagog has all of the ideal habitat for both largemouth and smallmouth bass. There are steep drop-offs, weed beds, and shallow coves.
The smallmouth in this lake can push 4 pounds, easily. Bell Island and Black Island are in the lake's southeast quadrant, situated northwest of a large flat. Both feature steep drops and can be prime areas to target with deep-diving crankbaits or jigs in spring and fall.
It's also worth noting that the lake has a robust population of yellow perch, which serve as the primary forage for the largemouth. Therefore, perch-imitation baits can be deadly.
Access: Gardner Memorial Park in Newport is a favorite spot for families, with shore access for kids. South Bay and Whipple Point offer public launches for boaters.
Connecticut River
New England's largest river system provides the border between Vermont and New Hampshire and offers both states tremendous smallmouth bass fishing.
Shiners, perch and crayfish are among the numerous species that provide ample forage for smallmouth that can routinely push 4 pounds here. When you're talking about river smallmouth, 4 pounds makes for a fierce fight.
The Connecticut flows from the Canadian border to Long Island Sound and can provide anglers with shots at everything from brook trout to striped bass.
The state does have one interesting rule when it comes to spawning smallmouth on the Vermont side, though. Between May 15 and June 15, you must immediately release all black bass (largemouth and smallmouth). This rule, of course, aims to protect bass during their typical spawning period.
Stickbaits like the Megabass Vision 110 fished right around drop-offs and current breaks can be effective for big river smallmouth.
Access: Wilgus State Park on the Vermont side near Springfield offers a public launch into a section of the river where largemouth, smallmouth, and northern pike are common. Connecticut River Road on the south side of the community of Ascutney will bring you right to the park, which features a public boat launch.
Lake Dunmore
There aren't many Vermont bodies of water that can claim to have produced a double-digit largemouth bass. However, Lake Dunmore holds the Vermont state record of 10 pounds, 4 ounces, set in 1988.
This 985-acre lake has populations of crappie, lake trout, landlocked Atlantic salmon, rainbow trout, pike, and both largemouth and smallmouth bass.
For largemouths, especially in the summer months, your bet will be concentrating your efforts around the weedy coves and near boat docks, especially on the far north and far south ends.
For smallmouths, you'll find more rocky-bottom structure and steeper drop-offs that attract smelt and smallmouth near the southwest corner of the lake, which has the steepest drops.
Although it's a relatively shallow lake, with average depths of 20 feet throughout, there are holes that reach to 105 feet. Targeting deeper water will be your best bet for finding smallmouth, especially as water temperatures warm.
Soft-plastic baits on top of vegetation are a great bet for largemouth, and jigs and crankbaits fished along the lake's steeper drops in its southern end are a solid choice for smallmouth.
Access: West Shore Road in Salisbury has a public concrete launch.
Lake Bomoseen
Lake Bomoseen, about 20 minutes west of Rutland, is another Vermont lake that gives anglers a shot at healthy populations of both largemouth and smallmouth bass.
If you're after largemouth, the north and south ends of the lake feature the shallow coves with the most cover, where, especially in the summer months, you'll find your best shots.
Weedless frogs and Carolina-rigged ribbon-tail worms can both be productive methods to convince the lurking largemouths it's time to eat.
The eastern shore of the lake has much steeper drops than the western shore, and an island, mid-lake, offers structure that will draw baitfish and smallmouth in the shoulder seasons.
Access: Creek Road in Castleton runs along the lake's southwest shore and offers a public launch.
Lake St. Catherine
Situated right on Vermont's border with New York, just south of the town of Poultney is Lake St. Catherine, another lake that will give you promising shots at both largemouth and smallmouth bass.
This Western Vermont lake is a relatively shallow 68 feet at its deepest point, but with populations of yellow perch, bluegill, rainbow smelt, and golden and emerald shiners, it's a veritable buffet for the bass that call it home.
The far northern and southern ends are your best largemouth targets, as they're shallower and have more weed cover. The western half of the main body of the lake has more rocky structure likely to hold smallmouths.
Look for the drop-offs on the western shore in the spring and fall, and you'll find schools of baitfish and smallmouth chasing them.
Work spinnerbaits and soft-plastic worms around the vegetation on the north and south end for the largemouth, and jigs and perch-patterned crankbaits along the rocky drop-offs on the western shore for smallmouth.
Access: Lake St. Catherine State Park has a public launch.
Lake Morey
Morey is a clear, relatively shallow 545-acre lake in Fairlee that some guides believe could hold the next state-record largemouth bass.
It's worth noting the lake has both largemouth and smallmouth, but the population of largemouth is the main target at this lake near the New Hampshire border.
You will find the steepest drop-offs in the lake at the far north end, where shallow flats drop quickly to 20 and 25 feet.
For smallmouth bass, the deepest hole is at the far southern end of the lake, about a quarter mile from the southern shore, and smack-dab in the center of the lake. This 40-foot hole will hold smallies, especially when the water temperatures start to climb.
The weeds can get pretty thick on Morey in the summer, so soft plastics rigged weedlessly, chatterbaits, spinnerbaits or jigs with a weed guard can all be good options.
Rigging a soft-plastic worm of up to 10 inches with an offset hook, dragging it to the edge of the pads, and letting it fall slowly can be a tremendous way to target largemouth. Watch for the line to straighten as the worm drops, then set.
Bald eagles and blue herons are both seen around the lake regularly.
Access: Lake Morey Road, along the southwest stretch of the lake, features a public boat launch.
Lake Carmi
Carmi is the fourth-largest natural lake that is located entirely within the state's borders, and it's relatively shallow as well. It has the state's largest campground, which offers 138 tent sites, 35 lean-to sites and two cabins. Smallmouth bass are much more common here, but there is a population of largemouth as well.
The lake's shape is fairly predictable, with the deepest basin at the center at just more than 30 feet, weed beds around the perimeter, and no terribly steep drops or irregular points.
Weed beds and creeks that flow into the lake near its southwest corner make it a popular target for the lake's few largemouth, while the steep drops along the western-central shoreline are good bets when you're targeting smallmouth.
Access: Rte. 236/State Park Road on the lake's southeast corner will bring you to the state park and public launch.
Lake Eden
The 6-pound, 13-ounce smallmouth that Issac Spaulding caught in Lake Eden in 2003 still stands as the Vermont state record.
There are several promising points to target on this small Vermont lake when looking for your own trophy bronzeback.
The northeast and southwest arms, specifically, feature the steepest drops likely to hold smallmouth in the spring and fall.
There's also a lot of rock structure just off the town beach area that can hold smallmouth in the early summer.
Right in the middle of the lake there's a relatively shallow stretch of rock that provides good structure to target, just be aware if you have a larger boat that you don't bust a propeller if the water is low.
Jigs, specifically darker colors like black and blue, are always a good smallmouth selection when fishing rocky points and drop-offs.
Access: Route 100 on the lake's northwest corner features a public launch.
Lake Groton
This is a classic Vermont bass lake, with exceptionally clear water, lots of rock, and some sharp drop-offs.
With both largemouth and smallmouth bass here in good numbers, it can be an excellent choice for an early summer or even fall outing.
Rock is the main structure on Groton, and the west and southwest shorelines have plenty of submerged and exposed boulders.
A square-bill crankbait, especially in a perch pattern, bounced off the rock structure around rapid depth changes, can be the key here, especially in the shoulder seasons.
Groton gets to depths pushing 30 feet, and a crawfish-colored crankbait can be an effective lure as well, especially for the smallmouth.
Note that the boat launch at Stillwater State Park is open only between Memorial Day and Labor Day.
Access: Take Stillwater Road to the state park and its gravel boat launch.
Summary
From one of the Northeast's largest lakes to some of New England's fiercest river smallmouths, Vermont offers some of the most diverse, naturally beautiful, and underutilized bass fishing water in the Northeast.
Catch More Bass
Check out our easy guide to bass fishing techniques and other tips that will help you catch more largemouth and smallmouth bass.