Living near large metropolitan areas doesn't mean you don't have the opportunity to catch record-breaking fish.
Keystone Lake is 8 miles west of Sand Springs and less than 30 minutes west of Tulsa.
In 2021, Keystone Lake was home to two world record-breaking paddlefish, but that's not the only species worth chasing while at Keystone Lake.
Fish Species of Keystone Lake
Though Keystone Lake is now known for trophy spoonbill, several other species call this lake home that anglers enjoy pursuing.
In college, I participated in a bass fishing tournament on this lake. While I didn't do well in the standings, I caught a wide variety of fish which opened my eyes to the high number of incredible fishing opportunities on Keystone Lake.
Paddlefish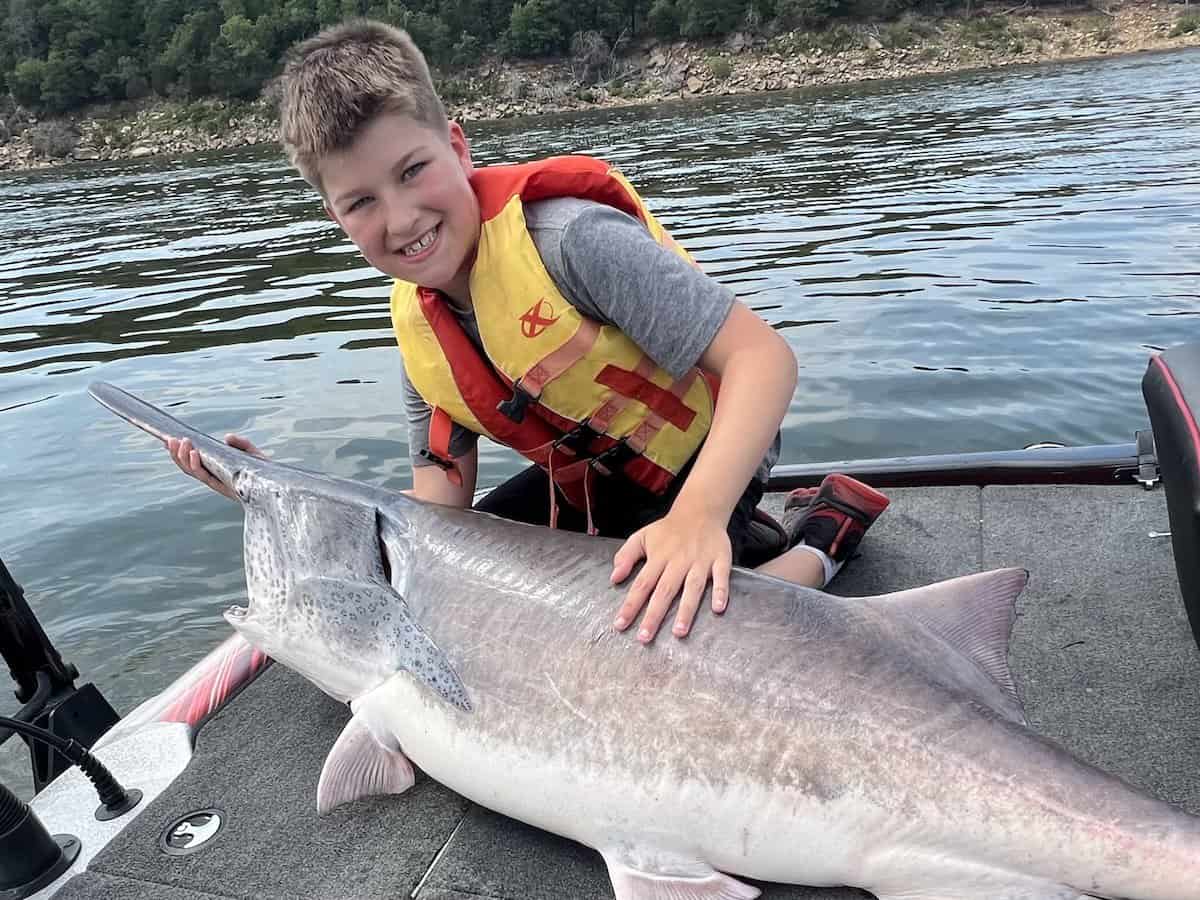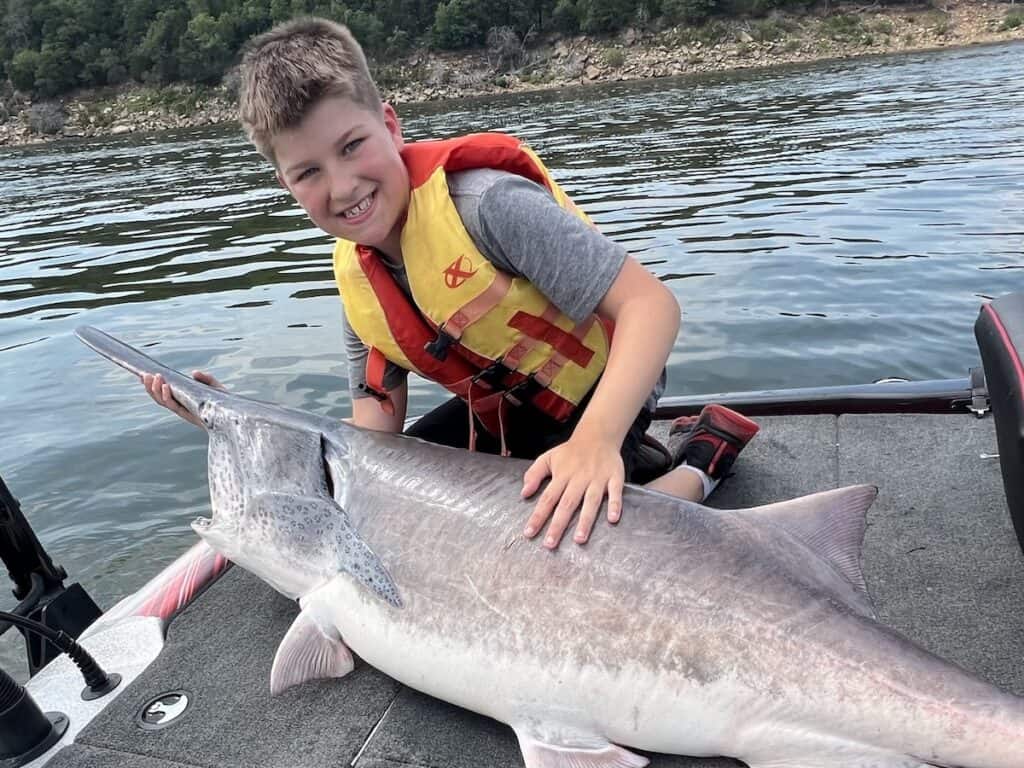 It's a rare lake in Oklahoma where we don't talk about the bass or catfish fishing first, but in light of this lake breaking the world record for paddlefish not once but twice recently, here we are.
This ancient fish, also commonly known as the spoonbill, is unlike any other in Oklahoma. They eat plankton and other microinvertebrates, so using lures and bait is pointless when trying to catch them.
Therefore, paddlefish must be snagged. For this reason and because their roe is considered one of the best in the world, they are a heavily regulated fish, be sure to check the regulations before heading out to snag one.
As they migrate up the river and creeks, during the spring run, these fish can be caught from the bank using a surf rod, heavy line, weight, and a barbless hook.
During the summer, spoonbill move into deeper water, so you'll likely need a boat to catch them.
The average spoonbill is between 20-100 pounds, but in 2021 a 164-pound giant was caught at Keystone Lake to beat the previous world record that had also been set at the same lake about a month prior.
This is why it's rated as the best place to snag a paddlefish in Oklahoma.
Black Bass
Keystone lake is home to a healthy population of largemouth bass, and they bring in lots of anglers here. 
You'll find their smallmouth bass and spotted bass cousins in Keystone too, but not as many nor as big as the largemouths.
"It's a great bass fishery," especially in the spring, guide Josh Teply said. "It's very underrated for bass."
The typical bass fishing gear works well here. A medium-heavy, fast-action rod with a 6:1 gear ratio reel will cover most of the scenarios you will encounter.
The best places to catch bass are around cover, which at Keystone includes docks, brush, main lake points, rip rap and bridge pilings.
The lake isn't known for being clear since the murky Arkansas River is the primary water source, so sight fishing is typically not an option. That means that lures with some action like crankbaits, spinnerbaits and vibrating jigs will work from spring to fall.
Don't be afraid to use a spinning rod and reel with a plastic worm presentation; since this lake is near one of Oklahoma's largest cities, it receives a lot of pressure, so slowing down is an excellent way of giving the bass something they don't always see.
Find more tips and techniques in our simple bass fishing guide and also be sure to check out the best largemouth bass lakes to fish in Oklahoma.
Catfish
If Keystone Lake was known for one thing before paddlefish, it was catfish fishing, which is why it made our list of top catfishing lakes in Oklahoma.
There is an abundance of channel catfish, blue catfish and flathead catfish swimming in the lake. They range from a perfect eating size of five pounds to behemoths over the 50-pound mark.
You'll need heavy-duty gear to have the best chance of landing a huge catfish. If you're only targeting small catfish, you can get away with using bass fishing gear; but I recommend getting the right tool for the job if you don't want to break off the catfish of a lifetime.
Catfish spend most of their time along channel ledges and at the mouths of creeks. I recommend starting at any of the several bridges. Bridges act as a fish funnel, making catching them slightly less complicated.
So many people love catfishing because of its simplicity and the ability to do it from the bank. Catfish are scavengers, so you can use various baits, from chicken liver and stink bait to live bait.
For more tips, tricks and bait ideas for catfish fishing, check out our easy guide.
White Bass & Hybrid Stripers
I mentioned I had fished a collegiate tournament on Keystone, and while the target species were largemouth bass, had I been fishing for white bass or hybrids, I would have done much better in the tourney.
Keystone Lake is full of white bass (a.k.a. sand bass or sandies) as well as hybrid striped bass (a cross of white and striped bass), so it's no surprise it's an honorable mention for one of the best sand bass fishing lakes in Oklahoma.
During the spring, these pan-sized bass migrate up the river and creeks to spawn. Besides the Arkansas, the Cimarron River and Salt Creek flow into major arms in the reservoir, and tons of smaller creeks also enter the lake.
When white bass are running, they're easy to catch from the bank where spawning streams enter.
As the summertime water temperature rises, white bass go deep and trolling in the main lake along flats and channel swings is the best option.
They primarily feed on shad, so shiny chrome baits work best, such as spoons, crankbaits and spinnerbaits.
Your bass fishing gear will work for catching sandies and hybrids but be warned that they fight hard and the big stripers easily grow to 10-plus pounds, which is a fun fight on any bass fishing setup.
Crappie
The best-tasting fish in Oklahoma is the crappie, and Keystone lake is one of the best places in the state to catch crappie. They're a fun fish to catch and don't require a lot of fancy fishing equipment, most of the time.
While spawning in the spring, the lake's black crappie move shallow and spawn in and around brush piles and rocks. Typically finding a steep ledge near the bank will yield the highest chance of catching a mess of crappie.
As the water heats up, crappie move to deeper water and congregate around brush piles. By summer, it's best to have a boat with sonar.
When targeting these fish, you only need light tackle because they don't grow very big; a 1-pound crappie is a big crappie.
Small jigs, live worms and minnows are what most anglers use as bait. The main thing is finding what depth they're at for the day and then determining what bait they want.
Learn more about crappie fishing in our easy guide.
Bluegill & Sunfish
One of the best ways to introduce a kid or new angler to fishing is to take them bluegill fishing. Sunfish and bluegill are aggressive and easy to catch by following a few simple tips.
You don't need sonar or a boat to have a blast catching these fish, and they're good table fare if you catch one's large enough to bother with.
Light tackle with an earthworm on a hook, often set below a bobber or dangled from a dock, is all it takes to catch bluegill for hours on end.
You'll find them around docks and along the shoreline in the rocks and brush piles. They typically stay shallow throughout the late spring, summer and fall, so catching them from the bank is usually no problem.
Keystone Lake Fishing Tips
Keystone Lake is similar to other Oklahoma lakes, in that it fluctuates in water level and clarity throughout the year, but it offers anglers a wide variety of fish to chase all year long.
When to Fish
The best fishing takes place during the spring when most fish are spawning.
That doesn't mean you should overlook waking up early during the summer and hitting the water near first light, though. The fall is another time most people overlook, but the fishing can be spectacular as fish begin feeding heavily before winter hits and fewer anglers chasing them.
Getting to the lake at or shortly before sunrise will ensure you beat most of the crowd from Tulsa and surrounding areas during the busy summer months.
Where to Fish
Any bridges crossing the lake are some of the best places to start, no matter what species you're trying to catch. If you don't have any luck there, fishing the river or creek arms are other high percentage areas.
Fish use creek and river channels as "highways" to travel from one place to another. They feed along flats, so finding places where these two elements meet is always a good place to start.
Lastly, docks provide cover from the sun and predators, which is why they're also great places to go fishing.
Tips & Tactics
No matter what species you're targeting, live bait is often the most reliable option. If you don't use live bait, try to find lures and baits that look as close as possible to what the fish are typically eating, which is shad, bluegill, sunfish and other minnows.
If you just want to catch something, try using live earthworms. I've got just about every species in this lake using a worm.
When snagging spoonbill, sharpen your hooks and keep the line tight because you're using barbless hooks. I also recommend hiring a guide if you've never gone paddlefish snagging before. They will have all the gear and the best spots.
Planning Your Trip
Keystone Lake is an excellent place to bring the family for fun, even if they don't enjoy fishing. There are 29 recreational areas around the lake, according to the U.S. Army Corps of Engineers.
Getting to Lake Keystone
Head west on highway 412 out of Sand Springs, and you'll cross over the lake. There are multiple areas to access the lake, so I recommend choosing the destination and using your GPS mapping app to get there.
Bank Access
Keystone Lake is a Corps lake, meaning nearly all of the land around the lake is public, including much of the 330 miles of shoreline. However, the rough terrain does not allow anyone to walk down the bank easily in unmanaged locations, so the Corps of Engineers has several dedicated parks with excellent water access.
Boat Access
The Corps and marinas maintain several boat ramps around the lake that anyone can access for a small daily fee. The Mannford City Ramp is free.
Camping and Accommodations
Multiple campgrounds run by the Corps and Keystone State Park have full RV hookups, hiking trails, boat ramps and swimming areas. There are additional recreation areas all around the lake.
Yogi Bear's Jellystone Park is a highlight for kids during the summer. It's a giant inflatable waterpark that adults also enjoy.
There's plenty for everyone in the family at Keystone Lake.
Acknowledgment
Thanks to Josh Teply Fishing for providing expert tips for this article.