Grand Lake O' the Cherokees is one of Oklahoma's most popular lakes for many reasons. Summer homes and docks line the 460 miles of shoreline, and elite-level fishing tournaments often visit.
Major League Fishing's Redcrest and the B.A.S.S Bass Master Classic have been held on Grand Lake in recent years, not to mention the countless local tournaments that bring out the bass boats every weekend.
During the spring, summer and early fall, the Northeast Oklahoma lake sees an influx of boat traffic, especially during the weekends.
This can make fishing more complicated, but Grand Lake is one of Oklahoma's best all-around fishing lakes, so that shouldn't deter you.
Grand Lake Fish Species
While the largemouth bass are its most famous, Grand Lake has all the species you would expect an Oklahoma lake to have, including catfish, crappie, white and hybrid bass, bluegill, spoonbill, a few smallmouth bass, and the rare walleye.
We'll give you some pointers to catch the most popular game fish, the ones that make Grand Lake such a tremendous reservoir and bring thousands of anglers to its shores every year.
Largemouth Bass Fishing
Largemouth bass are the big draw for many anglers to the popular lake. This is because the Oklahoma Department of Wildlife Conservation (ODWC) has done an excellent job managing the lake for this black bass species.
There are many brush piles the ODWC has put in the lake, but one of the biggest reasons Grand Lake is known as the best bass fishing lake in Oklahoma is because Florida strain largemouth were stocked here as a trial starting in 2022.
The Florida strain bass are bigger than the native, hardier largemouths also in the lake, so that may result in a few lunkers. They can interbreed, which means anglers get the best of both strains.
Every bass angler has their secret spot to catch big bass, and in most cases, it requires a boat to get to the best locations. However, that doesn't mean you can't catch bass at one of the public use areas with bank access if you are limited to fishing from shore.
If you have a boat, the best places to begin largemouth bass fishing are in the creeks like Drowning Creek on the southwest side and Duck Creek on the western side. However, bass are caught all over the lake.
I recommend using crankbaits along the riprap at the bridges that cross the lake and jigs for fishing docks. I'll switch to a worm or finesse presentation when the bite is tough. I have to remind myself not to be close-minded when choosing lures.
For more bass fishing tips, tricks and lure ideas, check out our easy how-to article.
Crappie Fishing
Grand Lake has some of the best crappie fishing in Oklahoma partly because they have increased restrictions on black and white crappie that maintain more large fish.
At this writing, you can only keep a combined total of 15 of either species, and they must be 10 inches long. Always check ODWC.com for the current fishing regulations.
During the spring, crappie are caught easily from the shore because they move shallow to spawn. Find an area with a hard rocky bottom near a creek channel, and you'll likely find crappie.
As the water temperature increases, they move to deeper water to stay cool. You'll primarily find them under docks and in brush piles in 10-20 feet of water.
The best bait is live minnows, but jigs work great too. Whether or not you need a bobber depends on the depth and how active the crappie are that day.
They have a very soft mouth, so don't set the hook hard as you would with bass because you'll rip the jig out of their mouth.
I prefer to use an ultralight rod and reel when crappie fishing because it makes the fight even more enjoyable and gives you a little more sensitivity to feel those light bites. However, most fishing poles will work if you don't want to buy a new one.
We have some more detailed tips and techniques to catch more crappie in a simple how-to fishing guide.
White Bass & Hybrid Striped Bass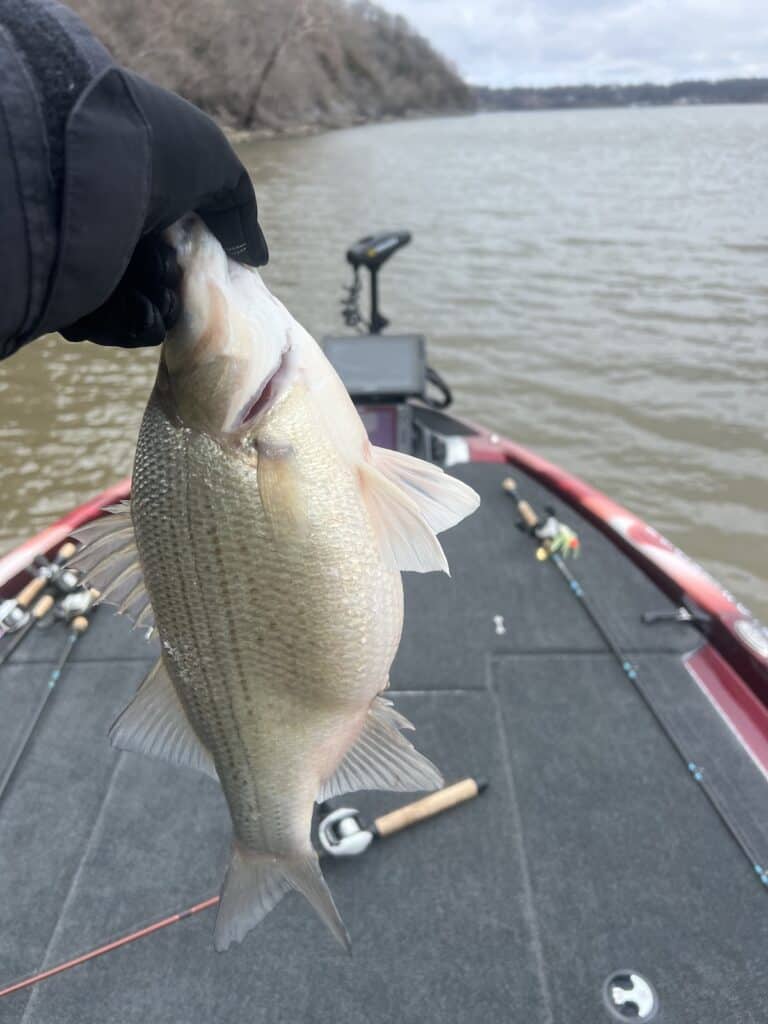 One of my favorite fish to catch is the white bass and its cousin, the hybrid striped bass, often simply called a hybrid for short.
For their size, these related fish fight incredibly hard, and they're very aggressive during the spring, making them easier to catch.
They're feeding to prepare for the spawn in shallow creeks and rivers. They can be caught from the bank in the spring when they run up the Neosho River and Spring River or any streams around the lake.
They move to open water during the summer, and once that happens, you generally need a boat to have any success. No matter the time of year, they always swim in a large school, so if you catch one, cast back to that spot to catch another.
During the spring, jigs, Rooster Tails and lipless crankbaits are excellent lures for white bass (a.k.a. sand bass) and hybrids.
Trolling with a lipless crankbait in the summer is the best way to locate a school in the middle of the lake. Hold onto your pole tightly when trolling because they hit and fight hard and can jerk the rod out of your hand if you're not paying attention.
Below Pensacola Dam, which is the dam for Grand Lake, was rated as one of Oklahoma's best sand bass fishing locations. It's a big draw for anglers.
As long as you cut the red meat out of the filet, both white bass and hybrids are tremendous table fare.
Catfish Fishing
With three species of catfish growing to incredible sizes, it's no wonder Grand Lake is one of the best catfishing lakes in Oklahoma.
Blue catfish, channel catfish and flathead catfish are regularly caught at Grand Lake. You can hire a local guide if you don't have the heavy-duty fishing gear needed to handle large fish.
However, if you have the gear or are willing to buy it, catfish are one of the easiest fish to catch from the bank. While a boat does allow you to move spots quickly, if you're able to find a flat near a ledge or creek channel, catfish will likely be there.
Using live bait like bluegill works best for flatheads.
Many locals also noodle for them during the late spring and early summer. If this interests you, read up on the Grand Lake fishing regulations so you don't unintentionally break the law and get a hefty ticket.
Cut bait, stink bait or chicken livers work well for blues and channel cats. You'll typically catch both of these species in the same vicinity. In comparison, it's less common to catch a flathead with the other species.
The best places to catch catfish are along steep ledges near a flat because they use the channel or ledge as a highway and the flat to feed.
Also, if you find a large school of shad in the winter, the catfish are generally below them, waiting for the injured and dying fish to fall to the bottom.
Catfish are delicious to eat as long as you remove the dark meat from the filet. The monster catfish are not the ones you want to keep to eat. The 5-15 pounders are the best eating size for taste and still have a good amount of meat.
Check out our simple catfish fishing tips and techniques (including recommended baits).
Paddlefish (Spoonbill)
Paddlefish or spoonbill (or spoonbill catfish) are often snagged during the spring spawn when they run up the rivers by the thousands. However, this fishery also is a year-round option.
Spoonbill feed on plankton, so the only way to catch them is to snag them because there's no hook or lure they'd intentionally try to eat.
This might seem unsportsmanlike to anglers unfamiliar with this sport, but there are strict regulations regarding paddlefish, so study the ODWC fishing regulations carefully before going out. Knowing which days you can keep fish and which days are catch and release only is very important.
I've personally snagged spoonbill along the Neosho River, which flows into Grand Lake.
If you have the proper equipment and skills, catching paddlefish in the main lake is highly plausible. If you don't, it's best to hire a guide who does, so you'll be more likely to snag one.
They're great eating as long as you cut out the dark meat like you would with a giant catfish. The eggs are also edible and are the primary reason these fish are so regulated. Their roe is considered one of the top caviar in the world.
Bluegill Fishing
Suppose you want to be sure you'll catch something? Target bluegill. They're abundant all over the lake in the shallows during the spring and summertime, and they're easy to catch.
Bluegill will hit a jig, worm or small lures and flies. If you forgot the bait, even a piece of hotdog will work.
Typically, you can find bluegill around docks, brush and rock piles, and similar areas.
In the summer, look for huge schools of big bluegill on brush piles sitting above brush piles in about 15 to 20 feet of water.
I believe bluegill fishing is one of the best ways to introduce a kid to fishing. My daughter loves catching big or little ones every time we go fishing.
Fishing for bluegill is simple to do with an ultralight rod and reel, a panfish hook, and a bobber. You don't have to cast very far from the shore, which is why bluegill fishing is the best way to introduce young anglers to fishing.
If you can talk your kids into keeping a few for catfish bait, they make excellent flathead and blue cat bait. The ones a little larger than your hand make very good filets, while the smaller ones than your hand are good for bait.
Grand Lake Fishing Tips
Grand Lake is one of the largest lakes in Oklahoma, so having a few tips on how and when to fish in this lake can go a long way.
When To Fish
The spring, when most fish are spawning, is arguably the best time of year to be fishing at Grand Lake. You won't have nearly the recreational boat traffic to deal with, but you will have lots of other anglers on the water.
The lake gets very crowded during the summer and holidays, so I recommend avoiding it as much as possible during these times. However, if the only time you have to fish is the summer or a holiday, wake up early when everyone else is sleeping and fish.
Fish are often more active at sunrise and shortly after. If you have the ability, night fishing can also yield excellent results.
Where To Fish
Where you fish primarily depends on the season. During the spring, fish run up creeks and rivers to spawn and generally head to deeper water during the summer.
That's why it's best to fish areas with a creek or river channel that has a flat nearby. A channel is a safe place for larger predator fish while they can feed on the smaller prey on the flat.
If you have the electronic equipment to monitor water conditions during the summer heat, fish will hold to a structure near the thermocline or cooler water.
All game fish will relate or use structure, whether that's a cliff, brush pile, rock pile, dock or flat.
Tips and Tactics
Hiring a professional guide for a day can give you a good idea of what it takes to have a successful day on the water at Grand Lake. There are numerous guides for all the common species that are more than willing to take you out for a day of fishing.
Planning Your Trip
Grand Lake O' the Cherokees is a popular destination for many people.
Maybe because it's not too far from civilization since it's just over an hour from Tulsa. Or perhaps it's the wide variety of things to do in addition to fishing, such as camping, water sports, golfing, casinos, or watching the rock crawlers.
Whatever your reason for visiting Grand Lake, it's unlikely to disappoint.
Getting To Grand Lake
Most people coming from Tulsa or Oklahoma City will take the 44 Turnpike to their chosen exit, since the turnpike runs along the western side of the lake.
Depending on where you exit, you'll either hit Highway 28, which goes along the dam; Highway 85, which traverses the southwestern edge of the lake; or Highway 59 and 125 are on the northwestern side of the lake.
Highways 59, 127, and 10 are the primary highways along the eastern side of the lake, which is a likely destination if you're coming over from Arkansas.
Bank Access
There is not much bank access considering the lake's hundreds of miles of shoreline.
Most of the bank access will be at public parks, including the Grand Lake State Park locations, because the rest of the bank is privately owned. Fortunately, there are a pretty good number of public park sites where you can get to the water.
Boat Access
To really fish this lake effectively for some species, including bass, you will need a boat.
Thankfully, there are lots of boat ramps around the lake. For most of them, you'll have to pay a day-use fee. The state park campgrounds also have boat ramps you can use while staying there.
There also are boat rentals and professional fishing guide services at the lake.
Camping & Accommodations
Grand Lake O' The Cherokees offers lots of camping and sleeping accommodations. The state parks have RV and tent camping available, and if camping isn't your style, there are numerous hotels around the lake.
Sometimes you can also find an Airbnb or other type of rental on the lake. When the owners aren't using their house, they'll allow someone else to use it for a fee.
Whatever your sleeping preferences, you'll likely find them at Grand Lake.
Acknowledgment
Thanks to Josh Teply Fishing for providing expert tips for this article.