New Hampshire got its "Mother of Rivers" nickname because it has more than 48,000 miles of rivers flowing through its hills and mountains. Many of those streams also feed its almost countless lakes and ponds.
Within all that water, New Hampshire offers some of the best bass fishing you'll find anywhere in the Northeast.
Maine and Massachusetts might get more publicity for their fishing opportunities. Still, you won't complain about that while catching fish without another angler in sight in the Granite State.
Whether targeting largemouth or smallmouth bass, the following bodies of water will give you a great shot at incredible New England bass fisheries.
To help make this the most comprehensive bass fishing guide for the state, we talked with Mark Beauchesne, who worked for New Hampshire Fish and Game for decades as both the Outdoor Education Coordinator and then the Advertising and Promotions Coordinator.
You'd be hard-pressed to find a more helpful and educated person in the state if you were looking for a New Hampshire fishing guide (oh, he does that, too).
Lake Winnipesaukee
Starting with any New Hampshire bass fishing lake other than "Winni" would just feel unnatural.
Lake Winnipesaukee covers 72 square miles, with 365 islands and over 200 miles of shoreline. In short, it has every conceivable kind of habitat and plenty of food for both smallmouth and largemouth bass.
For smallmouths, especially in the spring or fall, a good starting point is finding a steep drop-off nearby where these fish will stage before pushing smelt onto adjacent shallow flats.
Start your search around islands or navigational buoys marking quick transitions from deep to shallow water. Beauchesne likes to position his boat on the shallow side of a drop-off and cast into deeper water.
To locate largemouth bass in Winnipesaukee, look for rock piles in relatively shallow parts of the lake, often in depths between 10 and 30 feet. Try fishing a crankbait around those rock piles.
Water temperatures between 55 and 60 degrees typically trigger the spring spawn. When you can locate nesting bass, often in two to 12 feet of water, try working a topwater lure over them.
Bass tend to move deeper in the summer, which also is when water skiers and pleasure boaters descend on Winnipesaukee in numbers.
Later in the season, especially in the fall as bass transition toward deeper winter areas, a jig or Ned rig can be effective baits.
Access: There are numerous boat launches on Lake Winnipesaukee, but the Wolfeboro Town Docks and Boat Ramp on Route 28 is a great place to start bass fishing. This ramp in Wolfeboro puts you in protected Wolfeboro Bay before running onto the main lake.
Lake Winnisquam
Although no lake in New Hampshire can eclipse Winnipesaukee for name recognition and popularity, Beauchesne wouldn't let that get in the way of checking out nearby Lake Winnisquam.
He said Winnisquam is producing heavier and heavier tournament bags in recent years.
A big reason? Both alewives and rainbow smelt, which are indigenous to the lake, have been reintroduced after pollution and other factors diminished their numbers.
Both fish provide a substantial meal for foraging smallmouth bass, so the baitfish revival has resulted in larger and larger bass on Winnisquam.
Beauchesne said the key to finding smallmouth in the summer months is locating the thermocline, which is where the rainbow smelt schools will be holding.
He recommended Keitech soft-plastic baits fished on a jighead to mimic the smelt.
Access: The southeast corner of the lake features a public ramp off Court Street near Bartlett Beach.
Connecticut River
If there's a better fighting freshwater fish than a moving-water smallmouth, I've never heard of it. With so many rivers, New Hampshire is a phenomenal state to experience these incredible fish in their element.
Beauchesne said that if you pay attention to when the dam releases are, you can tell when the current will be picking up in the river. More moving water will concentrate the fish to a greater degree, either in holes or around structure that provides a current break.
Beauchesne did warn us that pike are commonplace in some stretches of the Connecticut. So you might find yourself retying after a very exciting, then very disappointing, fight with one of these razor-toothed fish.
Beauchesne's solution is to use a flexible wire leader. While more visible than typical lines, he said wire leader isn't much of a deterrent to feeding bass when casting lures such as a buzzbait or topwater in current. But it will allow you to land the errant pike you encounter while bass fishing.
Access: A good spot to start is the public ramp on River Road in Claremont.
Pawtuckaway Lake
Beauchesne said that Pawtuckaway Lake was a popular and productive lake for largemouth bass that also gave anglers a shot at smallmouth in the same reservoir a quick drive from Manchester.
This 784-acre lake in Pawtuckaway State Park in Nottingham varies widely in depth. Almost the entire northern half of the lake is only two to eight feet deep, but as you move southwest, the holes get deeper.
The middle arm of the lake has spots as deep as 40 feet. The large Horse Island, in the southern portion of Pawtuckaway, has steep drops on its northern shore.
A number of tiny islands, also in the southern part of the lake, provide structure and steep drops. These areas hold largemouth bass, especially in the corner seasons of spring and fall.
The south end of the lake also holds the biggest drop-offs and deepest holes. You'll likely find smallmouth in these deeper spots for much of the year, but moving into shallower water to spawn in the spring and feed at other times.
Access: Fundy Launch Road in the northwest corner of the lake has a public ramp. Pawtuckaway State Park also has a launch and rentals of kayaks and canoes.
Conway Lake
You'll find Conway Lake in eastern New Hampshire just before you cross the state border into Maine.
Find it you should, because Beauchesne stressed Conway Lake is a very good smallmouth lake that does not get a lot of fishing pressure.
The center of Conway has a basin that sits at about 40 feet deep, and the northeast portion has the steepest drops.
Smallmouth bass often hold in areas where they can push into shallower areas during warming periods in the spring and move back to deeper water for more stable water temperatures on colder nights.
Small islands dot the southern end and can hold fish, especially in the spring when bass seek suitable spawning habitat.
Access: Potter Road runs along the southern tip of the lake and features a small boat launch suitable for cartop boats. It's a short boat ride to some promising water. For bigger boats, head to Mill Street on the north side. It's in an arm behind Scribner Point, but a short run will get you to the main lake.
Umbagog Lake
Beauchesne said that if you wanted an "extremely wild" bass fishing experience, you'd be hard-pressed to beat Umbagog Lake, straddling the state's border with Maine.
In fact, Beauchesne called Umbagog his favorite smallmouth lake in the state.
Beauchesne called Umbagog a "smallmouth factory," although the water is typically more stained than other New Hampshire lakes.
With limited visibility, your offering needs some extra pop. Try using a deep-diving crankbait you're bouncing off the bottom, a jerkbait fished erratically, or a brightly-colored soft plastic on a jighead.
While planning your trip, consider camping on Big Island to deepen your wilderness adventure. Before you even wet a line, you're almost certain to see bald eagles in the summer … and possibly a moose.
Access: Route 26 runs along the lake's southern shore and offers a public launch and Umbabog Lake State Park's campground.
Massabesic Lake
Beauchesne called Massabesic Lake a really good largemouth and smallmouth fishery in Manchester.
The lake looks like two separate bodies of water connected by a narrow passage.
The northwestern portion of the upper section features the deepest water, with holes as deep as 50 feet. The steep drops along the western shoreline up there can hold fish in spring that will push into shallower water as it warms to chase bait.
In the southern half of the lake, Browns Island can be a magnet for bass in the early season.
Please note that this lake is the water supply for the Manchester area. Follow special regulations to keep the water pure for drinking.

Access: The Candia Road Boat Launch is off Highway 101 in the northwest corner of the lake.
Merrimack River
The Merrimack is an impressive body of water, flowing more than 100 miles and draining more than 5,000 square miles of inland New Hampshire.
The National Park Service has included the upper Merrimack in its National Wild and Scenic Rivers System because 80 percent of the land within three-quarters of a mile of the river is undeveloped, although its lower reaches flow through more urban settings.
In 2018, New Hampshire Fish and Game assessed major New England river systems and found that smallmouth were more prevalent in the Merrimack than every river save for the Housatonic.
The allure of the Merrimack is the opposite of Umbagog: If you're an angler who is pressed for time but looking to have a chance at decent fishing, the Merrimack runs through major cities like Nashua and Concord, and river access in those areas is easy.
Focus on the down-current side of structure where bass will be holding, and be sure to be on the river at first light, especially during the summer.
The upper Merrimack River has some of the better trout fishing in New Hampshire.
Access: You can find several boat launches on the Merrimack River, including one off West Portsmouth Street right in Concord.
Lake Wickwas
Beauchesne called Wickwas a "sleeper lake," even though it's in a popular fishing area and easy to reach.
This 350-acre lake is primarily a largemouth fishery, although anglers have caught smallmouth bass here as well.
Lake Wickwas never gets deeper than 40 feet and has four islands that serve as easy first targets for finding the bass orienting to structure.
Fish the drop-offs near the islands with jigs, or crankbaits run right against the bottom, and you'll find eager largemouth.
The northern edge of the lake, especially heading toward the west, has the steepest drop in proximity to an island and would be a good place to start with spinnerbaits, jigs or perch-patterned crankbaits.
Access: Chemung Road on the south side of the lake has a public boat ramp.
Squam Lake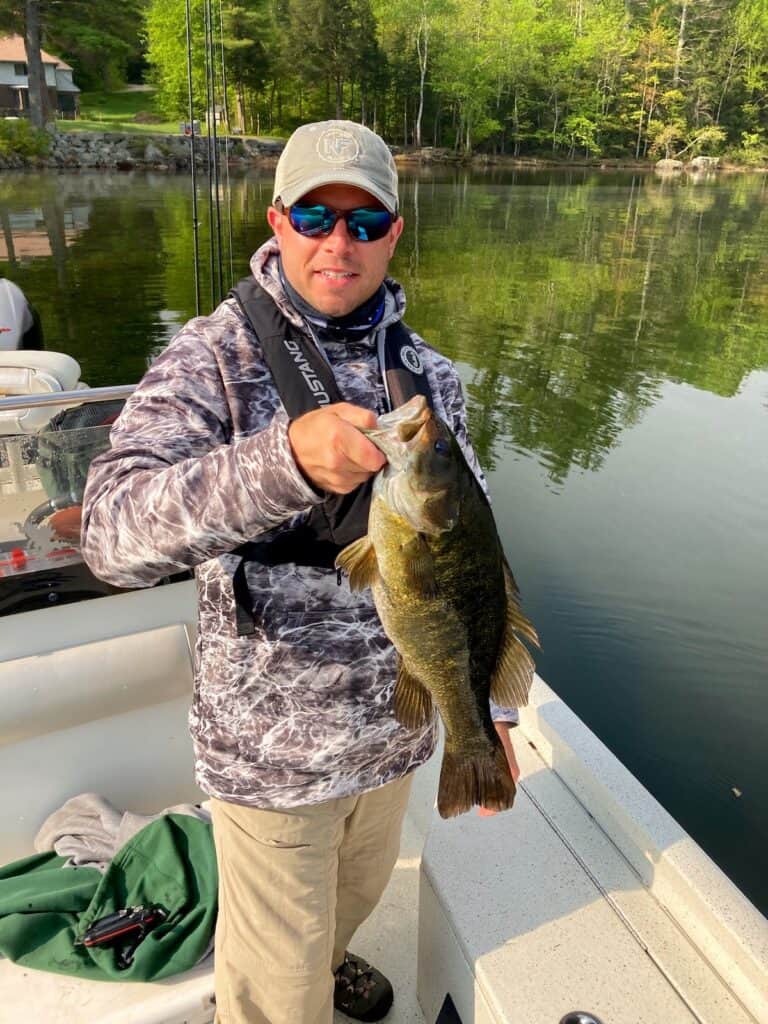 Squam Lake is an enormous lake that could only be overshadowed by the lake directly to its south, Lake Winnipesaukee.
A narrow channel connects this big lake to Little Squam Lake.
Big Squam has rainbow trout, landlocked salmon, and lake trout, and those coldwater species no doubt make Squam a perennial angler favorite.
However, there's no denying that Squam Lake's smallmouth bass fishing is outstanding.
It's a numbers lake, where releasing a bunch of smallmouth before you even break for lunch is always a good possibility.
Squam Lake has exceptionally clear water, so using a fluorocarbon leader or spooling up entirely with fluorocarbon can be a difference-maker.
Smallmouth bass feed on a variety of pray species here, but crawfish are abundant, so crawfish-imitation soft-plastic baits (like the Yum Craw Papi, in chartreuse, especially) or a crawdad crankbait can be great options to have on hand.
Keep in mind the erratic way a crawfish retreats when being chased and mimic that motion with your retrieve to elicit the most strikes.
For what it's worth, Beauchesne listed Squam as his favorite overall fishing lake. It's also an excellent ice-fishing lake.
Access: There is a public launch on Route 113 in the channel that connects Big and Little Squam lakes.
Waukewan Lake
If you're looking to ditch the crowd, Beauchesne said Waukewan Lake might be the place to do so while taking advantage of its tremendous smallmouth bass fishing.
He gave anglers a head's up that the boat ramp is less than ideal, and there's limited parking, but if those inconveniences aren't a concern, this is a spot worth the effort.
The 928-acre lake in Meredith and next to Lake Winnipesaukee has its deepest basins on the far northern and far southern ends, which drop to 60 and 70 feet, respectively.
The northwestern part of the lake features two islands that can be smallmouth magnets in the late spring and early summer when these fish are setting up to spawn.
Later the bass will push deeper as waters warm in the summer. Try a chartreuse Mepps spinner just off the near-shore drop-offs for mid-summer smallmouth.
Because this lake is so close to Winnipesaukee, it can be a perfect option when New Hampshire's most popular lake gets busy in the peak summer months.
There's also a largemouth bass population in Waukewan that you can also target, although they're less common than the smallmouth.
Access: The Waukewan Town Park off Waukewan Street in Meredith features a public launch for anglers.
Summary
With some of New England's most famous and productive rivers, some outstanding lakes, and rich and scenic forests where you have a chance to see a bald eagle flying over a moose, there's no denying that New Hampshire offers some of the most spectacular bass fishing opportunities in the Northeast.
We hope this guide helps you have some incredibly memorable days on the water (or at least gets you dreaming about them).
Catch More Bass
Looking for more tips and techniques to catch both largemouth and smallmouth bass? Check out our simple bass fishing guide.
Acknowledgment
Thanks again to Mark Beauchesne for sharing his New Hampshire bass fishing knowledge with our readers. You can find him at Fish NH Guide Service.