The Lowdown: This article will reveal Louisiana's best crappie fishing spots. First, we'll give you some quick info about local crappie and how to catch them. If you don't need that background, use the table of contents below to jump straight to the top lakes.
Crappie and other panfish are often the very foundation of many anglers' journey into fishing.
While many fish species require some level of skill, crappie are the perfect fish for novices and kids looking to set the hook on their first fish.
Anglers can find crappie in freshwater lakes, ponds, and rivers across Louisiana. Often found in schools, these feisty fish are fun and easy to catch in numbers and one of the most delicious fish to take home and eat.
Crappies are among the most popular fish to catch in Sportsman's Paradise. In fact, the white crappie is the Louisiana state fish. In this article, we'll cover the species of crappie, how to fish for them, and the best places to catch crappie in Louisiana.
However, we should note that you might not always realize how common fishing for them is because anglers in Northern Louisiana are likely to call them white perch, while farther south you're apt to hear about catches of sac-au-lait (French for "sack of milk"). These are both the same fish as crappie.
Crappie in Louisiana
As with most of the U.S., you can catch two species of crappie in Louisiana: black crappie and white crappie.
Black crappie have black splotchy spots, and their body shape tends to be rounder like other sunfish species. White crappie often are overall lighter in color with sometimes faint vertical bars on their slightly longer bodies.
Both species can be found in some of the same waters, although one type may be dominant.
Black crappie tend to prefer clearer water but can also be found in somewhat murky water. They are highly structure-oriented and will nearly always be found around aquatic vegetation, submerged trees and branches, docks and piers, and other types of hiding places.
White crappie are usually found in more turbid waters. While they also often orient around structures such as standing timber and pilings, white crappie also will suspend and chase baitfish in open water more often than their black crappie cousins.
Crappie you catch are often hand-sized but can reach several pounds in waters with abundant food sources. You'll often find similar-sized fish traveling together, so if you keep catching small crappies, it might be time to pick up and find another school.
Insects, crustaceans, and, most famously, smaller fish are all on the menu for hungry crappie.
Crappie typically move into shallower waters to spawn in the spring. However, in some warmer waters in Louisiana, you can start catching crappies near shoreline cover in late winter.
When to Catch Crappie
Time of day
Like most species of fish, transition times like dawn and dusk usually offer better fishing than when the sun is overhead.
During low-light hours, expect to find crappies moving closer to shore and targeting insects and small fish in the shallows alongside larger predators like bass and catfish.
Time of year
In many lakes, spring is the best time of year to catch crappie. Crappies typically spawn from late February to early May in Louisiana.
Before and after laying eggs, crappie actively feed while patrolling around their nesting sites. This season is when they are most aggressive and concentrated in small areas in shallow water, so they are easiest to find and catch.
Summer and fall also are excellent times to hit the water to angle for crappie. The moderate water temperatures will keep these small predators feeding aggressively.
Summer may see crappies move into deeper or more shaded spots during the bright daylight hours, but they often will come out to hunt if the sun is low in the sky.
You may find that crappie fishing improves again in the fall as cooling temperatures spur these fish to feed heavily before winter.
Winter typically offers the slowest crappie fishing of the year.
The fish are less aggressive in colder water. Anglers may find they have to drop their bait or lure right in front of crappies and expect more subtle bites in cold water.
How to Catch Crappie
You can catch crappie with both natural and artificial baits.
Small minnows, crickets, nightcrawlers, and commercial baits such as Gulp! PowerBait are all viable options for bait anglers.
Oftentimes, plastic crappie jigs are the most popular way to angle for these fish.
Fishing from a dock or pier or in a boat over structure, jigging for crappie is a fun and interactive way for novice anglers to learn how to work artificial bait before learning more complicated retrieval techniques.
Occasionally, small soft plastics such as green lizards or worms can yield crappie. In addition, small crankbaits or topwater torpedoes can catch large black crappie when fished near aquatic vegetation and cover.
For more crappie-fishing tips and techniques, see the link at the bottom of this article.
Best Crappie Fishing Spots in Louisiana
While you can catch crappie in countless bodies of water across Louisiana, we've identified the top 10 best places to catch them in the state.
Toledo Bend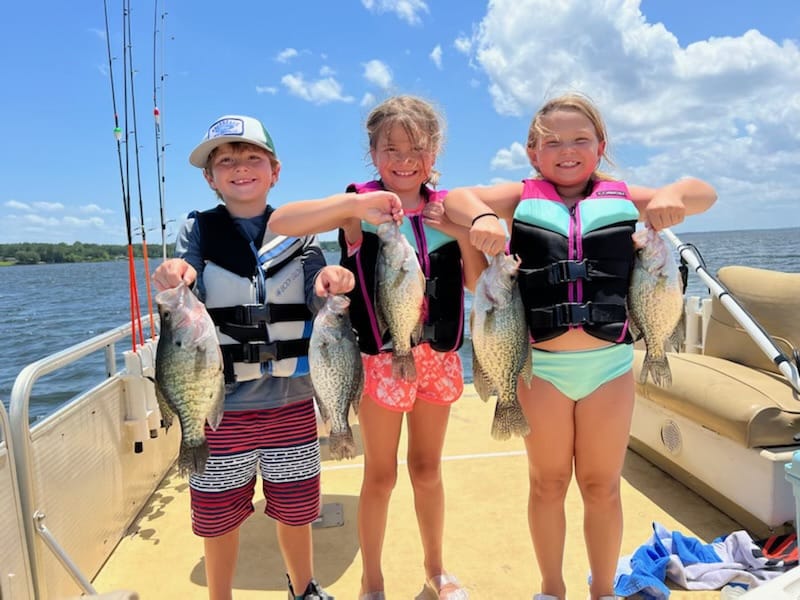 On the border of Louisiana and Texas, one of the most popular fishing holes in both states holds a massive number of black and white crappie.
Rich with structure, including timber, rock piles, and undercut banks, Toledo Bend Reservoir provides 185,000 acres of prime fishing real estate.
While also boasting a strong population of largemouth bass and catfish, this crappie freshwater paradise is the perfect place to cast into a feeding frenzy during the spring.
With a daily limit of 25 crappies per angler, it's easy to limit out in two hours on a good day at Toledo Bend.
With locations such as Pendleton Bridge and Negreet Creek boasting plenty of structure, anglers can use fish finders on their boat to target submerged structures where crappie are likely to congregate.
Often found in schools, if you hit a sunken tree or large bed of grass and begin catching crappie, stay put … there are probably quite a few down there.
Anacoco Lake
With plenty of offshoot creek mouths and sunken cypress trees, Anacoco Lake is a crappie haven ripe for the picking.
While most locations begin to pop off later in the year, Anacoco Lake provides great cold water fishing for crappie starting in February.
Often overlooked for the nearby Toledo Bend, consider a trip to Anacoco as soon as the early season crappies move into shallow water to feed in preparation for spawning.
With 21 miles of shoreline, anglers can fish this 2400-acre lake from the bank. However, if you're looking to capitalize on the submerged structure, which includes sunken trees and stumps, you likely will reach more crappie from a boat.
Target brush piles, tree stumps, and submerged pilings located using your fishfinder. Vertically jigging around the structure during the colder months means anglers will have to fish deeper, anywhere from 10 to 25 feet.
During the warmer months, the fish are often higher in the water column and can be targeted between 8 to 10 feet deep.
If you don't have a boat, consider heading to the boat launches anyway. There can be decent crappie fishing right around the docks.
Caddo Lake
Straddling the border of Texas and Louisiana northwest of Shreveport, this prime-time fishing location is rich with aquatic vegetation and bald cypress trees.
Pilings, piers, and duck blinds provide cover for white crappie, while lily pads and grass in the lake's deeper portions create the perfect habitat for black crappie.
A relatively shallow body of water, much of the angling locations drop-offs like Rice's Pocket or the cuts near Thornapple Road west of Oil City are excellent fishing holes for both crappie and bass.
With plenty of deeper creeks rich with structure, anglers will have the highest chance of success hitting Caddo Lake by boat and using their fishfinder to locate fish-holding structures.
Best fished between March and May, Caddo Lake's shorelines come alive at dusk and dawn with crappies and largemouth bass hammering baitfish and other prey in the shallows.
Caddo Lake is one of the few locations where a hard plastic like a crankbait or topwater will do incredibly well in the shallows, working around the dense vegetation that lines the shores to draw out black crappie.
Avoca Island Cutoff
South of Grassy Lake and east of Lake Plourde, a handful of canals are filled to the gills (pun intended) with crappie, bass, and sunfish.
The Avoca Island Cutoffs sit east of Lake Palourde, with entrances through the Bayou Cherami, Grassy Lake, and Lake Palourde. This backwater series of cuts, creeks, and canals empty into Bay Sherman northeast of Morgan City in Southern Louisiana.
Here, anglers can work oil field canals rich with shad that provide food for white crappie and largemouth bass in massive numbers.
Murky water, filled with submerged structure and moderate vegetation, the water depths fluctuate between 2 to 10 feet in most areas. Anglers can troll, cast spinnerbaits, or work topwater lures for various species.
However, the best techniques for targeting crappie are to work corks amidst the structure lining the banks or jig directly over the many submerged stumps.
Nightcrawlers, crickets, and small white grub jigs work well when fishing for crappie in the Avoca Cutoff.
The lower canals on the eastern shore of Lake Palourde provide excellent angling without traveling too far, but the northern canals require anglers to head inshore halfway between Grassy Lake and Lake Palourde.
Black Lake
One of the best locations to angle for crappie from the bank in Louisiana, Black Lake sits between Campti and Creston, not far from Natchitoches and a little over an hour in either direction from Shreveport or Alexandria.
Rich with black crappie, this 13,500-acre lake is split between two parts known as Clear Lake and Black Lake.
Black Lake is the shallower portion, rich with cypress trees, channels, aquatic vegetation, and algae.
Clear Lake is much deeper and is often a sanctuary for black crappie during the cooler months when the shallower Black Lake begins to cool down.
Because of the vast amount of submerged structure, Black Lake is not idyllic for taking a boat on the water if you are not equipped with the proper sonar to help you avoid bottoming out.
But you don't really need a boat because most crappie can be caught from the shore at Black Lake.
With cypress trees and stumps less than a cast away from the bank, anglers can fish with shiners or jigs under a cork, or even use shallow-running Beetle Spin lures to nail some of the large black crappie found in Black Lake.
Some of the top locations include the public boat ramp, Bull Run, and Cloud's Crossing for some excellent black crappie angling.
Lake Boeuf
Some of the best cold water crappie fishing in Louisiana is in Lake Boeuf, just north of Raceland and about an hour southwest of New Orleans.
This 2,000-acre lake is rich with aquatic vegetation, so much so that lilies and grass mostly cover this wooded swamp-like lake, which has an average depth of only 4½ feet. The flotilla of aquatic vegetation makes it some of the best big black crappie fishing in the state, especially during colder weather.
The trick to fishing Lake Boeuf is finding gaps in the vegetation. Here, anglers will often locate schools of crappie around the fringes of the lily pads and grass.
This location is also incredibly popular with duck hunters. Duck blinds and the tree line offer crappie-holding structures around the lake.
One of the best ways to catch crappie at Lake Boeuf is with a cork and jig or a cork and cricket. Casting into the gaps between lilies and grasses, it won't be long until your cork goes down.
Lake D'Arbonne
One of the best late summer and early fall locations to fish for crappie, Lake D'Arbonne is just outside Farmerville in north-central Louisiana.
During the traditional hurricane season, with the constantly varying weather and a rich population of shad, crappie thrive here.
August through October is prime time to get on Lake D'Arbonne.
With a depth of up to 30 feet, it's important for anglers to target the middle of the water column at about 12 to 16 feet deep.
Here, targeting submerged structure, anglers can jig using 1/16-ounce jig heads with an additional split shot for extra weight to lure fish up from the stumps and brush piles on the bottom.
As the weather gets colder, anglers should drop their jigs farther down the water column without ever hitting bottom.
Because crappie hunt from below, they target above where they are. This tendency means you'll get more bites by fishing your jig or bait just above a structure holding crappie.
The western portions of the lake often yield the best crappie. Boatwright Creek, Swiftwater Landing, and near the Middle Fork Bayou D'Arbonne are excellent spots to try.
Lake D'Arbonne also is an excellent catfish fishing destination in Louisiana.
Turkey Creek Lake
Turkey Creek Lake used to be one of the best crappie locations in all of Louisiana. In recent years fish kills, drought, and an explosion in the gar population have drastically reduced the numbers of white crappie that live in this northeastern Louisiana lake.
A little over an hour south of Monroe or north of Natchez, MS, Turkey Creek Lake is rich with flooded timber and grassy shoreline. It still has great crappie potential, and the views are scenic, but at this writing, the fishing has seen better days.
Locations like Prickett Bayou, Flowers Bayou, and Little Turkey Creek are great locations for anglers to target in search of white crappie.
Here, jigging is one of the best methods to catch crappie while avoiding the rampant gar population.
Unfortunately, plenty of worms and crankbaits have been lost to hungry gar, and more than a few crappies have been ripped off the hook from a gar locking in on a struggling sunfish.
Lake Verret
Southwest of Donaldsonville in Southern Louisiana, Lake Verret boasts some of the largest crappies in Louisiana.
North of Grassy Lake, the Avoca Cutoff, and Union Oilfield Canals, this 14,500-acre lake is home to massive bass and crappie, making it a favorite among anglers.
The best angling for sac-au-lait is in the canals that run off the main body of the lake.
Fallen trees and stumps line the bottom, particularly towards the canals and cuts. This structure provides a haven for crappie as well as catfish.
Tips for angling Lake Verret include targeting moss that is dangling into the water, checking around stumps or limbs of fallen trees that are just poking out of the surface of the water, and paying attention to the wind power and direction, as this plays a significant role in a lake this shallow.
Prime locations include the Avoca Island Cutoff mentioned previously in this article and Ike Canal and cuts on the lake's northeastern shore.
On windy days, anglers can head into Little Grand Bayou and the canals near the Elm Hall Wildlife Management area for a more sheltered location sure to be rich with crappie.
Lake Verret is about 30 minutes north of Morgan City and an hour and a half south of Baton Rouge.
Larto Lake
Undervalued, overlooked, and rarely discussed, Larto Lake produces some high-quality crappie fishing despite being under the radar.
Located near the confluence of the Red and Black rivers in east-central Louisiana, Larto Lake is connected to Saline Lake by Saline and Duck Bayou, and the crappie fishing in these waters is always good.
A maze of bayous, backwaters, twists, and turns, this is not your conventional bass and bream lake. Eight thousand acres of murky, stump-filled water ranging from 5-20ft in-depth makes Larto Lake a crappie haven.
The key to fishing Larto Lake is finding the shad. The white crappie and largemouth bass feast primarily on the small baitfish, and anglers can catch both species on jigs that imitate shad.
For another approach, simply throw a liv shad under a cork and you'll likely catch a mixed bag of crappie and bass.
The best locations include Buffalo Bayou's cuts, Bull Lake slough, Open Mouth Bayou, and into Larto Bayou.
Summary
Crappie are a popular species to catch in the Sportsman's Paradise, beloved by novice and experienced anglers alike. An excellent stepping stone to launch someone into the world of fishing, they are delicious, easy, and fun to catch.
In Louisiana, anglers can catch a tasty meal's worth of crappie in many places. And if you fish for them at our recommended lakes, especially in the spring, we're confident you'll catch plenty of these feisty panfish.
Catch More Crappie
We've given you lots of great tips to catch crappie at the best fishing lakes in Louisiana. However, if you'd still like to up your game, check out our simple guide to crappie fishing techniques and tips, including some of the tactics and lures that will put more of these delicious panfish in your frying pan.