The Spokane area includes Washington's largest city east of the Cascade Mountains and some of the best fishing at the eastern edge of the state.
In this article, we've bundled the well-populated Spokane County with neighboring Whitman and Lincoln counties, which have far fewer people and not quite the number of fishing opportunities, although there are some great spots we'll tell you about.
This east-central area includes some incredible trout and bass fishing, including several of the premiere fishing lakes in the state, and a few more angling surprises.
Spokane County has more than a half million people in the cities of Spokane, Spokane Valley, Cheney, Medical Lake and Airway Heights, as well as in surrounding areas.
In addition to some spectacular fishing lakes and rivers near Spokane, the county is home to Gonzaga University, Eastern Washington University, Riverside State Park, Turnbull National Wildlife Refuge, more than a dozen ghost town neighborhoods and many wineries.
Whitman and Lincoln counties are far more rural and are among the major wheat-producing areas in the country.
Whitman County, in an area south of Spokane known as the Palouse, also is home to the main Washington State University campus in Pullman.
Whitman County has only a tenth the number of people as Spokane County, with many of them living in and around Pullman and Colfax.
Other communities around the area include Palouse, Tekoa and the ghost town of Elberton.
Lincoln County, located west of Spokane, has one of the lowest population densities in Washington, with a little over 10,000 people, but there are some great fishing lakes.
Small cities in this county include Davenport, Harrington and Sprague.
Things to see include the Inland NW Rail Museum, Fort Spokane, Porcupine Bay and Lake Roosevelt Recreation Area, as well as the historic ghost towns of Fishtrap and Govan.
This article is an overview of fishing opportunities in east-central Washington, close by for anyone in the Spokane, Pullman or Davenport areas.
We've listed the fishing spots alphabetically by counties to make them easier for anglers to locate the best fishing near them.
Before we go there, we realize that these three counties have plenty of fishing options, but we'd be remiss in pointing out that even more of the state's best fishing holes are just across county lines.
Once you've checked out the three counties listed in this article, we recommend you take a look at the "Fishing in Neighboring Counties" feature that follows. The links there will take you to even more hot spots not far away.
Fishing in Spokane County
Amber Lake
This approximately 100-acre lake is most popular among fly anglers, who test their skills against lots of rainbows and some westslope cutthroat trout.
Selective gear rules are in effect here, meaning no bait is allowed and lures and flies must be barbless.
There also are strictly harvest limits of one trout at least 18 inches in length per day. Most anglers who come plan on catch and release fishing, which limits the angling crowds here.
The lake is open from March through November, with cooler spring and fall fishing often the best options.
No internal combustion motors are allowed and there is limited shoreline access around the public boat launch.
This lake is located about 13 miles southwest of Cheney.
Badger Lake
Badger Lake is a popular lowland lake for catching trout and kokanee.
It's decent size at over 200 acres and well stocked with young cutthroat, rainbows and kokanee that grow to catchable sizes here.
In addition to the small fish, WDFW also stocks some "jumbo" trout for some immediately available trophies.
The fishing season is late April through September, but check the latest regulations to make sure.
When kept clean of nuisance fish species, this lake is one of the best opening day trout lakes in the state.
Badger Lake is a great family fishing destination, whether you enjoy the lake from a boat or try your luck bank fishing from the WDFW access area.
It's located about 25 minutes south of Cheney.
Bear Lake
Bear Lake is a smallish lake set aside primarily for young anglers and others who can benefit from easy access.
The lake is open all year but likely will fish best in the spring, when it is stocked with modest numbers of rainbow trout.
Channel catfish also have been periodically stocked.
It is open to fishing for juvenile and senior anglers and anglers with a disability who have a designated harvester companion card.
Bear Lake is part of Bear Lake Regional Park along Highway 2, a little more than 30 minutes north of Spokane.
Chapman Lake
Chapman Lake offers an excellent variety of opportunities for anglers, ranging from kokanee to bass and panfish.
The lake is over 100 acres and over 2,000 feet elevation, with fishing allowed from late April through October.
The lake is planted with about 100,000 young kokanee in the summer, and these landlocked sockeye salmon reach catchable sizes for future seasons and are typically the main attraction here.
Chapman also offers good warm-season action for largemouth and smallmouth bass, along with opportunities to catch black crappie, brown bullhead catfish, pumpkinseed sunfish and yellow perch.
Chapman Lake has somewhat limited bank access and a boat will serve you best for reaching more fish.
This lake is about 20 minutes south of Cheney.
Clear Lake
Clear Lake is over 300 acres and is definitely a go-to spot in this region for catching lots of fish.
It is very well stocked with all sizes of rainbow trout, as well as young brown and tiger trout that grow to catchable sizes. There may also be some brook trout.
Fishing season is open from late April through the end of October.
While spring fishing is likely going to be best overall for trout, October can be very good for catching brown trout, which move close to shore and eat heavily to because they are fall spawning fish.
Clear Lake also can offer good largemouth bass and black crappie fishing as well.
Watch for an annual kids fishing derby planned during the spring.
Clear Lake is about 10 minutes west of Cheney off W. Salnave Road.
Downs Lake
Downs Lake is a good-sized but shallow lake of more than 400 acres that is moderately stocked with young rainbow trout.
It is open to fishing from March through September.
Besides trout, there's opportunity for yellow perch, largemouth bass, black crappie and other warmwater fish. (There is a special limit on crappie.)
Shoreline access is limited to the resort property and dock on the north end.
Eloika Lake
Eloika Lake is quite possibly the best bass and panfish lake on the far-eastern side of Washington.
This is a very shallow but good-sized lake of about 650 acres with lots of opportunity for largemouth bass, yellow perch and black crappie.
The lake also is stocked with a moderate plant of around 3,000 young brown trout, some of which grow into nice brownies.
The largemouths get the most press here, as the lake puts out 4- to 6-pounders on a fairly regular basis.
There is a special 10-fish limit on crappie that are at least 9 inches in length.
Spring and fall are good times to fish Eloika Lake, and ice fishing can be good when wintertime conditions are safe.
Eloika has a resort with a boat launch and a WDFW access south of Gray's Landing.
Shoreline access is limited to dock fishing at Jerry's Landing Resort.
Eloika Lake is about 45 minutes north of Spokane.
More: Eloika Lake Fishing
Fish Lake
Fish Lake is one of this region's most popular brook trout lakes and also has tiger trout to catch.
Both species are stocked by WDFW as fry and grow to catchable sizes in the lake.
This seasonal lake is open from late April through September, and the cooler months will have the best prospects.
The lake has suffered at times from infestations of unwanted fish species, but trout fishing has hung on.
Internal combustion engines are prohibited, which makes this lake a nice quiet destination offering decent trout fishing.
Fish Lake has a lot of elbow room for bank anglers. There are two docks to fish from in Fish Lake County Park and ample room along the east side for shoreline anglers.
The lake is only about five minutes from downtown Cheney.
Hog Canyon Lake
This 50-acre lake is among a small handful of lakes with a unique cold-weather fishing season, opening the day after Thanksgiving through the end of March.
Hog Canyon Lake, also known more simply as Hog Lake, is well stocked with young rainbow trout in spring, and they grow without angling pressure until the holidays.
There's a gated road leading to access areas on the north end of the lake.
Hog Canyon Lake is about 30 minutes south of Cheney.
Horseshoe Lake
Horseshoe Lake is almost 70 somewhat marshy acres, with moderate fisheries for trout and warmwater fish.
About 1,000 rainbow trout are planted in the spring and largemouth bass, yellow perch and bullhead catfish are also caught here.
The lake is open for fishing all year.
Car-top boats can be launched from the unimproved launch area.
Horseshoe Lake is about 25 minutes northwest of Airway Heights.
Liberty Lake
Liberty Lake is among several trout-fishing powerhouse lakes in the Spokane area.
The lake is heavily stocked with both rainbow and brown trout.
The rainbows are stocked as catchables both in the spring and the fall, and it also receives tens of thousands of young rainbows that can grow into fat trout.
Liberty Lake also is stocked with young brown trout, which can grow to good size. A good time to fish for the browns is shortly after the March 1 opener after ice-out, when these fish aren't as notoriously difficult to catch as they are at other times of the year.
The lake is open to fishing from March through October, with the best trout fishing in the spring and sometimes again in the final weeks of the fall season.
Between those trout-fishing peaks, Liberty Lake can be quite good for warmwater fishing, with largemouth and smallmouth bass, yellow perch and other species biting best in warmer weather.
Catfish anglers should pay attention to Liberty, which has excellent fishing for brown bullhead catfish and also can be good for the ever-popular channel catfish, which have been periodically stocked.
Boaters have the upper hand here as shoreline access is somewhat limited to the WDFW access on the north end of the lake and at a Spokane County park located on the southeast corner of the lake.
Liberty Lake is about 15 minutes southeast of Spokane Valley.
More: Liberty Lake Fishing
Long Lake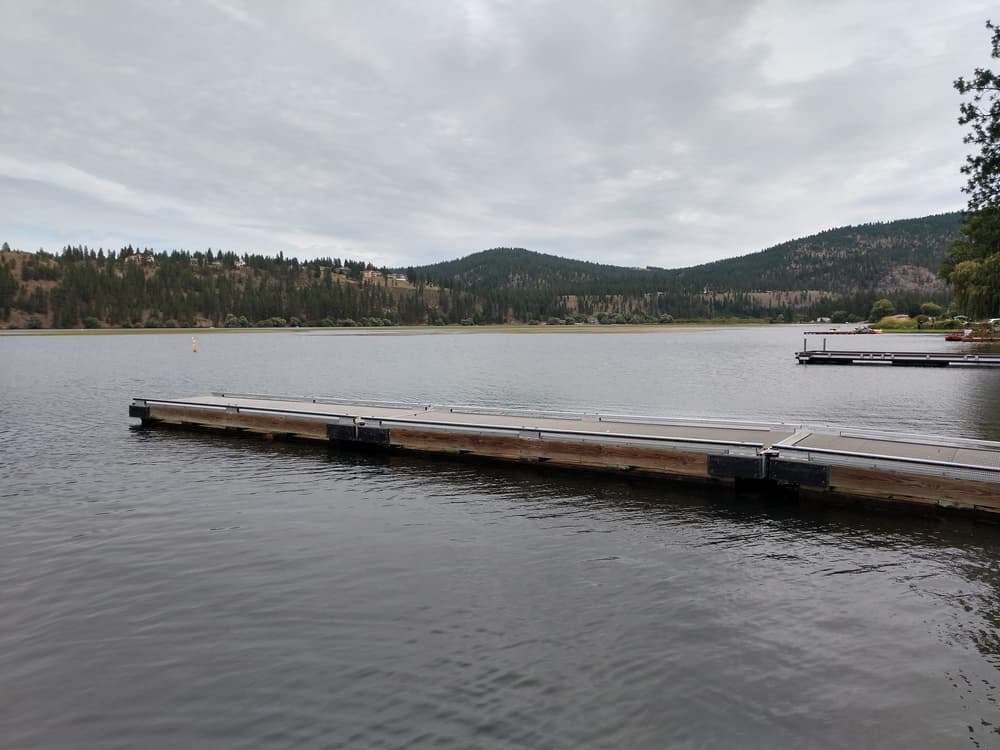 This 5,000-acre long, narrow reservoir on the Spokane River offers a wide variety of fishing opportunities just downriver from Spokane. (It's also known as Spokane Lake and is shared with Stevens County.)
Long Lake has good populations of warmwater species including walleye, crappie, yellow perch and both largemouth and smallmouth bass.
There also are some invasive northern pike, which authorities are trying to stop from spreading farther into the Columbia River system.
Long Lake also has brown trout and at times has been planted with other species of trout including triploid rainbows and may have some lake trout (Mackinaw).
Medical and West Medical Lakes
Both Medical and West Medical Lakes are stocked with rainbow and brown trout and offer seasonal fishing opportunities.
But from there you'll find some definite differences.
Go to Medical Lake if you're into a quiet day of fly fishing, thanks to selective gear rules, strict catch limits and a prohibition on all motors.
On the other hand, go to West Medical Lake if you plan to troll around with your motor boat and boat limits of trout, thanks to less restrictive rules and lots and lots of trout stocking.
Both lakes are west of the city of Medical Lake, which borders the east bank of Medical Lake. Trails near the city provide most of the bank and small watercraft access for Medical Lake.
West Medical Lake, which is a bit larger at about 200 acres, is more heavily stocked and has good boat access at the WDFW access at the southern end. There also is a resort with dock fishing.
Medical Lake has an early opener and a longer fishing season than Medical Lake, which has a traditional late April start.
More: Fishing at Medical and West Medical Lakes
Newman Lake
These days Newman Lake is mostly managed as a warmwater fishery, including good numbers of large bass, plenty of panfish and one of Washington's few tiger muskie fisheries.
The lake is roughly 1,100 acres in size but very shallow, and the state has pretty much abandoned its trout stocking programs here, although there still are some brook trout around.
No matter, the lake east of Spokane (almost to the Idaho border) is worth the trip for its variety and size of fish, including both largemouth and smallmouth bass to good size.
More: Newman Lake Fishing
Spokane River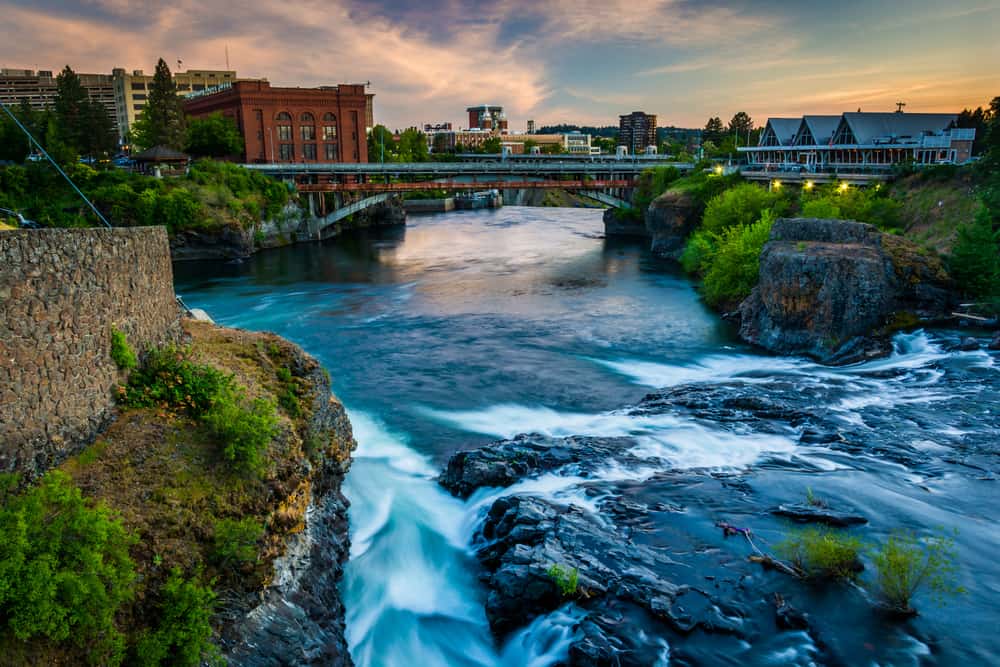 The county's largest river flows out of Idaho and right through the city of Spokane.
In stretches, the river from the city upstream has excellent trout fishing potential, especially among fly anglers chasing rainbows, browns and brook trout.
The best sections of the river are restricted in terms of select gear rules, catch limits only for stocked trout and strong health advisories.
With stocking discontinued, this is a catch and release fishery but one you can enjoy close to Spokane.
The river below Spokane is dammed into Long Lake, which is an excellent warmwater fishery.
The Little Spokane River also offers some interesting trout fishing opportunities but somewhat limited access due to private property.
More: Spokane River Fishing
Williams Lake
Williams Lake is another good-sized lake that is stuffed with hatchery trout.
By volume, rainbow trout are stocked in the highest numbers and ranging in size from tens of thousands of baby trout to more modest numbers of keepers and larger fish.
The lake also is stocked with good numbers of young cutthroat trout and smaller numbers of young tiger trout, both of which can grow to good sizes in a season or two.
Williams Lake is a popular family fishing lake that tends to fish really well for several months following its late April opener and often picks up again in September before closing at the end of that month.
There is limited shoreline access. Most anglers fish from boats or from the resort docks at the lake.
More: Williams Lake Fishing
Fishing in Whitman County
Garfield Pond
This small pond near the town of Garfield is set aside for juvenile anglers.
While technically open all year, Garfield Pond is stocked with a few thousand rainbow trout (including a couple dozen really big ones) in April, and fishing here will be best shortly after the planting.
Gilchrist Pond
About six miles south of Colfax on Union Flat Road, this small farm pond is open year-round, with access by permission from the owners.
It is stocked with catchable-size rainbow trout in the spring and open for bank fishing.
Pampa Pond
Pampa Pond is stocked with lots of catchable triploid rainbow trout (around 6,000 at last check) for its acre of water.
The seasonal lake opens on March 1 and is one of the better early season prospects as the small pond warms earlier than other waters.
You'll be bank fishing here as fishing from any floating device is prohibited.
Pampa Pond is located four miles southwest of LaCrosse.
Riparia Pond
This very small pond is a few miles below Little Goose Dam on the north side of the Snake River.
Although open year-round, anglers will have the best opportunity for catchable and larger triploid rainbow trout at this somewhat remote location around the early spring planting of about 500 trout (typically in March).
Palouse River
This long stream isn't one of Washington's premiere trout streams, although anglers mention the presence of a few brown trout in some of the stretches.
The lower river below Palouse Falls is better fished for smallmouth bass, and there are channel catfish around the mouth.
Access is difficult to much of the river.
Rock Lake
Rock Lake is the largest natural lake in eastern Washington and is stocked with tens of thousands of young rainbow trout, both typical rainbows and triploids.
Additionally, the lake also is stocked with good numbers of young brown trout.
The lake, with more than 2,000 surface acres, is open to fishing all year. In the north part of Whitman County, this lake is as close to Spokane as it is to Pullman.
Despite all the trout stocking, many anglers come here for the warmwater fishing, with largemouth bass, bluegill and crappie sometimes found in good numbers.
A boat will boost your odds on this big water, but there is some shoreline fishing access near the boat launch.
The ramp is located about a mile north of Ewan and about 10 minutes east of St. John. WDFW has reported that the ramp can be rough, so launch with caution.
The access is a rough boat ramp so launch your vessel with caution. Rock Lake boat ramp is about a mile north of Ewan and about 10 minutes east of St. John.
Snake River
The region's biggest river and the Lower Granite Dam Reservoir offers a variety of fishing options.
Bass, panfish and channel catfish angling can all be quite good here.
Summer steelhead fishing can get good in the fall, especially for trollers in the reservoir, but salmon fishing is only opened up if the runs are big.
Union Flat Creek
This tributary of the Palouse River is stocked in the spring with 500 triploid rainbow trout, when fishing will be at its best in the planting area in about May and June and then quickly fade.
Union Flat Creek is about 20 minutes west of La Crosse.
Fishing in Lincoln County
Coffeepot Lake
This decent-sized lake is best known for its rainbow trout fishing, especially among fly anglers because the lake has selective gear restrictions that don't allow bait or barbed hooks.
Coffee Pot Lake is stocked with several thousand younger rainbow trout each year, but you won't take many home with a very restrictive bag limit.
It opens on March 1 and fishes best in the spring and early summer.
Coffeepot Lake also offers fishing for yellow perch, black crappie and largemouth bass. There is a special bag limit on the crappie as well.
This lake has a BLM boat ramp and campground.
It is located about a half hour southwest of Davenport and about an hour and 15 minutes from Spokane.
Cottonwood Creek
This year-round creek flowing through Davenport is stocked with a smallish number of young triploid rainbow trout each spring, and those fish grow in the stream.
Cottonwood Creek Rearing Pond is located near Davenport in Anatone.
Crab Creek (Upper)
The county's major stream system in spots can offer some pretty good brown trout fishing, especially in the spring and fall.
There also are some other trout species around but the creek is no longer listed on WDFW's stocking schedules.
Deer Springs Lake
Deer Springs Lake is stocked with rainbow and brown trout as young fish that grow to catchable sizes.
The 60-acre lake, sometimes known as Deer Lake, also has decent numbers of largemouth bass and panfish.
Boaters may launch small craft by hand using extreme caution. Limited shoreline access is available on the north end.
Fishtrap Lake
Fishtrap Lake is most commonly fished for rainbow trout, which are planted in large numbers in the spring.
The open season is from late April through the end of October.
Fishtrap Lake is nearly 200 acres in size and about 15 minutes northeast of Sprague.
There is limited shoreline fishing at the WDFW access area. Anglers typically fish from a boat or from the docks of Fishtrap Lake Resort at the northernmost end of the lake.
Fourth of July Lake
Fourth of July Lake is a popular destination for ice fishing, as its only open from the Friday after Thanksgiving through March 31.
The lake is annually stocked with some 80,000 young rainbow trout.
This is a rich lake and rainbows over 20 inches are not uncommon and provide plenty of action.
Internal combustion engines are not allowed.
Anglers can often find open water conditions during the months of December and March, and fly anglers who don't mind the cold might do well at Fourth of July Lake in those "shoulder" seasons.
There is plenty of shoreline fishing access at this 100-plus acre lake during open water conditions.
When the lake is frozen and safe, ice fishing opportunities are lake-wide. Please check ice conditions prior to ice fishing.
Fourth of July Lake is located about 10 minutes south of Sprague.
Pacific Lake
Thousands of young rainbow trout are stocked to grow into catchables in the spring and again in fall.
Pacific Lake is 120 acres with a year-round fishing season.
There is no good shoreline access at Pacic Lake though boat launching is available through the Bureau of Land Management water access.
Pacific Lake is located about 15 minutes north of Odessa.
Roosevelt, Lake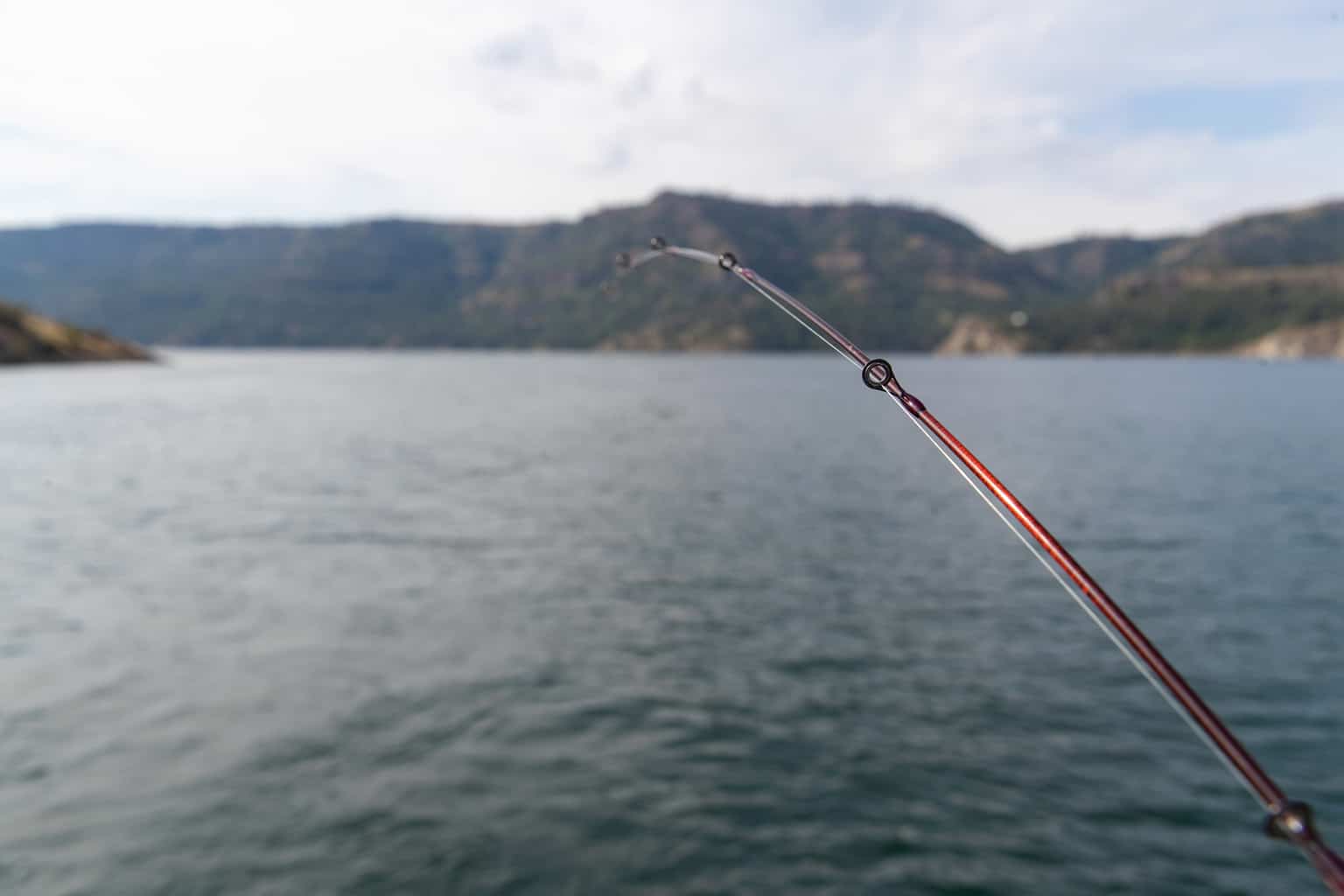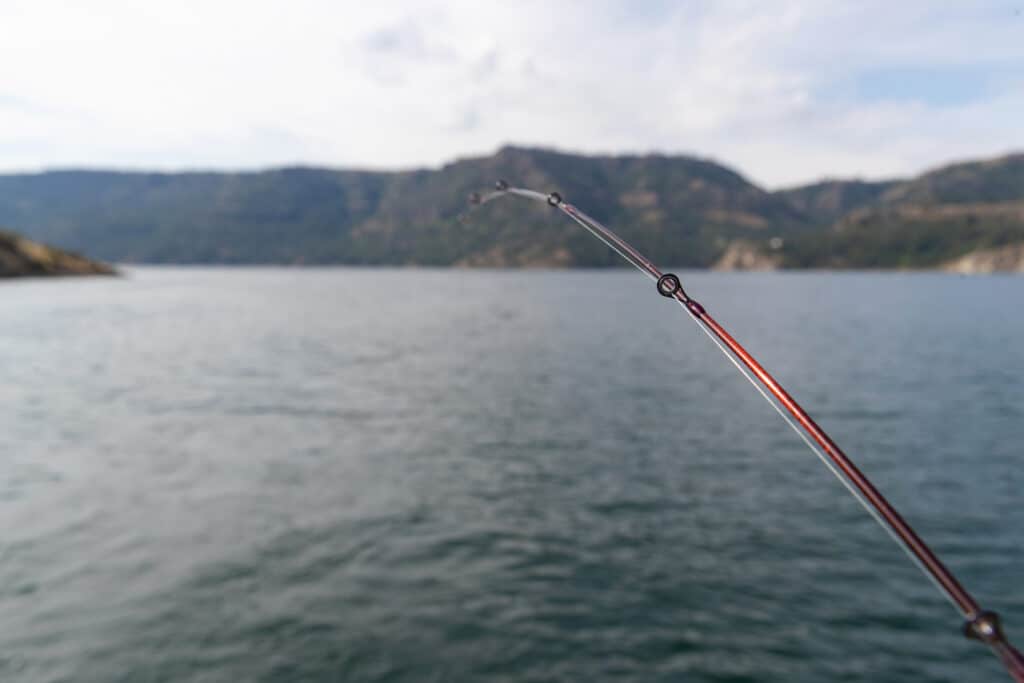 The lower section of Washington's largest lake borders Lincoln County's northern boundary.
Roosevelt Lake, a massive Columbia River reservoir, has wide-ranging fisheries to match.
Multiple species of trout as well as kokanee are found here, while warmwater enthusiasts catch smallmouth and largemouth bass, walleye and various panfish.
Burbot and a relatively new hatchery supported sturgeon fishery are among the many options here.
More: Lake Roosevelt Fishing
Sprague Lake
This large lake would probably have a bigger reputation among anglers if it were closer to many of them.
Sprague Lake borders the south side of I-90 provides good fishing for large rainbow trout, largemouth bass, bluegill and both brown bullhead and channel catfish.
The regulations allow anglers to harvest five trout of any size daily. The lake is open year round, however areas of the lake are closed during certain parts of the year.
Sprague Lake is located on the border between Lincoln and Adams counties, about 10 minutes southwest of the city of Sprague.
Shoreline fishing is located at the WDFW access area and at two resorts on the lake.
More: Sprague Lake Fishing
Upper Twin Lake
Upper Twin Lake in the Lake Creek drainage is stocked with rainbow trout (both catchables and younger fish).
The lake also has populations of largemouth bass and black crappie.
BLM provides a boat launch and there is shoreline access at the launch and from a lakeside trail.
Upper Twin Lake is is about 20 miles southeast of Davenport.
Lower Twin Lake is primarily managed for warmwater game fish.
Z Lake
Z Lake is a popular walk-in rainbow trout location on the WDFW Swanson Lakes Wildlife Area.
If you want a fishery that takes some work to find and reach but may reward you with good-sized trout, Z Lake is a good bet.
Once you get there, shoreline fishing access is optimal to this walk-in lake.
It will take you a little over a half hour to drive to the refuge from Davenport.
Fishing in Neighboring Counties
Ferry, Stevens and Pend Oreille Counties: to the north, accessible to remote lakes with trout, kokanee, bass and lots more in Northeast Washington.
Walla Walla, Columbia, Garfield and Asotin Counties: to the south, sometimes remote lands from Walla Walla and Clarkston in Southeast Washington have some of the state's best steelheading as well as lots of trout and warmwater gamefish.
Grant and Adams Counties: To the southwest, an incredible concentration of waters rich with trout, bass, walleye and more around Moses Lake.
Okanogan County: To the northwest, the state's largest county is loaded with lakes filled with trout, kokanee and other gamefish.
Washington Resources
WDFW Fishing and Stocking Reports
WDFW Fishing Regulations
National Weather Service forecasts